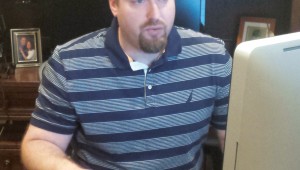 There's more than "Our Father" to council meetings now.


MADELYN EDWARDS
Before the Pledge of Allegiance is recited –– or a motion is made or a voice is heard –– some city council meetings in North Texas begin with a prayer. Dear Lord, what the hell happened to the separation of church and s...
How Rick Perry turned a "nonpolitical" prayer rally into his presidential send-off.


Steve McVicker | Photos by F. Carter Smith
I like to think I'm relatively well-liked by my colleagues in the news business and that I've been doing this long enough to know how to come prepared to any event I might be covering.
Static
Gov. Rick Perry is promoting a prayer assembly on Aug. 6 at Reliant Stadium in Houston. How commendable! And pious! Just tell Static where to kneel! After all, Perry asked everybody to pray for rain during this summer's wildf...