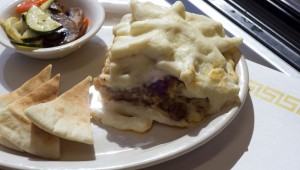 Fresh and homemade are the hallmarks of this newly opened West 7th eatery.


LAURIE BARKER JAMES
The Vine Greek Taverna is owner John Ieronymides' big fat Greek retirement. Well, not technically Greek: Ieronymides was born on Cyprus, a Mediterranean island country east of Greece. His Cypriot parents took him off the isla...
Last Call
For the sake of some jokes, I spent half the morning trying to think up reasons why I don't like St. Patrick's Day or, as I like to call it, 24 to 96 Hours of Blarney Baloney. Truth is, I couldn't think of any good ones, ...