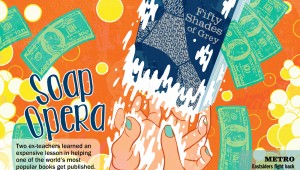 Two ex-teachers learned an expensive lesson in helping one of the world's most popular books get published.


JEFF PRINCE
Fifty Shades of Grey became 50 shades of blush for an Arlington woman who made a bad business deal. Jenny Pedroza helped introduce the masses to one of the hottest sellers in the history of books. Now she's embarrassed that s...
Firehouse Art Gallery


Gallery
Whether depicting soap bubbles, foreign landscapes, undersea creatures, or the architecture of the Gaylord Texan, Vince McCall's photographs are striking studies in color.