It seems every generation of country music fans goes through the same controversy about whether the "traditional" sound is being overtaken by pop music influences.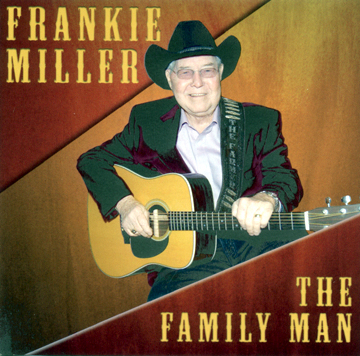 Some country fans puked in their Pearl cans when Ray Charles released "Modern Sounds In Country and Western Music" in 1962. Similar hurling occurred when Charlie Rich cracked the country charts in the early 1970s with "countrypolitan" slop like "The Most Beautiful Girl in the World." Later, on national television, Rich set fire to the slip of paper containing the name of the Country Music Association's 1975 Entertainer of the Year, hippie-dippy John Denver. In the years since, people have viewed everyone from Eddie Rabbitt to Garth Brooks to Shania Twain as the anti-Christ coming to pox country music.
Well, C&W purists will be glad to see and hear good ol' Frankie Miller, Cash Box magazine's "Most Promising Male Artist" — of 1960. The Family Man, his first new album in a coon's age, is a mix of cover songs by Tom T. Hall, Hal Bynum, and others, plus a handful of Miller's originals from days of yore, including the title cut and my personal favorite "Blackland Farmer." (You might not recognize the title, but if you know anything about country music, you'll recognize the song when you hear it.) Album buyers get their money's worth, with 14 hardline country songs and some decent studio picking (Bobby Flores on fiddle and Jim Lossberg on steel guitar keep the music sounding as time-honored as a Minnie Pearl cackle).
Produced by Justin Trevino in San Marcos, this new effort by an old timer probably won't catapult its creator to the stratosphere or even receive much airplay. But it's an honest, simple, and refreshing album by a County Music Association of Texas Hall of Famer, a guy who made his mark in another era and then faded away. (Remember him playing on Fort Worth radio's "Cowtown Hoedown" in the 1950s? Me neither.) These days, Miller can be found singing classic country down at the Ernest Tubb Record Shops in the Fort Worth Stockyards, and occasionally in England, where Slim Whitman and Boxcar Willie outsell the Beatles and people love old country cats who don't sound anything like Garth or Shania.