Mother Earth Loves Denton: Magazine Awards 'Green' City
Posted September 17, 2012 by Andrew McLemore in
Blotch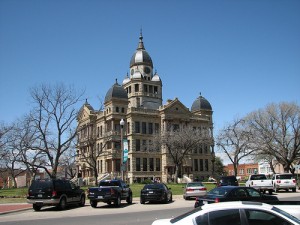 The Denton courthouse. PHOTO COURTESY OF QUESTERMARK
The City of Denton, or the "Austin of the North," as its residents love to say, earned a spot on Mother Earth News' annual list of  "Great Places You've (Maybe) Never Heard Of."
The magazine, which is dedicated to "sustainable living," according to its website, features eight communities in its October-November issue, which will hit the racks September 25.
Denton received the award for a number of sustainable initiatives — the city generates 40 percent of its electricity from wind, for example, making it the country's higher per capital wind-energy consumer.
The magazine's editors seem to like its music scene, too:
A favorite destination for those wanting to escape the urban scene for a few hours, Denton offers festivals, great music, bass fisheries, equestrian trails and more…

Paste magazine recently called Denton "the paradigm of a healthy music community," with more than 100 acts living within the city's 62 square miles (more than one and a half artists per square mile).
Check out the other seven recognized cities, which include Charleston, South Carolina, Red Lodge, Montana and Golden Colorado,
here
.