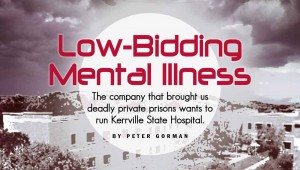 The company that brought us deadly private prisons wants to run Kerrville State Hospital.


PETER GORMAN
State-run mental health facilities in Texas never have an easy ride: Funding is always tight, and many of them have had problems through the years. But the state hospital in Kerrville, according to advocates and regulators, has...
John Q. Public
To the editor: After reading Kendall McCook's article ("Got Gas," Feb. 17, 2010), I looked up the Texas Railroad Commission map that lists gas wells near schools or in the less-affluent sectors of town.
Despite a long record of abuses, GEO is still running Texas prisons.


Peter Gorman
Reeves County straddles I-20 in West Texas, between Odessa and El Paso. Pecos is the county seat, anchored in cowboy mythology. Tiny homes, many of them 100 years old and made of stone, line several dozen downtown streets; beyo...