Reeves County straddles I-20 in West Texas, between Odessa and El Paso. Pecos is the county seat, anchored in cowboy mythology. Tiny homes, many of them 100 years old and made of stone, line several dozen downtown streets; beyond them, sandy soil dotted with clumps of short grass and tumbleweed stretch for miles. Oil well pump jacks are more common than trees on the landscape.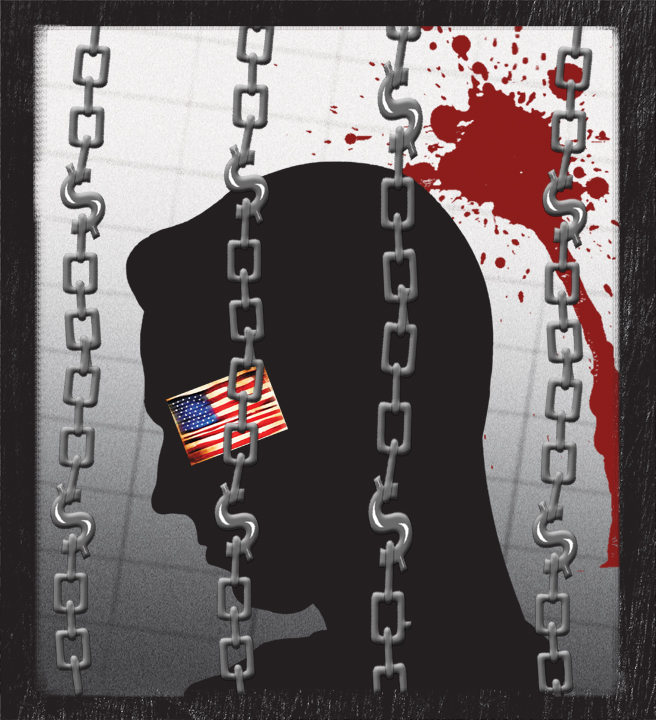 The town was home to the world's first rodeo, the Pecos Kid, and the legendary Judge Roy Bean. Just around the block from the sheriff's office is a replica of Bean's office and his single-cell jail.
Times change, though, and these days, a newer prison sits in the southwest corner of town. The Reeves County Detention Center is far bigger than Bean's, holding 3,700 inmates. The facility is owned by the county and run by the GEO Group, formerly a division of the giant security firm Wackenhut. GEO is one of the largest prison operators in the world — it runs more than a dozen facilities in Texas, nearly three dozen in the rest of the country, and another 10 combined in Australia, England, South Africa, and Cuba. All told, the company controls the lives of more than 60,000 inmates worldwide.
GEO also has one of the world's worst track records in inmate care: The horror stories range from rapes to suicides to murders to deaths due to inadequate medical care. The company, which declined to respond to questions for this story, once hired a convicted sex offender as a guard in a facility for juvenile females. It's not as if something goes wrong occasionally at GEO-run prisons — something goes terribly wrong on a regular basis at one or another of their facilities. Texas alone has twice removed all its inmates from a GEO-run facility because of deplorable conditions. And yet the company is still supported by the state and federal governments, a testimony to GEO's deep connections and deeper pockets when it comes to lobbying expenditures.
GEO's work in Texas, according to many observers, has been some of the company's worst. "They have simply been horrendous," said Bob Libal, coordinator of the Texas division of Grassroots Leadership, an organization bent on eliminating private prisons.
The Reeves County complex is touted as the largest private prison in the world. A little over a year ago it was the site of two major riots, the second of which burned large areas of the complex. The inmates who did it were not killers or hardened criminals. Most were immigrants whose only crime was illegally re-entering the United States after having been deported. And they and their families said they were rioting because of medical care so poor that some of them were dying from it.
The prison complex sprawls along County Road 204, just past a small cluster of double-wides and a juvenile detention center run by Reeves County. Just beyond it is a cemetery dotted with colorful plastic flowers.
The minimum-security detention center is made up of several squat, drab buildings surrounded by twin chain-link fences covered in roll after roll of razor wire.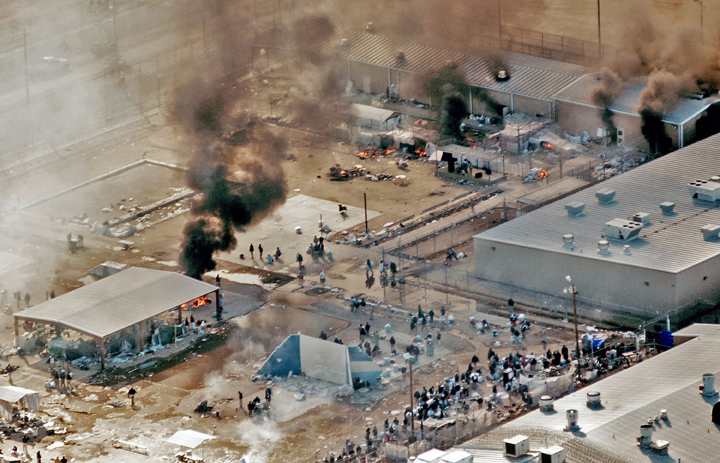 Sheriff Arnulfo Gomez insists that the prison is not a bad place, as lockups go. "They get plenty of time in the yard, good food, good treatment, lots of programs, and great medical care," he said.
Not everybody agrees. Since 2008, five inmates have died there — three from inadequate medical care, according to the inmates, and two allegedly by suicide.
In December 2008, the first riot at the prison resulted in damage that cost $1 million to repair. The second, in February 2009, caused more than $20 million in damage that is still being repaired.
According to family members, the first riot started after an inmate with epilepsy died in solitary confinement, without medication.
"When an epileptic dies in solitary confinement from seizures — and the allegations are that he asked for his medications and was denied them before he was put in the hole — well, that doesn't sound like great medical care to me," said Dotty Griffith, public education director of the ACLU of Texas.
"Prison riots are rare," Griffith said. "And in this case, these were mostly non-violent prisoners in a minimum security prison. It strains the imagination that they would riot without cause."
The prisoner who died was Jesus Manuel Galindo, 32, who had been serving a 30-month sentence for illegally crossing into Texas from Mexico at El Paso. He'd grown up partly in this country but never received legal status here and was deported in early 2007. With no family or friends in Mexico, he returned to the States several weeks later. But his medical condition tripped him up: He had a seizure in a convenience store, and when law enforcement arrived to help, Galindo was arrested and eventually tried and sentenced for illegal re-entry.
According to his mother, Galindo's seizures increased in frequency while he was in Reeves, and when he asked to see a doctor to get his anticonvulsive medication, he was instead taken to solitary confinement — "the hole" — in the Segregated Housing Unit of the prison. A month later he was dead. According to letters he wrote to his family, he'd never seen
a doctor.
"The more important question," said Miguel Torres, an El Paso attorney representing Galindo's family, "is why was someone with a chronic and serious medical condition in need of constant monitoring shut away in solitary confinement without proper supervision?"
When two other inmates also in the SHU saw his body being taken out, they started a fire in a mattress using electrical wires, and the mutiny spread quickly. Guards used rubber bullets, stun grenades, and other non-lethal weaponry, but the inmates forced their way into the prison yards. Two prison employees — not guards — were taken hostage. That evening the inmates sent a delegation to meet with negotiators. They demanded less-crowded conditions, better food, and better medical care. When the negotiators promised to consider the inmate complaints, the hostages were released unharmed, and the riot was over.
But the negotiators didn't follow through, according to newspaper accounts at the time. Seven weeks later, on Jan. 31, 2009, a second riot broke out because another inmate, Ramon Garcia, 25, was put into solitary confinement after complaining that he was sick and unable to get medical attention. This time the riot lasted almost a week, during which time inmates burned a large section of the prison. No serious injuries were reported, but more than two dozen inmates have been indicted on various charges for their involvement in the uprising.
---
The ACLU has repeatedly requested information from GEO concerning the facility and the events leading up to the riots, but Griffith said the requests have gone unanswered. Their requests for an investigation by the Office of the Inspector General for the Bureau of Prisons have similarly met with silence.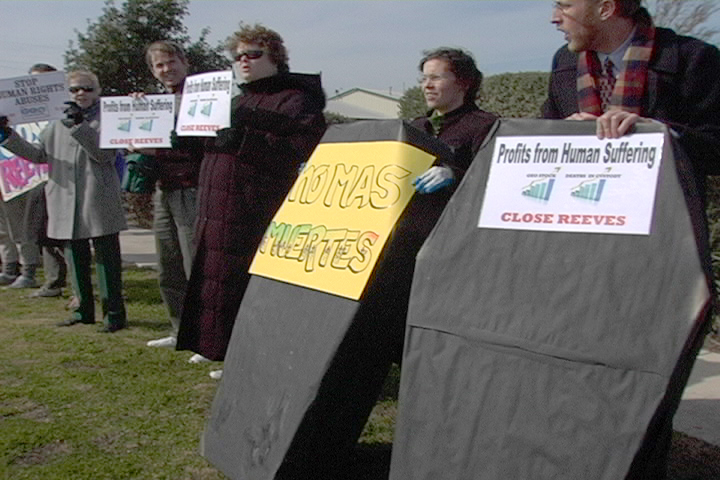 Last December, the ACLU, along with Grassroots Leadership, the National Network for Immigrant and Refugee Rights, and inmates' families, staged a protest on the steps of GEO's regional main office in New Braunfels, asking for a meeting with GEO Group administrators. They were refused entry to the building.
"When we speak with the inmates and their families, we're told of horrendous conditions that range from food to medical issues to the misuse of solitary confinement. When we speak with the sheriff, we get an entirely different picture. We just want to get at the facts," Griffith told Fort Worth Weekly.
Juan Angel Guerra, a former South Texas district attorney who is now a defense attorney, said he has nearly 200 clients in the Reeves facility alone. (Clients pay a one-time fee of $100.) The prison is even worse than most people describe, he said. "I've got one client in there who got an eye infection. No one would treat it, and it kept getting worse. Now he's blind."
He also said that corruption is built into the GEO system. "When the first riot at Reeves ended and the inmates were checked for contraband, over 400 phones were confiscated. Where do you think 400 phones came from?" he asked. "Inside, the going rate from the guards can go as high as $500 a phone and $100 to charge it."
Guerra noted that when the first riot broke out, the staff was short by 200 guards. "That's the private prison industry. You're getting paid per inmate, but if you can save on the salaries of 200 guards, you're making a lot of money. It's like its own mafia."
One of the cases he's working on is the death of Jose Manuel Falcon, 32, who allegedly committed suicide while in solitary confinement at Reeves a month after the second riot ended.
A GEO statement released at the time said Falcon killed himself "by self- inflicting numerous lacerations with a disposable razor blade." The release said Falcon was alone in a cell and that there was no evidence of foul play.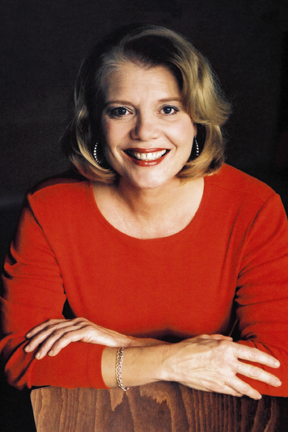 Guerra, who's representing the Falcon family in a planned lawsuit against GEO, doesn't believe the suicide story. He pointed out that Falcon had only two months left on a five-year sentence. "And he winds up with cuts on his arms and hands, and then his throat is slit," Guerra said. "The cuts on his arms and hands indicate he was in a defensive position."
Like Galindo, Falcon grew up in the U.S., close enough to the Rio Grande to nearly see it. He was caught and deported in 2001 but came back as soon as he could to the country he thought of as home. Three years later when he was stopped for speeding, the deportation was discovered. He was prosecuted for illegal re-entry and got a five-year sentence — his only crime.
GEO officials say the Reeves prison offers all kinds of vocational classes, "high-quality" drug and alcohol counseling, and recreational activities like leather crafts, music, and sports. County officials were vague about who teaches those classes.
ACLU officials and family members say the inmates don't mention any of those classes or activities. But they do talk about dangerous levels of tension between Mexican and Cuban inmates and about the awful medical care.
Anna Maria Alfonso Garcia's son is an inmate at the prison. She said the doctors treat inmates "worse than a dog."
Her son had a terrible earache, she said, and was told he had to make a request to see the doctor. But since her son didn't speak English, the doctor wouldn't see him. By the time he finally got someone to write the note for him, she said, the earache had moved from one ear to the other. "And the doctor said he couldn't look at his right ear because the request said the earache was in his left ear."
It's perhaps not surprising that the inmates say the medical care is bad. The county's $7 million contract with the Physicians Network Association, from Lubbock, calls for one doctor to be on site four days a week, to serve 2,700 inmates in two of the housing units. One dentist and two assistants are on duty for less than a single shift, five days a week, and there are two mental health workers, though no psychiatrist or psychologist. Two nurses and two medication aides are on duty most of the time, seven days a week, plus one emergency medical technician. A few months after PNA was hired in 2002, the prison warden publicly congratulated the firm for slashing the number of surgeries, outside care visits, and other instances of care provided to inmates.
The physicians group has run into trouble at other prisons. At a New Mexico facility where PNA worked, Justice Department investigators concluded in 2003 that inmates suffered "risk of serious harm from deficient medical and mental health care."
Guerra said he has received reports that five men have died in the Reeves County prison since August 2008, but he believes the actual numbers are higher. "We have evidence that people who are going to die are removed … to die elsewhere, to keep the numbers down."
Libal, of Grassroots Leadership, said GEO's performance in Texas "has been markedly worse than any other company running private prisons there. GEO's had a number of facilities closed due to horrendous conditions in this state alone."
The list of problems GEO has had at its Texas facilities reads like teasers from upcoming potboilers.
Seven youthful offenders at the Coke County Juvenile Justice Center in Bronte, in West Texas, sued the GEO group in 2007 over unfit living conditions. The Texas Youth Commission investigated, found feces on the walls and floor of the facility, bug-infested food, and filthy bedding. The TYC subsequently pulled all of its nearly 200 juvenile detainees from the facility.
---
In 1999, at the same facility, several female juvenile detainees claimed they had been sexually abused by a Wackenhut employee (this was prior to the corporate name change) who had a prior conviction for sexual abuse of a child. GEO settled the suit for $1.5 million.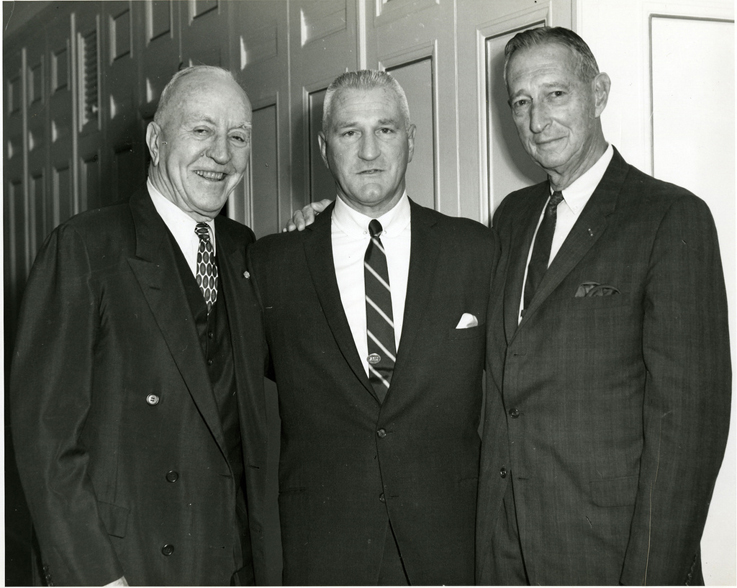 That same year a female detainee committed suicide following the settlement of an earlier lawsuit stemming from sexual abuse at the prison. The settlement allowed Wackenhut to avoid accepting responsibility for the actions of their employees there.
At the Dickens County Correctional Center in Spur, an inmate from Idaho committed suicide in 2007. The death prompted an investigation by the Idaho Department of Corrections health director, who called the prison the worst he'd ever seen and removed all of Idaho's inmates. GEO no longer runs the facility.
Idaho also pulled all its prisoners from the Newton County correction center in 2006 after widespread reports of prisoner abuse.
In 2007, at the Frio County Detention Center in Pearsall, a crippled female detainee sued GEO after she was denied necessary medication, put into isolation, stripped, ridiculed, and had her crutches taken away by guards.
In 1999, 11 guards and a case manager were indicted on felony charges of sexual assault and improper sexual activity, as well as the misdemeanor charge of sexual harassment at the Travis County State Jail in Austin.
At the Val Verde Detention Center in Del Rio, an African-American guard sued GEO for racial discrimination in 2005 after his superior, who kept a noose in his office, posed for pictures in Ku Klux Klan garb. A year later, the GEO group and Val Verde County were sued by a civil rights organization when an inmate committed suicide after being denied medication and being sexually abused.
The worst single case of abuse at a GEO facility occurred at the Willacy County State Jail in Raymondville in 2001, when a prisoner just four days shy of release was beaten to death in front of the warden and guards.
Gregorio de la Rosa Jr. wasn't even sentenced to prison when he was convicted of possessing a quarter-gram of cocaine. He was given probation but wound up at the jail when he couldn't pay his fine. He had served six months when he was set upon by two other inmates who beat him to death with prison-issued padlocks they'd put into socks.
The family of de la Rosa, an honorably discharged National Guardsman, filed a wrongful death suit. Their lawyer, Ronald Rodriguez, was able to show that the GEO Group had destroyed a videotape of the killing. They were awarded $47.5 million, an award upheld on appeal.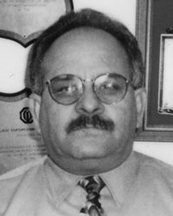 Following the initial suit, filed in 2006, Guerra, then the Willacy County D.A., brought a charge of murder against the GEO Group. The grand jury indicted the corporation on the murder charges — but the indictment was thrown out after Guerra left office.
"I was the one who looked into that case from the beginning," Guerra told the Weekly. "I prosecuted the two inmates who committed the murder and got 25-year sentences for each of them. But while I was prosecuting them, I realized that the case was bigger than just an inmate killing. I realized that GEO's guards and the warden were involved as well."
How is a company with that track record still able to do business with both the state and federal governments?
"We monitor all of the facilities with which we have contracted, and as of now, we are satisfied with the way all of them are being run," said Tracy Billingsley, a Federal Bureau of Prisons spokesperson.
Jason Clark, public information officer for the Texas Department of Criminal Justice, told the Weekly that the state facilities operated by GEO "have not had any of the issues that we've heard about from federal prisons run privately. The contracts we have for state prisons call for a full-time, on-site prison monitor who works for the TDCJ to oversee every aspect of the prison, and those prisons must met the TDCJ standards."
The company has had deep ties to the federal government since it was founded in the 1950s. George R. Wackenhut was a former FBI agent who left the bureau with two colleagues in 1954 to start a company called Special Agent Investigators. A year later, he split with his associates and formed The Wackenhut Corporation, which specialized in creating dossiers on U.S. citizens and selling them to the FBI. According to Sourcewatch, a publication of the Center for Media and Democracy, a nonprofit, nonpartisan public interest group, by 1966 the corporation had produced "over four million files, or one for every 46 adults in the country."
A list of Wackenhut's early board members reveals the depth of the company's connections. They included retired U.S. Army Gen. Mark Clark, a much-decorated World War II hero; former FBI director Clarence Kelley; former defense secretary and CIA deputy director Frank Carlucci; and former Defense Intelligence Agency director Joseph Carroll. Prior to his stint as director of the CIA, William Casey was the company's outside legal counsel.
In 1967 Wackenhut took the company public and at about the same time formed a division known as Wackenhut Services Inc, which soon became "the largest contract security provider to the federal government," according to the firm's official history. The company diversified and began providing security for U.S. nuclear facilities, other sensitive federal sites, and multinational corporations. Its employees were culled primarily from former military personnel.
Wackenhut offered services in other areas as well. In 1992 CIA analyst William Corbett told Spy Magazine that Wackenhut had been involved for years with the CIA and other intelligence organizations, including the Drug Enforcement Administration. "Wackenhut would allow the CIA to occupy positions within the company [in order to carry out] clandestine operations," he said.
---
In return, Corbett said, Wackenhut was given plum contracts by the Reagan administration. By the time prison privatization was introduced in the mid-1980s, Wackenhut was in a prime position to become a pioneer in the field. In 1984 the Wackenhut Corrections Corporation was formed as a division of The Wackenhut Corporation.
By 1992, Wackenhut had expanded overseas, developing a subsidiary to run prisons in Australia. From there, the company expanded its operations to South Africa and England. It also runs a U.S. jail outside this country — the Guantanamo Bay Migrations Operations Center in Cuba.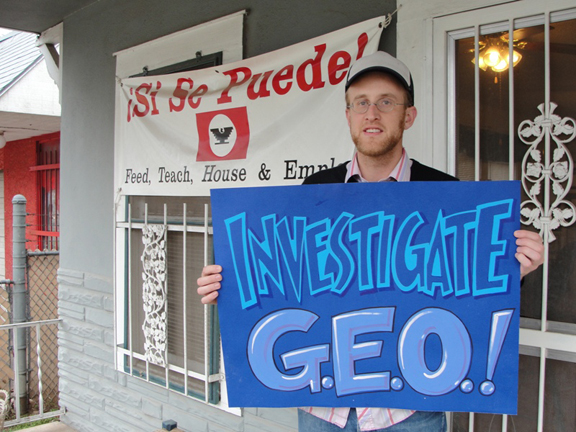 Wackenhut Corporation was eventually acquired by a Danish company that would become Group 4 Securicor, the largest security outfit in the world. But in 2003 the officers of Wackenhut Corrections Corporation bought all of the subsidiary's stock from Securicor and recreated it as an independent company, the GEO Group Inc.
Wackenhut was a contributor to both George W. and Jeb Bush (the company's headquarters are in Boca Raton, Fla.) and to former U.S. Sen. Phil Gramm of Texas, who urged that federal prisons be privatized and the inmates put to work "so that we can produce component parts in prisons … now being produced in places like Mexico, China, Taiwan, and Korea."
While he was still in Congress, Tom DeLay was a major backer of GEO. And in South Texas, a state legislator's law firm and a state senator's husband both provide legal services for GEO.
GEO annually spends more on lobbying than any other private prison company in Texas. In 2007, at the height of the Coke County Juvenile Justice Center scandal, GEO increased its lobbying expenditures in the state tenfold, leading State Sen. John Whitmire of Houston, chair of the Senate Criminal Justice Committee, to tell The Dallas Morning News that the company and its lobbyists should back off from defending "a very poor facility that probably violates the youths' civil rights."
Among GEO's lobbyists are Ray Allen, a former Grand Prairie legislator and longtime proponent of prison privatization, who had chaired the House Committee on Corrections, and his former chief of staff. When Reeves County threatened to default on $39 million in bonds used to build its third housing unit, the county hired DeLay's brother Randy to go to Washington to lobby for federal prisoners to fill the new beds. Shortly thereafter, the feds came through with a contract to fill the new unit.
GEO's lobbying efforts have aimed at keeping its prisons full — which means pushing for major immigration raids periodically if beds start to empty. But it also has worked to keep its Texas prisons from being monitored and held to the rules of the Texas Commission on Jail Standards, according to Libal.
"Prior to 2003, Jail Standards would go into facilities like the one at Reeves — which is county-owned but filled with federal Bureau of Prison inmates — and inspect it. But after heavy lobbying, a bill was passed that took away that purview," he said. So GEO's federal prisons now are inspected only by monitors hired by the counties, which have a direct financial interest in keeping them full and profitable.
"What that means is that if that monitor says things are fine, that's what they are, even if conditions are atrocious," Libal said. "At Reeves, they've always been understaffed, which has led to a number of problems. But since no one from Jail Standards can inspect the complex, that is just ignored."
A bill introduced in the Texas Legislature last year would have given inspection responsibility back to the Texas Commission on Jail Standards, "but that bill was defeated, and we're told it was defeated largely because of the lobbying effort of GEO," said Libal.
Thirty years ago, Pecos had nearly 20,000 inhabitants and Reeves County that many more. Oil was everywhere; there was enough agriculture that a frozen food plant kept a lot of people working. Firestone ran a tire-testing track, and the Duval sulfur mine was the county's largest employer.
But oil booms go bust once all the wells have been drilled. And a protracted drought dropped the water table so low the farmers couldn't afford to water their crops. With no crops to process, the frozen food plant shut down. Firestone moved its track, and finally, the sulfur mine was closed when the price of that mineral dropped, putting hundreds more people out of work. These days, the GEO-run prison complex is the county's largest employer.
Since the boom days, the population of Reeves County has dropped to less than a quarter of what it was. In Pecos, both movie theaters closed down years ago, and there are only two bars left, down from about 20, according to locals.
"If it wasn't for Wackenhut and the detention center, this county would have blown away by now." said Linda Clark, the county treasurer,
"This used to be a thriving place," said Sheriff Gomez, a thick man with a good smile and mitts for hands. "I had a good time growing up here."
By the mid-1980s "everything was shutting down around here, everybody was out of work, and we were near finished," he said. "But some of the town fathers spoke to some legislators and found out the Bureau of Prisons needed a prison in Texas, and Pecos was ideal because we're so isolated out here. So we raised bonds and built one."
The first prison building opened in 1986 with 400 beds. It wasn't until 2003 that GEO was brought in. A second prison had been built by that time, and a third building was added in 2005.
The contracts call for the county to hire and pay all of the guards and general staff at the detention center, maintain the complex, and provide medical services. GEO hires its own warden and the other administrators, screens all employees, provides overall management, and sees to the day-to-day operations. The 2006 contract, the most recent provided to the Weekly, calls for the county to pay GEO $362,000 a month — $4.34 million annually — on top of administrative salaries and any other expenses incurred. In return, the county gets part of the per-inmate money that the Bureau of Prisons pays. The bottom line: After expenses, including repairing the heavy riot damage, and after having lost daily payments on 700 inmates, the county still made $3.1 million off the prison last year.
That's more than the county makes off property taxes or from any other source, Clark said.
"To be honest, we'd prefer not to have a prison here. But we would not have survived without it," she said. "We were desperate, and that was our chance, and when you don't have a choice, you do what you have to do to survive."