Red Monroe's influences are obvious: the Stones, New York Dolls, The Animals, Moby Grape, and even a little Hold Steady action.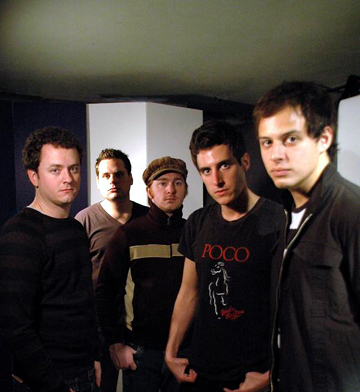 But the Dallas band does 'em all proud, mainly by not ripping them off. Like good lyric poetry, Red Monroe captures the essence of the Stones and company, which is way more important than merely aping beats, riffs, and poses. Other, less developed, garage-ish locals, take note: You get to the heart of the stuff you're trying to reanimate not by describing it inch by inch but by suggesting it in broad strokes.
As for the Stones' presence in Red Monroe's sound, you can detect it most obviously in the clanging guitars and frontman Eric Steele's bratty vocalismo. But Red Monroe's sometimes primal rhythms are exceedingly more inventive, and the lyrics tougher and more aware. Similarly, Steele often calls to mind Eric Burden's contemplative yet in-your-face delivery but with a much lighter pitch; the aggressiveness is ratcheted up by the backing vocals of male unison shouting. Kinda sounds like a small high school pep rally of angry, testosterone-addled teenage boys in full voice during a fight song. The touch is unique and effective.
The quintet's new, eponymous album is one of about 40 titles on the recording academy's list of choices for Best Alternative Album honors in the 2007 Grammy Awards. Other candidates reportedly include new ones from Thom Yorke, TV on the Radio, and The Arctic Monkeys. Red Monroe made the ballot after being submitted by Chris Bell, who produced the album. Finalists will be announced in early December.
Sun, Nov 11, w/Awesome Color and Be Your Own Pet at Gypsy Tea Room, 2548 Elm St, Dallas. 214-74-GYPSY.