Three weeks ago, a city-hired engineering firm released its first study on modern streetcars, identifying six possible routes that Fort Worth should consider. These would connect downtown with the Cultural District, the Near South Side, the Stockyards, and the East Side via Rosedale Street. One week later, the U.S Federal Transportation Administration awarded Fort Worth $25 million to pay about half the cost of a downtown circulator streetcar line.


But after the grant was announced, several city council members suggested the city turn it down. This has angered many streetcar proponents, who suggest that the council members — particularly Jungus Jordan — want to switch the streetcar money to the Tower 55 freight yard project to help clean up freight train congestion.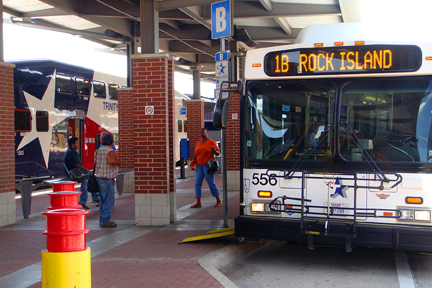 Some transportation planners also say that is not a good idea — that streetcar and rail money come from different pockets and that Fort Worth may be shooting itself in the foot if it first asks for streetcar money then only a few months later wants to give it back.
"To immediately want to dismiss the opportunity [for streetcars] without the studies being complete is completely irresponsible by our elected officials," said real estate developer Fran McCarthy, who serves on the city's Modern Streetcar Task Force. "There is a paradigm shift in Washington these days, where they are funding sustainable development — urban infill if you will — where the dependence on a car is not favored as it has been in the past.
"We need to take advantage of that change in thinking and not be left out because our leadership thinks cars and freight trains are our main transportation needs," McCarthy said. "It is completely irresponsible not to offer Fort Worth citizens different transportation options."
The streetcar grant had seemed like quite a coup: Fort Worth will get the maximum amount, for one of only six streetcar projects funded by the FTA, out of a total of 65 applications from across the country.
Jordan and some others on the council say the city has more pressing transportation needs. But the city has received recommendations from three council-appointed committees during the past three years, all of which were in favor of building a modern urban streetcar system. The council — as well as the planning and development staff — have supported the streetcar idea at every turn in the process.
The issue was addressed at the city's pre-council meeting on Tuesday. Council members asked a regional transportation official what the likely effect would be if Fort Worth turned down such a grant. The answer they got: Federal agencies would probably be less likely to fund any transportation projects here in the future.
Jordan has said the city has at least three transportation needs more critical than streetcars: expansion of I-35W north of the city, a commuter rail line that would run from southwest Fort Worth to Dallas/Fort Worth Airport, and fixing the freight train congestion just southeast of downtown.
"We all know that [Tower 55] is the number-one priority for this city," Jordan said. "Accepting this grant puts us in a strange predicament, because we don't know if we need streetcars, we don't know where they go or how we are going to pay for them."
However, consultants have made clear recommendations on streetcar routes, public support for streetcars is high, and little of the money needed to fund the streetcar project would come from the city's cash-strapped general fund.
Michael Morris, director of transportation for the North Central Texas Council of Governments, told the council it needs to adopt different strategies for those other transportation projects because any money for them will come from different sources than the streetcar funding, which in any case could not be transferred to help pay for the Tower 55 improvements or the commuter rail line.
"Rejecting this would send the wrong signal to [the federal government], especially as the state is applying for federal funding for Tower 55," Morris said. "The best thing to do would be to send [the FTA] a thank-you note."
Mayor Mike Moncrief indicated he favored the thank-you note approach rather than rejection of the grant. He asked Morris to draft a letter to do that. The council will decide at a later meeting whether to approve the letter and accept the grant.
The study by HDR Engineering will recommend possible starter lines based on connecting close-in neighborhoods with downtown and encouraging economic development. Those studies will be completed in November, and council can then accept or reject the proposal. The FTA grant gives the city 18 months to start construction.
"Accepting the grant doesn't mean you have to be committed to building a streetcar system," Morris said. "If [city council] decides not to do streetcars, you can just give [the FTA grant] back."
Morris' words echoed the statements of FTA Administrator Peter Rogoff when the grants were announced. "Streetcars are making a comeback because cities across America are recognizing they can restore economic development downtown — giving citizens the choice to move between home, shopping, and entertainment without ever looking for a parking space," Rogoff said in a press release. "These streetcar and bus livability projects will not only create construction jobs now, they will aid our recovery by creating communities with the potential to be more prosperous and less congested."
Suggestions that local streetcar funding would worsen the city's budget problems seem questionable. The plan is to fund most of the city's share of streetcar costs with revenue from Tax Increment Finance [TIF] districts downtown and on the Near South Side.
TIFs freeze property values at a base level, and that taxable value goes into the city general fund. When property values rise above that base level, the extra tax revenue stays in the district, to be used for public infrastructure improvements. The TIF dollars could never be used to improve Tower 55 or fund commuter rail.
Paul Paine, president of Fort Worth South Inc., which operates the Southside TIF, said the combination of federal grants and local TIF revenue make it highly unlikely that any general fund city money would be used. "[A streetcar system] is public infrastructure and exactly what TIFs are designed to do," he said.
Paine also pointed out that cities that have built modern streetcar lines — such as Portland, Ore. — have realized billions of dollars' worth of economic development as a result. Streetcar lines could potentially do the same thing here. TIF tax revenues could also grow.
"We need a transportation vision plan, and a part of that is whether we want a streetcar system in Fort Worth 20 years from now," Paine said. "If city council wants to tell us streetcars have no future here despite all the studies we have done, then tell us why and have your facts to back it up. Right now, some on council are just saying no and not telling us why."
Council member Carter Burdette said that Fort Worth's acceptance of the grant would "send Washington a signal that we will come up with $28 million to do this downtown streetcar loop. I don't want to send them those signals, because we haven't even decided if we want the streetcar or not."
But one local urban planner, who asked not to be identified, said rejecting the grant would send an even worse signal to Washington. "Turning down money from Washington for local transportation projects like the streetcar after you've asked for it would give the Obama administration serious pause as they consider other projects," he said. "So if city council wants to get Tower 55 fixed through federal funds, rejecting this streetcar grant could possibly affect that funding."
In January, Burdette, Jordan, and William "Zim" Zimmerman voted against applying for the FTA grant, though they had pledged support in the past. Jordan said the issue is misuse of tax money.
"TIFs are tax money, and we can't use $28 million for a streetcar line while we have to cut services," he said. "Tower 55 is a priority. Streetcars are a 'want,' and we don't even know where we want it."
But McCarthy said Tower 55 is a federal and state issue, one "that is about interstate commerce with few local issues and certainly little local funding." The estimated costs for upgrading the freight yard is about $93.7 million. The U.S Department of Transportation would pay $58.4 million, with Burlington Northern Santa Fe and Union Pacific rail companies putting up $32.8 million. Fort Worth would pay just $2.5 million of the total cost.
For council member Sal Espino, there is a larger issue involved. "Part of the reason we are in this huge budget deficit is that we have promoted suburban sprawl development through the years, and … doing infrastructure for those projects is very expensive," he said. "Doing urban village developments with existing infrastructure is a much better investment, and streetcars are a part of that.
"We can't just build more roads all the time," Espino said. "We need to let the planners do their studies, and then we can decide if we want to go forward. But rejecting this now is not good for our citizens who have made it apparent that better transportation options are their top priority."