The Fort Worth Weekly and your beloved Blotch bloggers are offering two free tickets (including free parking) to the Kelly Clarkson concert on Friday night at Verizon Theatre.
It's a value of more than $200 — or $200 million if you really, really like Clarkson.
Whoever responds with the best comment at the bottom of this post wins the tickets.
"Best" is subjective, but a panel of judges will make the decision based on, uh, our feelings.
Here we are now, entertain us.
Question: If you had the opportunity to say ONE THING to Kelly Clarkson, what would it be?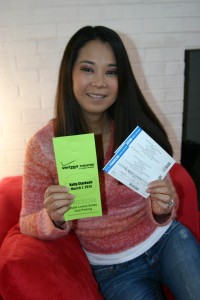 HERE IS PROOF THAT WE ACTUALLY HAVE TICKETS TO GIVE AWAY.
Winner will be determined at 5 p.m. today. Fort Worth Weekly employees are not eligible. If winner scalps these tickets for thousands of dollars and goes on a three-day coke bender, coke must be shared with judges.