Mighty Orphans Await Kickoff
Fort Worth native Russell Morton sees his grandfather's story through the screenwriting process.
Posted February 16, 2011 by KRISTIAN LIN in
Film
"Everything about Hollywood has surprised me," said Russell Morton, a third-generation Fort Worth native who recently moved back here from New York City. "I'm from the business world. I'm used to starched shirts and neckties. So when I took my first meeting with a Hollywood producer, I went there with my laptop and my files and everything. And the guy walked in in a t-shirt and shorts, and he had his dog on a leash. We had the dog in the office the entire time."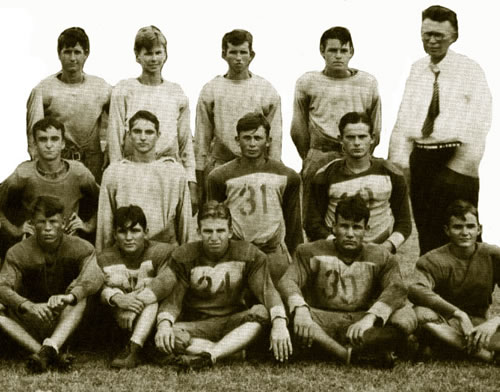 The 53-year-old Morton says he has now adjusted to the way Hollywood executives conduct business. His foray into this new world is for the sake of 12 Mighty Orphans, a film project still in the screenwriting stage that's based on his grandfather's life. Harvey "Rusty" Russell took a job in 1927 teaching and coaching football at Fort Worth's Masonic Home for Orphans and spent the next 15 years turning a group of orphaned boys into a Texas high school football powerhouse. Rusty Russell's story was told in a book by North Texas sportswriter Jim Dent, which came out in 2007. While it was still being written, its inspirational story caught the attention of Hollywood, and Dent asked his longtime friend Morton to join the group looking to buy the option on the screenplay. He figured that Morton's business acumen would be an asset, drawn from 25 years of experience working at Smith Barney Inc., where he rose to the rank of the investment firm's global director before retiring in 2007. In addition, there was Morton's personal connection to the story, the extensive collection of his grandfather's memorabilia that he had inherited as well as his memories of the man. "My grandfather was very intelligent, not just about football," Morton said. "He had this fun streak, and he just knew how to deal with kids. He had a magic touch."
Morton sees A-list talent going into the movie, and his partners' connections have gotten him through the office doors of some of Hollywood's power players. His partners are Ryan Ross, a former executive with the Ron Howard/Brian Grazer production company Imagine Entertainment; Mike Barr, a Dallas real estate agent and former SMU assistant football coach; and Barr's son Matt, a screenwriter and actor who's currently a regular cast member on the TV show Hellcats. Through their work, Oscar-winning actors have heard about their project and expressed interest, but Morton asked that their names not be published.
The producers tried hiring screenwriters to create the script, which ultimately proved fruitless. "They all wanted to make the story into something else," Morton said. "One of them even wanted to move the story to Washington state. Now the script is being written mostly by Ryan Ross and Matt Barr, with Morton providing input on his grandparents' way of speaking. For historical background, he and his partners have also re-interviewed Rusty Russell's players, now men in their 80s. While his partners will eventually move on to other film and TV projects, Morton isn't sure yet if he'll continue his Hollywood adventure after his grandfather's story finally hits the screen.
"I just want to get this done," he said.