Hollywood now faces the same problem that faced the young-adult publishing industry a few years ago. With the Harry Potter and Twilight film series both near their ends, the race is on to land the next multi-part saga about teens with superpowers battling evil forces and their own adolescent hormones. Which series of novels will turn into the next string of box-office hits?


Last year we had a fairly disastrous movie version of Rick Riordan's Percy Jackson and the Olympians: The Lightning Thief. Next year should bring a film of Suzanne Collins' The Hunger Games. This year we have I Am Number Four, a Disney-produced adaptation of the first and so far only novel in the Lorien Legacies series by Pittacus Lore, the pen name shared by Jobie Hughes and disgraced memoirist James Frey. The resulting movie is far from perfect, but it's a good bit of fun all the same.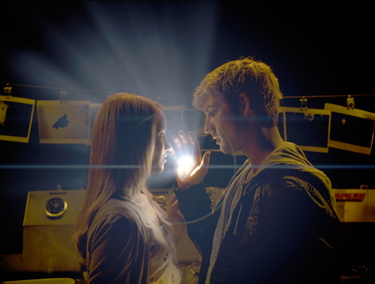 Our numbered hero (Alex Pettyfer) takes up the alias of John Smith as he settles into a small town in Ohio, the latest in a string of homes and identities. He's an adolescent refugee from a decimated alien planet called Lorien who has spent most of his life on the run with Henri (Timothy Olyphant), who poses as his dad but is really a fellow Loric survivor assigned to protect him. They're hiding from the altogether nastier race of aliens that destroyed their civilization, who are now systematically hunting down John and eight other gifted Loric children, trying to wipe them out before they grow up and acquire the superpowers that they could use to save both their own race and the Earth. The nine kids must be killed in sequence, so John tries to keep a low profile while attending high school. When he finds out that Number Three has just been murdered in Africa, he knows he's next.
Screenwriters Marti Noxon (TV's Buffy the Vampire Slayer) and Alfred Gough and Miles Millar (TV's Smallville) are all experienced at telling stories about alternate universes, magical powers, and superhuman enemies. Weirdly, they fail at that job pretty decisively here. We never hear the book's explanations of why the aliens look like humans and speak their languages or how the various aliens are able to run around Earth undetected. There are flaws intrinsic to the source, too; the bullying high-school jock character (Jake Abel) becomes a good guy all too suddenly, and John's friendship with a bullied nerd (Callan McAuliffe) doesn't come off, though that last storyline might be put down to Pettyfer's generally wooden performance. Still, it's world-building that this kind of science-fiction thrives on, and the filmmakers' disinterest in the backstory and mythology of the alien power struggle translates into a movie that lacks texture and feels unnecessarily flat.
At least the movie gets rid of Lore's amateurish prose and tightens up the extensively reworked original story. Director D.J. Caruso (Eagle Eye, Disturbia) and his writers do much to turn the novel's dreary action scenes into lively ones on the screen, especially in a sequence when John is attacked while on a carnival's haunted hayride — scary objects pop into the frame because they're supposed to do that on haunted hayrides. Caruso isn't the most imaginative filmmaker, and he can't evoke any sense of wonder in the scenes when John starts to discover his powers (super-strength, telekinesis, and the ability to control light). Still, Caruso is a talented hack, bringing intelligence to the proceedings and performing a clever spin on the action-movie cliché when a character calmly walks toward the camera while something explodes in the background.
Caruso also pays unusual attention to the actors in his movies. That's important here because much of the movie is taken up with John's romance with a girl at school named Sarah (Dianna Agron from TV's Glee). Most other action directors would regard these scenes as a nuisance to be dispensed with quickly, but Caruso handles them gently and lets them breathe. The two actors respond by meshing well — it's the only time Pettyfer, a British newcomer with a passable American accent, looks remotely comfortable. They receive valuable support from Olyphant, an actor who's been better served by TV than movies, here delivering both gravity and bracing, snarky wit to the role of John's surrogate father.
The movie saves its best for last with the sudden appearance of Number Six (Teresa Palmer), who makes a grand, smashing entrance during the climactic battle. A blonde Australian Kristen Stewart lookalike, Palmer brings a giant can of whup-ass to this party and makes you wish the movie had been about the ultra-cool Six rather than the dull Four. The good news is, the second Lorien Legacies novel, due out in April, will indeed be all about Six. As diverting as I Am Number Four is, it looks like the sequel — if it happens — will bring the real action.
I Am Number Four
Starring Alex Pettyfer, Timothy Olyphant, and Dianna Agron. Directed by D.J. Caruso. Written by Alfred Gough, Miles Millar, and Marti Noxon, based on Pittacus Lore's novel. Rated PG-13.