Life of Pi: Cat Away
An improbable survival story on the ocean makes for an Ang Lee masterpiece.
Posted November 21, 2012 by KRISTIAN LIN in
Film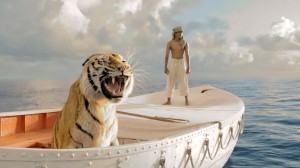 A Bengal tiger and Suraj Sharma must share a boat to survive in "Life of Pi."
Remember when I wrote about "unfilmable" novels in my review of Cloud Atlas a few weeks ago? Well, Yann Martell's Life of Pi was supposed to be unfilmable, too — a largely plotless story filled with the philosophical ponderings of a guy drifting at sea for several months. Yet now that novel has been most decisively filmed by Ang Lee. The movie version of Life of Pi ranks with that director's greatest achievements, and like his other masterpieces, it's completely different from all of the others.
The hero is 16-year-old Piscine Molitor "Pi" Patel (Suraj Sharma), an eccentrically named boy in Pondicherry, India, whose zoo-owner father (Adil Hussain) fatefully decides to sell his animals and move his family to Canada. En route, the ship carrying Pi's family and the animals sinks, leaving Pi stranded on a lifeboat with a zebra, an orangutan, a hyena, and a 450-pound Bengal tiger named Richard Parker. Quickly this becomes just Pi and Richard Parker, and the boy has to figure out a way to coexist with the large carnivorous cat on that small boat.
Purely as a piece of spectacle, this movie is just glorious. Lee has always had an incredible sense of place, and he does not skimp on the visual pleasures of India in the early parts of the story, like a Diwali ceremony lit by floating candles or a besotted Pi looking on as his girlfriend (Shravanthi Sainath) performs a traditional dance. Yet the director serves up some fantastic set pieces on the ocean as well — the sinking of the cargo ship amid a roaring thunderstorm, the lifeboat lit from below by a colony of luminescent jellyfish, the surreal verdant island that Pi and Richard Parker happen upon. There's even an overhead shot of the boy and the tiger curled up on the boat that mimics the novel's cover illustration. The largely wordless scenes with Pi trying to train Richard Parker so that he can move freely about the boat are gripping stuff too. You will want to pay the 3D upcharge for this movie.
Yet Lee doesn't forget the human element here. The great Irrfan Khan delivers some spellbinding scenes as the grown-up Pi who narrates his story to a novelist (Rafe Spall) in a framing device. The newcomer Sharma takes up most of the screen time, though, and the kid has an easy command of the screen. You can see this most easily in a late scene when Pi tells a different version of his story. For all the technical tricks that Lee pulls out elsewhere in the movie, here he simply leaves the camera on Sharma's face as he recounts the horrors on the ocean, and the young actor responds with a powerful reading.
Pi's interest in world religions is the part of the book that gets shorted here, but this emotionally draining adventure yarn still stands as a testament to human ingenuity and the power of storytelling to shape our sense of the world. Wondrous and terrifying, Life of Pi is simply a classic of its kind.
Life of Pi
Starring Suraj Sharma. Directed by Ang Lee. Written by David Magee, based on Yann Martel's novel. Rated PG.