Film Shorts
Posted October 9, 2013 by KRISTIAN LIN in
Film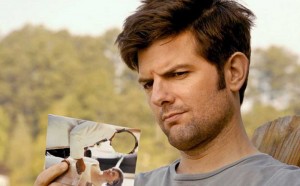 A.C.O.D. opens Friday in Dallas.
A.C.O.D. (R) Adam Scott stars in this comedy as a man who's forced to deal with the fallout from his parents' acrimonious divorce at the wedding of his younger brother (Clark Duke). Also with Richard Jenkins, Catherine O'Hara, Amy Poehler, Mary Elizabeth Winstead, Sarah Burns, Jane Lynch, and Jessica Alba. (Opens Friday in Dallas)
Concussion (R) Robin Weigert stars in Stacie Passon's drama as a middle-aged lesbian housewife and mother who becomes a high-end prostitute for other women after a head injury. Also with Maggie Siff, Jonathan Tchaikovsky, Ben Shenkman, Janel Moloney, and Laila Robins. (Opens Friday in Dallas)
Escape From Tomorrow (NR) Secretly filmed inside Disneyland and Disney World, Randy Moore's black-and-white psychological thriller stars Roy Abramsohn as an unemployed dad who is stalked by terrifying demons while vacationing at Disney World. Also with Elena Schuber, Katelynn Rodriguez, Jack Dalton, Danielle Safady, and Annet Mahendru. (Opens Friday in Dallas)
Ghost Team One (R) Carlos Santos and J.R. Villarreal star in this spoof of found-footage horror films as two buddies whose attempts to have sex with a girl (Fernanda Romero) in a supposedly haunted house go horribly wrong. Also with Tony Cavalero, Meghan Falcone, and James Babson. (Opens Friday at AMC Grapevine Mills)
The Inevitable Defeat of Mister & Pete (R) George Tillman Jr. (Soul Food, Men of Honor) directs this drama about two Brooklyn boys (Skylan Brooks and Ethan Dizon) who are forced to fend for themselves after their mothers are arrested. Also with Jennifer Hudson, Anthony Mackie, Adewale Akinnuoye-Agbaje, Adam Trese, and Jordin Sparks. (Opens Friday)
Machete Kills (R) The sequel to Robert Rodriguez' 2010 hit stars Danny Trejo as an operative who's called on by the president of the United States (Carlos Estevez a.k.a. Charlie Sheen) to stop a Mexican madman (Mel Gibson) from launching a weapon into space. Also with Michelle Rodriguez, Sofía Vergara, Amber Heard, Lady Gaga, Walton Goggins, Cuba Gooding Jr., Alexa Vega, Vanessa Hudgens, William Sadler, Demián Bichir, Antonio Banderas, and an uncredited Jessica Alba. (Opens Friday)
Romeo and Juliet (PG-13) Hailee Steinfeld (True Grit) and Douglas Booth star in Carlo Carlei's adaptation of Shakespeare's tragedy. Also with Ed Westwick, Christian Cooke, Kodi Smit-McPhee, Damian Lewis, Natascha McElhone, Tomas Arana, Laura Morante, Stellan Skarsgård, and Paul Giamatti. (Opens Friday)
Sweetwater (R) January Jones stars in Logan Miller's thriller as a former prostitute who seeks vengeance on the religious cult that murdered her husband in 19th-century New Mexico. Also with Ed Harris, Jason Isaacs, Eduardo Noriega, Stephen Root, Noah Miller, Jason Aldean, and Amy Madigan. (Opens Friday in Dallas)
Tough As Iron (NR) Yoo Ah-in stars in this drama as a Korean dock worker who must make money to save his ailing mother (Kim Hae-seok) and his friend (Lee Si-eon) who's in debt to mobsters. Also with Jeong Yu-mi, Kim Jeong-tae, Kim Seong-oh, Bae Seul-ki, and Kim Seo-kyeong. (Opens Friday at AMC Grapevine Mills)
We Are What We Are (R) Jim Mickle's English-language remake of Jorge Michel Grau's 2010 Mexican horror film stars Ambyr Childers and Julia Garner as teenage daughters who must take over hunting and food preparation duties in a family of cannibals. Also with Bill Sage, Kassie DePaiva, Wyatt Russell, Nat DeWolf, Larry Fessenden, Odeya Rush, and Kelly McGillis. (Opens Friday in Dallas)
Baggage Claim (PG-13) Rampagingly mediocre comedy about a flight attendant (Paula Patton, too well-mannered for this doormat of a role) who becomes desperate to show up at her sister's wedding with a man and enlists her fellow airline employees to help track down her exes over the holiday season. The funniest business comes from Adam Brody and R&B singer Jill Scott as the heroine's best friends and fellow flight attendants, but a talented cast is wasted in cliché parts. David E. Talbert (adapting this movie from his own novel) also has no idea how to pace this thing or set up a gag. An airplane is probably the best place to watch this. Also with Derek Luke, Jenifer Lewis, Boris Kodjoe, Trey Songz, Taye Diggs, Lauren London, Affion Crockett, La La Anthony, Tia Mowry, and Djimon Hounsou.
Cloudy With a Chance of Meatballs 2 (PG) Much like the 2009 original, this animated sequel is imaginative and clever in terms of visuals and utterly forgettable in terms of story. Bill Hader returns as the wacky inventor who goes to work for a fascist Steve Jobs-type tech mogul (voiced by Will Forte) and has to prevent his old food invention from overrunning the world. The movie has funny gags in the background of the frame and a whole bestiary's worth of animals made out of food that will enthrall the small kids. The bigger kids will notice that the human characters are boring and the attempts at satire off the mark. It's all yummy, empty calories. Additional voices by Anna Faris, James Caan, Andy Samberg, Benjamin Bratt, Terry Crews, Kristen Schaal, and Neil Patrick Harris.
Despicable Me 2 (PG) Like the original, this animated movie's most creative touches can be found at its margins. The former supervillain Gru (voiced by Steve Carell) is sent undercover into the local shopping mall to foil the latest plot to take over the world. Directors Pierre Coffin and Chris Renaud have gotten very good at inventing and crafting gags, especially regarding Gru's army of yellow minions, but they throw too many subplots into what should be a neat spy thriller for kids. If only these visually talented filmmakers could find a good story, they'd really be onto something. Additional voices by Kristen Wiig, Benjamin Bratt, Miranda Cosgrove, Elsie Fisher, Dana Gaier, Steve Coogan, Moises Arias, Nasim Pedrad, Kristen Schaal, Ken Jeong, and Russell Brand.
Don Jon (R) Joseph Gordon-Levitt makes his writing and directing debut with this raunchy sex comedy. He stars as a Jersey bartender who admits to deriving more sexual satisfaction from porn than from actual women. As a filmmaker, Gordon-Levitt isn't quite there yet; the jointures in his script are too easy to see, and some of the scenes (especially with Scarlett Johansson as his highly traditional new girlfriend) needed to be dialed back. Still, the movie is punchy, quick on its feet, and frequently funny, and Julianne Moore gives a great performance as an older woman who teaches Jon about the real meaning of sex. What could have been a rickety construct becomes the movie's most compelling figure. Watch for a terrific running gag with Brie Larson as Jon's sister, who is forever texting someone. Also with Tony Danza, Glenne Headly, Rob Brown, Jeremy Luke, Meagan Good, Cuba Gooding Jr., Channing Tatum, and Anne Hathaway.
Elysium (R) Neill Blomkamp's first Hollywood effort loses the weirdness and the African point of view that made District 9 such a hit, giving this science-fiction movie a disconcerting resemblance to last year's Total Recall remake. Matt Damon stars as a mid-22nd century factory worker who's poisoned in an accident and must break into a space station reserved exclusively for the wealthy to save his life. Despite his ambitions, Blomkamp doesn't comment meaningfully on income inequality, mishandles the story's time element, fails to generate any emotional gravity here. He does come up with some inventive visual touches, but overall he seems tentative working with this kind of budget and talent. Hope this is just a case of first-time jitters. Also with Jodie Foster, Sharlto Copley, Alice Braga, William Fichtner, Wagner Moura, Faran Tahir, and Diego Luna.
Enough Said (PG-13) This is a rare movie about middle-aged romance from a woman's point of view, but even if you're not interested in this subject, Nicole Holofcener's comedy is still good enough to deserve to be seen. Julia Louis-Dreyfus plays a professional masseuse who discovers that her new boyfriend (James Gandolfini) used to be married to a former client (Catherine Keener). The plot mechanics are uncharacteristically clunky from the director of Please Give and Lovely & Amazing, but Holofcener's dialogue and psychological insights are customarily sharp, and Louis-Dreyfus and the late Gandolfini make a thoroughly charming couple. Also with Toni Collette, Ben Falcone, Tracey Fairaway, Tavi Gevinson, Eve Hewson, Amy Landecker, and Anjelah Johnson-Reyes.
The Face Reader (NR) Song Kang-ho stars in Han Jae-rim's historical epic about a nobleman's son with superb powers of deduction who becomes embroiled in a 15th-century power struggle over the throne of a Korean kingdom. Also with Lee Jeong-jae, Baek Yoon-sik, Jo Jeong-seok, Lee Jeong-seok, Kim Hye-soo, Ko Chang-seok, and Kim Kang-hyeon.
The Family (R) Confusing. Robert De Niro and Michelle Pfeiffer star in Luc Besson's comic thriller as a Mafia boss and his wife who are relocated to the south of France along with their teenage children (Dianna Agron and John D'Leo) by the American federal witness protection program. Besson has been on this turf before (La Femme Nikita), but he can't seem to decide whether this is an action thriller, a high-school drama, a fish-out-of-water comedy, or a movie about a murderous mob boss writing his memoirs out of boredom. As a result, none of these characters make any sense, and Besson rides the "rude French people" stereotype into the ground whenever he runs out of ideas. There was probably a viable movie in here somewhere. Also with Jimmy Palumbo, Domenick Lombardozzi, Stan Carp, Jon Freda, Vincent Pastore, Dominic Chianese, and Tommy Lee Jones.
Generation Iron (PG-13) Vlad Yudin's entertaining documentary follows seven bodybuilders as they prepare to compete in the 2012 Mr. Olympia competition. The bodybuilders are a personable and somewhat bitchy group of guys, and the movie builds to an ultimate clash between challenger Kai Greene (a sensitive orphaned New Yorker who paints in his spare time) and champion Phil Heath (sharp, handsome, telegenic, and more than a bit of a dick, though he makes that work for him). Yudin doesn't shy away from the sport's less savory aspects, though he could have included more on the sport's background and what motivates these men to increase the size of their muscles beyond all proportion. This is fascinating even if you have no interest in bodybuilding.