Grace Unplugged (PG) AJ Michalka stars in this drama as a Christian musician whose faith is tested by success. Also with James Denton, Shawnee Smith, Michael Welch, and Kevin Pollak.
Gravity (PG-13) The greatest 3D movie ever made. Alfonso Cuarón's unremittingly intense space thriller stars Sandra Bullock as a novice astronaut who is caught outside the shuttle in a high-velocity storm of space debris and stranded in the blackness of space. The film is essentially a series of long takes, and Cuarón's shooting of them in a simulated zero-gravity environment is an astounding technical feat. Yet the long takes also give us no chance to catch our breath; they turn this brief 90-minute film into a singularly harrowing experience, with our heroine narrowly escaping death from completely unforeseen yet logical dangers. Bullock rides over the script's infelicities and gives this film a human center, helping to turn this movie into an exhilarating and emotionally draining ride. Also with George Clooney.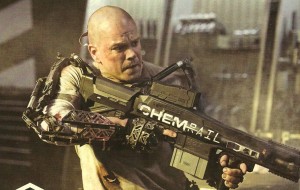 Insidious: Chapter 2 (PG-13) The second part of James Wan and Leigh Whannell's 2011 haunted house/demon possession/astral traveling hit combines so-so scares and wooden acting into a set of diminishing returns, but there's still a certain amount of fun to be had here. Patrick Wilson's trip to the netherworld of the dead gives the sequel an entertaining fantasy element that strays from the story's hair-raising ambitions and almost into family-friendly territory. Curiously, that element is }what makes the flick worth watching, besides the fact that it picks up where its predecessor left off. If you liked the first one, you might as well find out what happens next. Also with Rose Byrne, Barbara Hershey, Ty Simpkins, Leigh Whannell, Lin Shaye, and Angus Sampson. –– Steve Steward
Instructions Not Included (PG-13) Eugenio Derbez is a terrific comic actor, but his work as the director and co-writer of this soppy Spanish-language comedy yields much less happy results. He stars as an Acapulco playboy who's forced to settle down after his American hookup (Jessica Lindsey) literally abandons their baby on his doorstep. The movie comes up with some sly satire on the movie business after our hero gets a job as a Hollywood stuntman, but when the child's mother re-enters the picture and tries to claim custody of the now-7-year-old girl (Loreto Peralta), the proceedings become intolerably weepy. Derbez gives a fine performance despite his own self-inflicted script; he needs to stay in front of the camera. Also with Daniel Raymont, Alessandra Rosaldo, Sammy Pérez, Agustín Bernal, and Hugo Stiglitz.
Lee Daniels' The Butler (PG-13) Ragged and uneven, this historical epic still has enough to recommend it. Based loosely on the story of a real-life White House butler, this movie stars Forest Whitaker as a cotton farmer's son who attends on seven consecutive U.S. presidents during turbulent racial times. Daniels' talent is volatile as usual; he makes weird casting choices with the presidents, holds the viewer's hand too much, and indulges into soapiness and melodrama concerning the butler's family life. Yet the supporting characters (especially the main character's fellow domestic workers) are funny and fully realized, and we see both why the butler refuses to make waves and why his son (David Oyelowo) regards him as a sellout. The complicated accommodation that the butler and his son eventually come to gives the movie its emotional heft. Also with Oprah Winfrey, Robin Williams, James Marsden, Liev Schreiber, John Cusack, Alan Rickman, Jane Fonda, Minka Kelly, Cuba Gooding Jr., Lenny Kravitz, Terrence Howard, Elijah Kelley, Yaya Alafia, Nelsan Ellis, Colman Domingo, Alex Pettyfer, and Vanessa Redgrave.
Metallica: Through the Never (R) The heavy-metal rock legends sound as good as ever in Nimród Antal's concert film. Playing most of their iconic hits and some newer material, the band is tight, with their power undiminished. The impressive stagecraft includes white crosses rising from the floor for "Master of Puppets" and a 40-foot statue of Lady Justice being assembled onstage and then crumbling during "… And Justice for All." The music is interspersed with a story about a roadie (Dane DeHaan) surviving a street riot and battling the undead to pick up a mysterious package for the band. What it all means or what it's doing here, I have no clue. This movie is best experienced in a theater where the sound is cranked up so that you can feel Lars Ulrich's drumming in your ribcage.
Prisoners (R) The pieces fit together just a little too neatly in this war-on-terror allegory that stars Hugh Jackman as a dad who reacts to the disappearance of his daughter and another girl by kidnapping and torturing the neighborhood's creepy mentally retarded guy (Paul Dano), convinced that he knows where the girls are. Director Denis Villeneuve (Incendies) is scrupulous about the ethical questions raised, and the cast is very good, including Jake Gyllenhaal as seemingly the only cop in this mid-sized Pennsylvania city. Yet there isn't enough background on the Jackman character, and Villeneuve can't quite disguise the whiff of exploitation about this project. Also with Terrence Howard, Viola Davis, Maria Bello, Melissa Leo, Dylan Minnette, Zoe Soul, Erin Gerasimovich, Kyla Drew Simmons, David Dastmalchian, Wayne Duvall, and Len Cariou.
Pulling Strings (PG) A simple but touching comedy about a Mexican mariachi (Jaime Camil) who falls in love with a workaholic American diplomat (Laura Ramsey). After she rejects his visa application, he finds her lost laptop containing sensitive diplomatic info and uses the promise of finding the "lost" computer as a way to get his visa approved. After several days searching Mexico City, (big surprise) love ensues as well as some memorable music performances by Camil and his band. Despite the use of mariachi singers and flamboyant depictions of Hispanics, this film manages to capture subtle cultural nuances of life in Mexico using humor and relatable family depictions. Brush up on your Spanglish before going — half the film is in español. Also with Omar Chaparro, Tom Arnold, Roberto Sosa, Aurora Papile, Renata Ybarra, and Stockard Channing. –– Edward Brown
Riddick (R) Not as good as Pitch Black but better than The Chronicles of Riddick. Vin Diesel and writer-director David Twohy return for this third adventure of the escaped convict who can see in the dark, who's marooned on a hostile world and calls down a bunch of bounty hunters to get him off the planet. Diesel does reasonably well with the first third of the movie, which is almost wholly without dialogue. I do wish the filmmakers hadn't given Riddick a cute dog (albeit a giant striped, alien, man-eating dog) as a sidekick, but the unpretentious action and Riddick's dealings with the two competing teams of bounty hunters make this an agreeable way to kill a couple of hours. Also with Katee Sackhoff, Jordi Mollà, Matt Nable, Dave Bautista, Bokeem Woodbine, Raoul Trujillo, Nolan Gerard Funk, Keri Hilson, and Karl Urban.
Runner Runner (R) Justin Timberlake's slick, unmemorable performance headlines this slick, unmemorable thriller about a Princeton math grad student who takes a job with a shady online poker mogul (Ben Affleck) in Costa Rica. Screenwriters Brian Koppelman and David Levien (Rounders) know their stuff when it comes to gambling, but the story is boilerplate and Affleck seems to be the only actor having any fun. Timberlake flashes his charisma in a scene at a casino table when he goads an obnoxious dice shooter into crapping out, but that's only once and only for a few minutes. Mostly, this movie's a bore. Also with Gemma Arterton, Anthony Mackie, Oliver Cooper, Michael Esper, Christian George, Yul Vazquez, Sam Palladio, Bob Gunton, and John Heard.
Rush (R) Ron Howard's blazing film dramatizes the real-life 1970s Formula One rivalry between the flamboyant, hard-living, thrill-seeking Englishman James Hunt (Chris Hemsworth) and the brusque, sour-faced, businesslike Austrian Niki Lauda (Daniel Brühl). The two actors do terrific work as enemies who gradually gain respect for each other, with Hemsworth showing the burning ambition behind Hunt's playboy façade and Brühl making Lauda's humorless arrogance into something entertaining. The movie features crackling dialogue by Peter Morgan (The Queen, Frost/Nixon) and a uniquely thrilling scene at the Italian Grand Prix when fans swarm the track to hail Lauda's courage in coming back from crippling injuries. This intelligent piece of adult fare just happens to be an exhilarating sports movie, too. Also with Olivia Wilde, Alexandra Maria Lara, Pierfrancesco Favino, David Calder, Stephen Mangan, Christian McKay, Alistair Petrie, and Natalie Dormer.
We're the Millers (R) The actors are better than the material in this agreeable B-level comedy. Jason Sudeikis plays a small-time drug dealer who recruits a stripper (Jennifer Aniston) and two teenagers (Will Poulter and Emma Roberts) to portray his wife and kids as he smuggles several thousand pounds of marijuana from Mexico. The farce is little more than by-the-numbers, but Sudeikis proves he can carry a movie, Aniston matches him in the ad-libs department, Poulter gets a glorious freestyle rap number, and Nick Offerman and Kathryn Hahn are killer as a vacationing married couple with a wild side. If only more substandard comedies could be redeemed like this. Also with Ed Helms, Matthew Willig, Tomer Sisley, Molly Quinn, Luis Guzmán, Ken Marino, and Thomas Lennon.
DALLAS EXCLUSIVES:
Alone Yet Not Alone (PG-13) Ray Bengston and George Escobar's drama about two German sisters who survive hardships while settling in America during the French and Indian war. Starring Kelly Greyson, Natalie Racoosin, Clay Walker, Jenn Gotzon, Ozzie Torres, Tony Wade, Robert Pierce, and Joanie Stewart.
Inequality for All (PG) Jacob Kornbluth's documentary follows former U.S. Labor Secretary Robert Reich as he raises awareness of America's growing economic gap.
On the Job (NR) Erik Matti directs this Filipino thriller based on real life about a group of prisoners who work as hit men for the rich and powerful while on a work-release program. Starring Piolo Pascual, Gerald Anderson, Joel Torre, Joey Marquez, Angel Aquino, Michael de Mesa, and William Martinez.
Parkland (PG-13) Peter Landesman writes and directs this drama set at Dallas' Parkland Memorial Hospital in the immediate aftermath of president John F. Kennedy's assassination. Starring Zac Efron, Paul Giamatti, Billy Bob Thornton, Marcia Gay Harden, James Badge Dale, Tom Welling, Colin Hanks, Jackie Earle Haley, Ron Livingston, Rory Cochrane, Bitsie Tulloch, Gil Bellows, David Harbour, and Jacki Weaver.
The Secret Lives of Dorks (PG-13) Gaelan Connell (Bandslam) stars in this comedy as a high-school comic-book geek who gets into a complicated romantic situation with a cheerleader (Riley Voelkel) and a football star (Beau Mirchoff). Also with Vanessa Marano, Seymour Cassel, William Katt, Kay Lenz, Mike Ditka, Jennifer Tilly, and Jim Belushi.
Wadjda (PG) A Saudi film! Directed by a woman! Haifaa al-Mansour's drama is about a 10-year-old girl (Waad Mohamed) who resolves to win her school's Quran-reciting contest so she can buy a new bicycle. Also with Reem Abdullah, Abdulrahman al-Gohani, Sultan al-Assaf, Dana Abdullah, Rehab Ahmed, Rafa al-Sanea, and Sara al-Jaber.