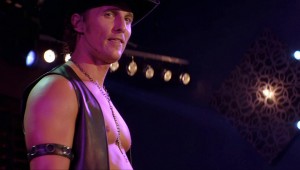 Kristian Lin
I don't expect all these performances to be nominated come Oscar time, but then my picks for the best supporting performances of the year never match up with the Academy voters', or my fellow critics'. (This is especially...
UNT on the Square


Gallery
Frank Reaugh lived from 1860 to 1945 and spent most of his years sketching the landscapes of the American Southwest in pastels. UNT on the Square features works by the "Dean of Texas Painters" through the end of this month.
ANTHONY MARIANI
We all know how important Michelangelo is. He painted a massive fresco on the ceiling of the Sistine Chapel for, uh, Pete's sake, sculpted totally buff nudes out of marble (who knew that 24 Fitnesses existed back then?), ...
This roly-poly animated kung fu comedy hits home.


Kristian Lin
The latest animated family film from DreamWorks Animation, Kung Fu Panda is not as much fun as Kung Fu Hustle, but it's much better than Kung Pow: Enter the Fist.
Big Ticket
For its first annual Allegro Guitar Festival and Allegro Amateur Competition, the Fort Worth Classic Guitar Society has made sure it's in good hands.