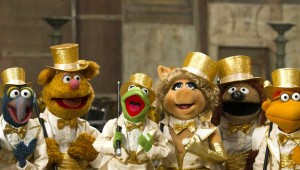 Twice the Kermit equals half the fun in this Muppets sequel.


KRISTIAN LIN
It was great to have the Muppets back on the big screen three years ago, but now the novelty has worn off, so where does the series go from here? Sadly, instead of coming up with an answer, the sequel, Muppets Most Wanted, show...
Oh, Kermie! Our favorite showbiz puppets are back in fine form.


KRISTIAN LIN
I feel like I'm nine years old again. The newest adventure of Jim Henson's creations, simply titled The Muppets, may not always work, but any movie that can take me back to my childhood has accomplished something, and I dar...