I feel like I'm nine years old again. The newest adventure of Jim Henson's creations, simply titled The Muppets, may not always work, but any movie that can take me back to my childhood has accomplished something, and I dare say I won't be the only one feeling that way.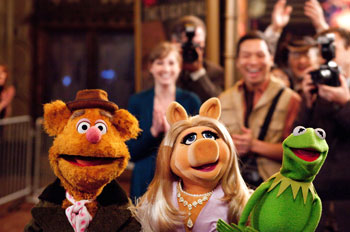 Reportedly some of the old-guard Muppet personnel (notably Frank Oz) refused to participate in this, the first big-screen outing by the Muppets since the amiable but dispensable 1999 effort Muppets From Space. They objected to the contributions by screenwriters Jason Segel and Nicholas Stoller (best known for the raunchy Forgetting Sarah Marshall) and director James Bobin (the creator of TV's The Flight of the Conchords). You can understand the older writers' trepidation at all these comedy minds from a younger generation, but looking at the finished product, it's hard to see what their issues could have been. The new movie has hardly turned the Muppets' act into Avenue Q. Instead, the film is remarkably similar to the ones that the Muppets made in their late-1970s/early-'80s heyday, with leisurely pacing, song and dance numbers, smart self-referential jokes, a bevy of celebrity cameos, and a big show to top everything off.
The story begins with a new Muppet named Walter, who since his childhood has dreamed of joining Kermit the Frog and his troupe. He's overjoyed, then, when his brother Gary (played by Segel) takes him on a vacation trip to L.A. so that Walter can see the Muppets' studio and perhaps even meet Kermit. However, Walter's joy turns to horror once he's in Hollywood, first at the studio's state of neglect and disrepair, and second when he overhears an evil oil baron (Chris Cooper) planning to buy the place just to tear it down and turn it into an oil field. It's up to Walter, Gary, and Gary's girlfriend Mary (Amy Adams) to round up Kermit and the rest of the Muppets so they can put on a telethon, save the studio, and resume the show business careers they were meant for.
The film gets off to a ragged start. Walter isn't all that interesting, and the script never does explain how a man and a Muppet come to be brothers. Mary's dissatisfaction at being the third wheel in Gary and Walter's relationship is a promising idea that gains no traction, and the ongoing soap opera between Kermit and Miss Piggy (who's found living in Paris and editing French Vogue) delivers no new twists. The point that the Muppets are languishing in obscurity and trying to make a comeback is made a bit too emphatically.
Still, there's enough in the early going to keep things afloat. Fozzie Bear is discovered fronting a forlorn Muppets cover band in Reno (with Dave Grohl dressed as Animal on the drums), the disco-flavored duet "Me Party" is a chance for Adams and Miss Piggy to show off their dance moves, and we get the thoroughly bizarre experience of Chris Cooper expressing his villainy through a hip-hop number called "Let's Talk About Me." (The new songs are by Flight of the Conchords star Bret McKenzie.) These flashes of inspiration and our goodwill are enough to sustain the film until it really catches fire.
That happens in a crackling number called "Man or Muppet," a Foreigner-esque power ballad for Gary, Walter, Gary's imagined Muppet self, and Walter's imagined human self (Jim Parsons, who looks like a human version of a Muppet). That song launches the rest of the proceedings, which includes Kermit's memorably freaked-out reaction to the news that Miss Piggy has kidnapped Jack Black and plans to force him to host the telethon against his will. The telethon itself is vintage Muppet zaniness, with notable contributions from both Black (whose cries for help as he's tied to a chair are interpreted as part of the show) and from Camilla and The Chickens, who perform Cee-Lo Green's biggest hit, with their clucking replacing the profanity along with all the other lyrics. (They should have retitled the song "Cluck You.") In the midst of all the antics, Kermit reprises "The Rainbow Connection," and the song has lost none of its innocence and pristine sweetness.
Similarly, The Muppets brings the spirit of this troupe — wise without being jaded, anarchic without being destructive, hip to pop culture without being desperate to seem cool, and always pulling together so the next show can go on — into a new era intact. We've missed Kermit and his gang. It's good to have them back.
The Muppets
Starring Kermit the Frog, Miss Piggy, Jason Segel, and Amy Adams. Directed by James Bobin. Written by Jason Segel and Nicholas Stoller. Rated PG.