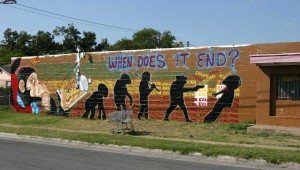 Static
The Man. He's always trying to keep us down. Like when all you want to do is have a few harmless illegal gambling machines in your convenience store, he takes them away. Or when you paint a mural on the side of your building ...
His life is as sprawling and colorful as his artwork.


DAN MCGRAW PHOTOS BY ROBERT HART
Out behind Lola's Saloon, Bo Powell is staring at the mural he finished recently for the bar's new outdoor stage — there's the Trinity River green space, a Fort Worth skyline, and F-16 fighter jets shooting past.
Jeff Prince
The tornado-bent metal sculpture and its accompanying art mural at the new U.S. Post Office in the museum district were lauded in this article back in November. Then, in April we got a little snarky when the mural remained unfi...