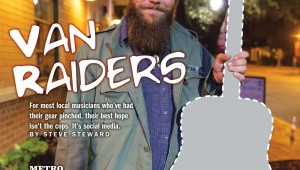 For most local musicians who've had their gear pinched, their best hope isn't the cops. It's social media.


Steve Steward
Of course with any theft, an item's intrinsic value is impossible to quantify. You can sell an amp for what it's worth, less the price of personal attachment and personal expenditure in terms of maintenance money and of the...
Listen Up
Influenced by Patti Smith, Nirvana, The Clash, Neil Young, John Prine, Johnny Cash, his factory-worker father, and coal-miner and farmer grandparents, Jefferson Pepper spent two years in his home in the Conewago Mountains (Sout...