Of course with any theft, an item's intrinsic value is impossible to quantify. You can sell an amp for what it's worth, less the price of personal attachment and personal expenditure in terms of maintenance money and of the memories that come from every rip in the tolex and every trip to and from the back of a car with the amp in your arms. They're like babies. Or at least prized pets.
Scott White is a teller supervisor at a bank in Hurst, but the 25-year-old has been playing guitar for nearly half his life, formerly in a doom metal band called Velia Shrine, currently in Foo Fighters tribute The Foo. He'd moved to Fort Worth from Euless for a change of scenery after a relationship dissolved. Two months later, he returned to find the house he rented with friend and former bandmate Rob Navarette had been burglarized.
"When I pulled up, I saw a couple panels from our fence were broken," White said. "I was on the phone with Chea [Cuevas, who's been in both bands with White] at the time, and I said, 'Man, it looks like our fence is kicked in.' I just figured some teenagers came by being dicks or whatever, but I went around to the front door. It was open, and the [Navarette's] TV was gone. The kitchen cabinets were open. Everything was tossed around."
In addition to the TV, the thieves took all of the smaller electronics –– a PS4, a tablet –– as well all three of White's guitars. One of them was a custom-made silver-painted, aluminum-necked beauty from boutique maker Electrical Guitar Company in Pensacola, Fla. White named the guitar "Betty," but before long his bandmates had taken to calling it The Silver Surfer. It was his prized possession. He paid for it in installments over the course of several months.
Without any adornments other than its tone knobs, the guitar is painted entirely silver, the result of changes that White thought of half-way through. Kevin Burkett, EGC's founder and chief builder, was cool with them.
"I wanted it just a flat color, no fret markers," White said. "I didn't realize how bright it gets under lights."
Besides Betty/Silver Surfer, White had taken from him an ESP c-1000 and an Ibanez Iceman, but it was his custom EGC that hurt the most. "I dreamed about that thing," White said. "I'd never had a guitar that just felt so … right. It was my favorite thing."
White called the cops and filed a police report. Then he got pissed, went to Facebook, and posted a picture of his three guitars.
"I figured all the little electronics were gone but that the thieves would either sell my guitars to a private party or hold onto them for a number of months until it was safe."
But given Betty's uniqueness, White figured it would appear eventually.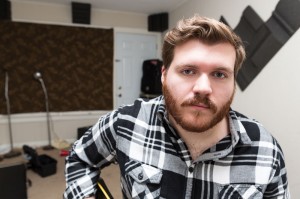 "If I saw someone playing it at a show, you know, I'd have to have a conversation with him," White said, a deadly serious look on his face.
******