Opening an official Texas music museum isn't easy, particularly the part about getting legislators behind you and trying to stir up incentives and funding from governmental bodies.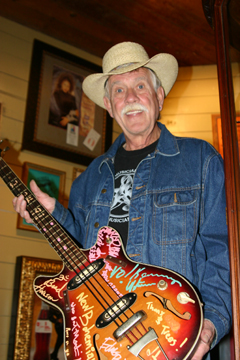 The state's music history covers a staggering variety of styles and eras, and trying to make everyone happy can get pretty bureaucratic, with politicians, civic leaders, and municipal employees all wanting their fingerprints on everything. That's why the state with the most colorful musical background in the country has gone for years without a comprehensive museum, one that pays homage to country, rock, blues, jazz, Tejano, hip-hop, and every other popular form in between, even though Austin, Dallas, Houston, and other Texas cities have been scrambling to put deals together for years. Texas musicians are independent cusses and colorful characters, from the early blues pickers such as pistol-packin' Lightnin' Hopkins to flat-singing honky-tonker Ernest Tubb to the mari-hoochie-inhaling Willie Nelson. So it's natural that a guy who tried in vain for years to work within the system now is thumbing his nose at the suits and has opened an independent, for-profit museum in the little town of Hillsboro, about an hour south of Fort Worth. "We're not conventional," said Thomas Kreason, executive director of the Texas Musicians Museum, at the June 15 grand opening, where a collection of artifacts was unveiled that was well worth the $10 admission.
Kreason negotiated for two years with numerous cities, including Fort Worth, to establish a partnership and get funding, but he kept getting tangled up in red tape. He has a credible background: He was involved in music production for years with bands such as Willie, The Rolling Stones, Bruce Springsteen, and others. Twenty years ago he began overseeing Hard Rock Café's impressive musical memorabilia collection. And he's a private collector with plenty of access to loaners and donors. He was driving through Hillsboro about a year ago and saw a house for sale on the main drag. The 2,000-square-foot home, built in 1895, sports hardwood floors, high ceilings, and a huge backyard perfect for small concerts and guitar pulls. What's more, the city was trying to revitalize its downtown section and garner some attention, and civic leaders threw out a Texas-sized welcome mat. "For some reason, the big cities just don't get it," Kreason said. "Hillsboro really made us feel wanted." Texas boasts numerous music museums, but most are small and focus on particular genres or artists. Kreason's is the first to attempt to cover the spectrum, although he admits that including everything is a pipe dream: "Even if I lived five lifetimes and worked on nothing but Texas Music history, I would never be an expert."
Still, it's amazing what establishing a "bricks and mortar" destination can do for a collection. People are willing to donate all sorts of treasures — stage clothes, instruments, old contracts, even the Big Bopper's casket — when there's a place willing to preserve and display them. Items already promised for donation include guitars played by Hopkins and Freddie King, and a reel-to-reel recorder used by Alan Lomax to document early folk artists. Veteran singer-songwriter and 2007 Texas Poet Laureate Steven Fromholz donated one of his old guitars. He attended the grand opening to sign autographs and do a live radio interview. Four decades of making music for a living have given him many glimpses into the lives of his musical heroes, but he reverted to fan status while looking at the artifacts hanging on walls or nestled in cases. "Music has always been huge in the state, and this captures it," he said. "You can almost smell it here." Old 78 rpm records, weathered guitars, and colorful outfits from early blues artists caught his eye, and he marveled at a candid photo of Bob Wills and bandmembers, and a stage suit worn by Tubb, one of his favorite old-school singers. Seeing a sleeveless Levi jacket donated by Willie brought back memories from the road. "I remember him wearing that," Fromholz said.
He chuckled at a display featuring one of Barbara Mandrell's outfits — a size 6 dress and size 9 heels.
"Look at Barbara's little bitty dress, and then look at those big feet," he exclaimed. A Janis Joplin dress is displayed in another case, along with her 1960 high school yearbook (who knew she was a member of the Slide Rule Club?). Other cool stuff includes Buddy Holley's sixth-grade yearbook (before he changed his surname to "Holly"); a cheesecake photo of young Italy, Texas, native Dale Evans; and a 78 rpm recording of "Rising Sun" by Texas Alexander, the first recorded version of the song later renamed "House of the Rising Sun" and made famous by Eric Burdon and the Animals. Even though Fromholz established himself during the 1970s Austin scene — and Austin is making the most noise about becoming home to an official museum — he thinks Hillsboro is the perfect spot. "It's a good place for us musicians to come sit and play," he said. "I love Hillsboro. It's on the way to everywhere."