It's a safe bet that you could make money in Cowtown by opening a high-end steak restaurant. However, there is a question of how necessary another high-end steak restaurant might be, especially since there are several solid local ones (Cattlemen's, H3) and several solid almost-local ones (Del Frisco's has anchored its corner of downtown for almost 15 years). Bailey's Prime is a mini-chain, with two locations in Dallas and one in Cedar Hill. The fourth location –– Bailey's Prime Plus, located in the West 7th Street development –– is a bit of an opulent surprise.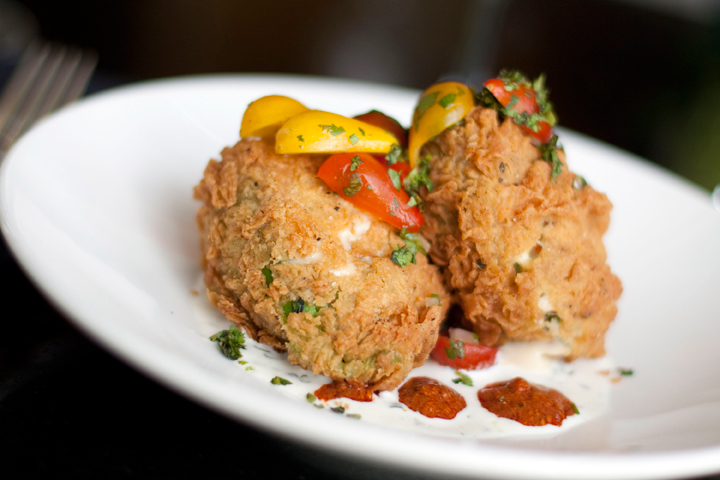 The décor is overwhelming. There's a definite wow factor involved, aided by the color scheme of black, white, and green and a wine list that's longer than the unabridged Old Testament. A sexy, silky white banquette in a little nook, chandeliers, and lush black booths give the place the feel of a Parisian salon, not a Fort Worth steak joint. Ironically, you can look across the street from some seats inside Bailey's and see Fred's Texas Café, in all its defiant grubbiness, a reminder that the gentrification is new.
And then there's the food. Inventive and a little quirky, the menu features some unusual twists. At lunch, instead of a basket of bread, you get piping hot, freshly fried, perfectly salted Yukon gold and red potato chips accompanied by a little basket of carrots, celery, tartar sauce, sweet pickles, and a spicy, sour chili dipping sauce. The chips and zesty tartar were amazing.
The lobster-stuffed avocado from the appetizer menu is described as "chicken fried." My dining companion and I were picturing chunks of battered lobster in an avocado half. But the app is actually half the avocado (pit out, of course) stuffed full of lobster, a cheesy béchamel sauce, and delicate spices. The whole mess is then rolled and fried in some light and delicious chicken-fried batter. One looks remarkably like a giant calf fry. The chunky lobster, super-fresh avocado, and cilantro-cream dressing were fabulous; the whole thing together was probably richer than foie gras or the $23 lunch-size filet mignon.
Helpfully, you can order half of any of the six salads, and half turns out to be more than enough. The Slice (Bailey's version of a classic wedge) featured Oregon blue cheese and gorgeous yellow and red cherry tomatoes on a nest of iceberg lettuce atop an icy plate. Sadly, the blue cheese dressing was overpowering –– even for a blue-cheese lover like me. Order the salad with the dressing on the side or opt for That Salad. Yes, that's its name. Although it was not as impressive-looking as The Slice, it featured mixed greens augmented by tart cherries, a sweet-and-sour vinaigrette, and pistachios (standing in for the more traditional walnuts or pecans) and proved to be a divine dish.
If a diner were calorie- or cost-conscious, he or she could order a Bailey's salad with a protein topper (chicken, beef, or shrimp) and leave full and happy. But if you want more, the Prime burger should satisfy. It was a huge white-cheddar-covered slab of goodness. The meat was so rich that even though it arrived well done and not medium as ordered, it was juicy and just too darn good to send back. At $12, it's not exactly a bargain, but every lunch entrée at Bailey's comes with your choice of several generous sides. Watch out for the "skinny fries." The "skinny" part refers to the cut of the fries, not that you won't gain any weight after eating them. Regardless, go for the creamed spinach. The dish's heavenly, rich, cheesy-covered goodness was transcendent. Sometimes creamed spinach has a soggy, bitter taste –– not here. The king crab-cake burger was a no-messing-around more-crab-than-filling cake covered in a delicate, lightly spicy aioli sauce and served on a slightly sweet sesame seed-covered roll. The large crab pieces kept falling out of the bun, which is a nice problem to have.
Although we were almost too full for it, dessert beckoned. The chocolate mousse cake came with a scoop of Calvados-tinged ice cream, which was the best part of the dish –– for some reason, the chocolate frosting was just too sweet. A better choice: the banana crème brûlée, which came with a perfect burnt-sugar crust, fresh bananas, and banana chips atop a lovely, creamy custard. The dessert was augmented by cinnamon-kissed parsnips, which were better as a garnish – even covered with cinnamon, parsnips aren't my favorite.
I went to lunch a little wary. I'd heard comments about the quality of the food and service. But based on my recent experience, Bailey's Prime Plus is an oasis of excellent food and service and definitely worth the price tag.
Bailey's Prime Plus
2901 Crockett St, FW. 817-870-1100.
11am-10pm Sun-Thu, 11am-11pm Fri-Sat (bar open 'til 1am).
All major credit cards accepted.
Lobster avocado $11.95
That Salad (1/2 portion) $5.00
The Slice $5.00
Bailey's Prime burger $12.00
King crab burger $15.00