For Phuss Sake
Posted April 4, 2012 by Fort Worth Weekly in
Music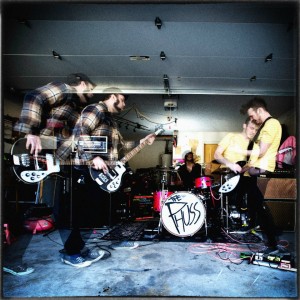 Doom Ghost/War Party's split album is available digitally and via cassette tape.
When The Phuss frontman Joshua Fleming says his trio is a "North Texas" band as opposed to a merely Fort Worth one, he means no disrespect. He's merely telling the truth. A Keller native, the 23-year-old guitarist/singer/lyricist works in Fort Worth, doing hair at Salon Purple, and also lives here. Bassist Forrest Barton is from Haltom City, and drummer Trey Alfaro lives in Lewisville, where he works for a Volkswagen dealership.  "There are so many places to play, plus Dallas and Denton, and Arlington's scene is coming along," Fleming said. "That's why we get so confused about what city we are. We're playing all four cities the entire time." To put together the band's new, blistering, eponymous sophomore album, the rest of North Texas was mined for help. The nine-track album was recorded, in October, at Red Star in Arlington with co-producer Robby Baxter, polished by three Dallasites (mixer Stuart Sikes, masterer James Driscoll, and engineer Chris Galt), and, finally, co-produced by a Fort Worthian, Toadies frontman Vaden Todd Lewis. The Phuss represents Lewis' first foray into producing a non-Toadies/Burden Brothers recording. Lewis, Fleming said, "wasn't changing lyrics or what I was really doing, which was nice, because some producers like to take control … . [Lewis] taught us to write focused songs, and that's what we got." Lewis got turned onto The Phuss after Fleming performed solo-acoustic at Lola's in early fall. A fast friendship developed. The album bears some Toadies-esque elements –– melodic riffage, bashing beats, powerful vocals –– but could never be confused with a Toadies product. The Phuss guys have their own thing going on. What starts out as a relatively straight-forward rock record explodes by the fourth track into a proto-punk-meets-garage-metal throwdown. "Something to Die For" –– the aforementioned tipping point –– boils down to three chugging barre chords and a splashy locomotive rhythm that brakes occasionally to let a sweet, curly, Sabbath-y ostinato unfurl. "One for Now, Three for Later" is a fuzzy bone-crusher driven by Fleming's painfully (to him, probably) loud vocals, and on the punchy "Stupid Girl," drummer Alfaro comes up some creative approaches to time-keeping, especially when he triple-strokes his toms, breaking up his rolls only to insert two quick consecutive taps of the ride cymbal: ting ting. Fleming started writing the material not long after the band's 2008 debut, Wanted, came out –– the album is in limbo courtesy of some contractual issues with a former record label. Lewis helped the band whittle down the stockpile to about a dozen tunes. One of the songs that Lewis wrote didn't make the album but will be included on the vinyl version of The Phuss coming later this month. The Toadies have chosen The Phuss to open a string of dates. The first, in Tyler, has already passed –– and is in The Phuss record books. Though Fleming and company were supposed to play only a 40-minute set, they ended up playing about 10 minutes longer: The 800-plus concertgoers had screamed for an encore. Fleming remembers having an epiphany afterward while standing off-stage, watching The Toadies perform. "I just got paid to play with The Toadies," he said. "Holy shit, I might be a professional musician!" In addition to Toadies shows, The Phuss guys will be gigging on their own, through the Midwest and into the Big Apple, throughout April. "I've been doing this since I was 13," Fleming said. "This is what I've been working for my entire life, and it's kind of here, and it still hasn't registered yet." The Phuss' Fort Worth CD release show is Saturday at Lola's (2736 W 6th St, 817-877-0666) with The House Harkonnen, Descender, and Great White Buffalo. Cover is $10-14. … In last week's column, credit for Pinkish Black's basswork on a particular track was erroneously given. Frontman/keyboardist Daron Beck handles all of the non-percussion rhythms. Hearsay regrets the error.
Contact HearSay at hearsay@fwweekly.com.