Killer or Filler?
New recordings by post-bluesy Oil Boom and psychotic Lindby say, "Listen."
Posted August 8, 2012 by FORT WORTH WEEKLY STAFF in
Music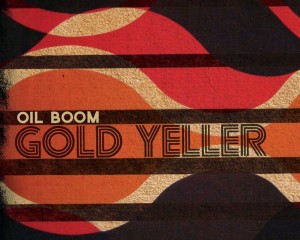 Oil Boom's Gold Yeller
Last August, just a few months after the Dallas-Fort Worth trio Oil Boom dropped its first, widely acclaimed EP, Black Waxy, frontman/vocalist Brian Whitten departed, leaving the gravelly post-blues band teetering on the brink of collapse.
Guitarist Ryan Taylor and drummer Dugan Connors, the band's remaining members, had frank conversations about dissolving Oil Boom entirely but decided to continue playing. The duo enlisted bassist (and Weekly contributor) Steve Steward (EPIC RUINS, Vorvon, Kevin Aldridge & The Appraisers) and began writing. And recording.
A year later, and the band has just released its sophomore recording, the EP Gold Yeller, a winning indication that a departing frontman is by no means an automatic death sentence for a band. The disc is, frankly, bursting with skilled musicianship and a fervor you simply wouldn't find coming from a band in decline. Not only has Oil Boom picked up the pieces, but the new-and-improved trio has evolved just enough to stay fresh without losing its original, gritty charm.
"Lily Liver" is a deconstructed, bluesy, no-frills flirtation with folk-rock, while "One-Time Used-to-Be," rings with the eerie familiarity and endearing innocence of, say, the Cold War Kids. Taylor, the band's primary songwriter, shines on vocals on this wholeheartedly indie number — as he does on just about every track.
"The Great American Shakedown" serves up a potent reminder of why followers and critics have been so quick to liken Oil Boom to The Black Keys. The tune is soaked in the reverb-heavy, white-boy soul made famous by the megastar outfit. Take what you want from the comparison — or, in other words, say what you will about The Black Keys — you can't deny the infectiousness of the tunes. And Oil Boom seems to feel right at home in the populist style. The songwriting isn't terrifically original, but the execution is precise and professional, and it bears the imprimatur of world-class rock musicianship.
Taylor's fretwork throughout is puckish but understated and is especially noteworthy on the obvious throwback track "This Girl's Man." It's easily the EP's most inventive song, one in which Oil Boom borrows liberally from doo-wop and other poppy styles dating back to the '50s and '60s. The result is a delightfully inventive blend of contemporary indie-rock and AM-gold. Like the rest of the album, it's just plum downright agreeable.
Oil Boom's CD release party is Saturday at Magnolia Motor Lounge. — Matthew McGowan
Lindby's Erikson
Listened to Erikson. Here's what we know. Some young, seemingly normal Arlingtonians harbor a perverse fascination with people (real or imagined) sharing the surname Erikson. The first track off Lindby's long-time-in-the-making debut album is "Erikson, Leif," and "Erikson, Sheldon," "Erikson, Jon," "Erikson, Tom," "Erikson, J.S.," and "Erikson, Jam" are the titles of assorted interludes. Pass the crack pipe!
And then there's the music, a weird mélange of occasionally blustery electric guitar riffs mixed with horns and weird synths, smart sing-songy melodies, and choral vocals reminiscent of The Polyphonic Spree. (Sadly, any band with more than two people singing either in harmony or unison draws comparisons with the Spree, the biggest band to popularize the form.)
You could call Erikson a concept album. Most of the lyrics are silly and fabulist ("The King of Condiments," anyone?), and the 15-track work is often visited by the melodic reprisal "Erikson / Whoah-oh-oh, my Erikson."
Home-recorded and self-released, the album captures a band whose aspirations far outstrip its cashflow for Grade-A recording technology and knowhow. You can only imagine what producer Jim Guercio would have done with this stuff back in his heyday in the late 1960s with Chicago and Blood Sweat & Tears. The raggedness here kind of cheapens the genuine expansiveness of the melodies and arrangements, rendering the compositions sloppy rather than raw, organic, and unpretentious, the effects that Lindby was probably going for –– "probably" because the people in the band are crazy.
Not that there's anything remotely pretentious about this oddball opus. (Paging Dr. Demento.) Next to The Doors' "Shaman's Blues," Lindby's "The Shaman" is probably the best song about aboriginal medicine men you're ever going to hear. It's an early-'80s-inspired dance-rock hit revolving around a groovy, twinkling synth figure and a huge, glorious superhero-theme-song chorus. "Jing Ling-Tam Blues," undoubtedly named after the professor of vocal studies at the University of Texas at Arlington, is a rocker built around a soaring choral vocal refrain and crunchy guitarwork, and "Piece of Reese" is scandalous and catchy.
Erikson could be a lark, but all of the songs are professionally performed and sprinkled with moments of auditory glee. Not quite Viking-caliber but killer nonetheless. –– Anthony Mariani