Ice Eater: Cold Comfort
Though the band has been around for a while, it's only now surging.
Posted May 22, 2013 by ANTHONY MARIANI in
Music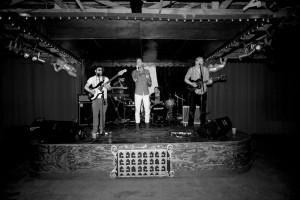 Ice Eater wants to be bigger than Fort Worth.
Ice Eater is not a very Fort Worth-ish band. The guys can party with the best of 'em, but their music sounds like it came from outer space in the future. Though it's definitely rock, it features elements of early disco, punk, and New Wave. There are guitars, but they're used nontraditionally — co-songwriter Zachary Edwards doesn't just stand there and rock barre chords soaked in reverb. Rather, he uses his instrument to add texture, mostly in a mechanical way: creating grinding noises, plucking out bright, flickering melodies, or elongating small batches of notes into humming riffs. In fact, Ice Eater is a seriously mechanical-sounding band, due additionally to the stickwork of drummer and co-songwriter Wyatt Adams, who comes up with some inventive beats that in their drastic minimalism seem programmed. Ice Eater, though, produces every note organically, and the samples or loops that pop up here and there are original, non-computerized creations. "It's all hardware, no software," said keyboardist Jordan Kline. "There's no computer, and there will never be a computer."
Rounded out by vocalist James Jardine and bassist Brad Canon, Ice Eater is about to release its debut album. The eight-track Don't Care was recorded last spring at the Waxahachie home studio of producer Alex Bhore (drummer for This Will Destroy You). Adams met him through indie-pop Fort Worth singer-songwriter Ronnie Heart. Bhore, Adams said, "just gets it," meaning that the producer fully understands the Ice Eater concept: dynamic, colorful, cold, synthetic-seeming rock that's edgy but still accessible. (Edwards is quick to note that most Ice Eater songs can be stripped down and played acoustically.) Mastered by Joe Lambert (Animal Collective, Moby, Pet Shop Boys), Don't Care is the handiwork of big thinkers and dreamers. "We want to be bigger than Fort Worth," Kline said. "This is all lifetime-goal-type shit."
Though the band seems to be surging only now, it has been around –– at least conceptually –– since the late-'00s, when Adams was drumming for one of the most popular bands in North Texas, Burning Hotels. A couple of years after Adams and Edwards had begun writing together, they recruited Kline, who had been dee-jaying some high-profile gigs throughout North Texas as The Flashlight Party. Former Cleanup guitarist Canon is the last of a "revolving door" of bass players, Adams said (including Donovan Jones, who played on the album). And Jardine was Adams' first choice to be the face of Ice Eater. "He wasn't really pursuing singing, but he has a frontman quality," Adams said. "He can command a crowd and command a community as well," referring to Jardine's volunteer work in anti-cancer activism.
Don't Care will be available in at least two media: cassette tape and digital. (Cassette packaging will include download information.) Vinyl is on the horizon. "We're using cassettes because they're cheap, to raise money to do vinyl," Kline said, also noting that the sound quality of cassettes is comparable to that of LPs. "Yeah, we hope that people really do listen to [the cassette], but at the same time it's one of those collectibles. It looks cool."
Vinyl will come into play this summer, when Ice Eater releases a 7-inch with Son of Stan, the vehicle for L.A. singer-songwriter Jordan Richardson, who with Steve Steward recently produced three outstanding self-titled local debut albums: The Longshots, Skeleton Coast, and We'reWolves. The track, "Fort Tits," was recorded with Bhore after Don't Care was completed.
Adams also is working on a solo project. Stallion, he said, is "dark synth shit … cracked-out INXS but real dark."
The next move for Adams, Edwards, and company is to hop on a tour with a known commodity. Last week, they played a sold-out show at Lola's Saloon with Pitchfork darling Com Truise and are about to open up for Snowden, an up-and-coming synth-rock band from Atlanta, at the new Three Links in Dallas. All of the Ice Eaters have day jobs, but since none of them is married, getting away for a few days to play some shows shouldn't be a problem. Bachelorhood has other benefits too. "If there's one thing Ice Eater does better than any other band in Fort Worth," said Kline (who, oddly enough, is about to get hitched), "it's drink beer and smoke weed."
Ice Eater album release
10pm Sat w/Cutter, Son of Stan at Lola's Saloon,
2736 W 6th St, FW. $8-10.
817-877-0666.