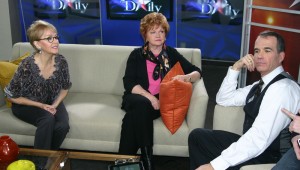 Experience may or may not bring in audiences for The Texas Daily.


JEFF PRINCE
Banter begins as soon as Suzie Humphries, Midge Hill, and Jeff Brady walk through the studio door, still 30 minutes before cameras start rolling on The Texas Daily at 8 a.m. sharp. They chat like BFFs and barely notice when a c...
Jeff Prince
Pop singer Adam Lambert's refusal to say, "I'm sorry, America, for being extravagantly gay," has come back to bite him in the ass. ABC canceled his scheduled appearances on "Jimmy Kimmel Live!" and "New Year's R...