With the Cellar, what's legend and what's real …" said Giles McCrary, trailing off, implying that they're hard to tell apart. He's made it his job to figure that out, though.
The genial, bearded 60-year-old wasn't referring to the bar that currently operates near TCU. Instead, he was talking about the coffee shop/nightclub that flourished in downtown Fort Worth in the 1960s and was home (in some cases, literally) to some of the biggest names in Texas music,  along with legendary nightlife and a colorful owner.
The Cellar was established in 1959 by Pat Kirkwood, the flamboyant former racecar driver who won championships in the earliest days of NASCAR. Officially, it was a coffeehouse that served no liquor, which is why it was allowed to stay open from 6 p.m. to 6 a.m. Unofficially, customers with the right connections could obtain liquor or almost anything else there. The connections were key; otherwise, patrons might wind up with rum-flavored Cokes.
"High-school kids would think they were getting a drink, but they were getting McCormick's," said McCrary, referring to the brand of flavoring extract. "And then they would act drunk. It was a psychological thing."
For four years now, McCrary has been working on a documentary film entitled You Must Be Weird or You Wouldn't Be Here, combing through the memories of the musicians, employees, and regular customers who populated the place. His extensive contacts with the former denizens of the Cellar come from his wife Jaci, who visited the place often as a teenager, dated several musicians there, and got to know the regulars well.
His work continues in a small upstairs room at his house in Fort Worth's Overton Woods neighborhood, where note cards on a bulletin board contain chapter headings for the film — phrases like "Sex," "Trouble," "Racism," and "Forbidden Fruit." After all this time, and after a potentially catastrophic setback, he now believes he can finish his project within the next few months.
 ********
McCrary is originally from Post, the West Texas town that was founded as a utopian community by the breakfast cereal manufacturer C.W. Post, who bought the land sight unseen from his office in Fort Worth and hoped to revolutionize cloud-seeding and farming techniques there.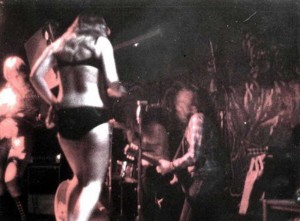 McCrary's father, Giles Sr., served as mayor of the town for more than 20 years. "It was an easy place to live," McCrary said. "It's easier to feel isolated in a big city. But I wanted the variety of a big city."
That meant Fort Worth, where McCrary's paternal grandfather, I.N. McCrary, served as mayor during World War II. As a boy, Giles made frequent trips to the city to visit relatives. "We went to the zoo a lot," he said. "It was what you did."
McCrary got to know the city better as a student at Texas Christian University in the 1970s. He dreamed a common dream, with an uncommon twist. "I wanted to be a rock star with a big black mustache," he said. "I learned how to play guitar, but I wasn't good enough, and I couldn't grow the mustache."
However, the dream did lead him to make his one visit to the Cellar, in 1970. "It was a dark and scary place," he remembered. "If I'd been a Fort Worth native, I probably would have gone back at some point, but being from a small town, it was too much for me. I left quickly."
At the same time, Jaci (pronounced "Jackie") was frequenting the Cellar as an emancipated minor who had moved to Fort Worth from Dallas to follow a boyfriend. "I was raised by my grandparents," she said. "I was going through a rebellious phase."
She and Giles didn't meet until many years later. It was even longer before their experiences inspired them to make a film about the club.
  ********