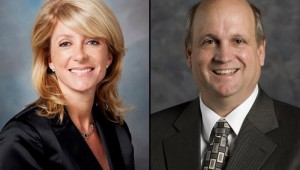 Andrew McLemore
Texas Republicans, who already have a super-majority in the House, are salivating over the possibility of winning back the state Senate seat that Democrat Wendy Davis won in a surprise 2008 victory. Though it's hard to co...
Politicians are mugging while Texas' future goes up in flames.


DAVE McNEELY
The lobbyist walked out of the capitol, disgustedly shaking his head. "It's the worst session I've ever seen," said the lobbyist, a former legislator of more than a decade. "Everybody over there's scared to death.
Jeff Prince
Blame Sarah Palin for many things — divisive partisanship, poor leadership, exploiting her celebrity, idiotic interviews, abandoning her constituents, and having a voice so annoying that  it makes chalk on a blackboard s...
A lot of politicians are for term limits — until their own future would be affected.


DAVE McNEELY
So now Democratic gubernatorial candidate Bill White is calling for Texas governors to serve no more than two full four-year terms.
Straus is walking that white line.


DAVE McNEELY
In an increasingly partisan state, it's increasingly hard to be the man in the middle. That's the tightrope that Texas House Speaker Joe Straus of San Antonio is walking.