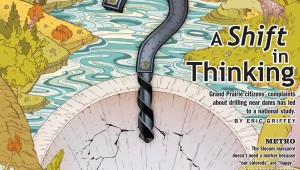 Grand Prairie citizens' complaints about drilling near dams has led to a national study.


Eric Griffey
One morning in the summer of 2010, Rosemary Reed awoke to her house shaking and the sound of engines screeching so loudly that it sounded like her backyard had been turned into a Motocross track. When she looked out a back wind...
Fort Worth Weekly
Remember the story about the little boy who cries wolf too many times, even when a wolf is nowhere around? Eventually people ignore his cries altogether. The head honchos at the Fort Worth-based DreamVision Co. need to read thi...
JEFF PRINCE
A local food bank that spiraled downward and finally crashed in 2006 amid scandal and debt is now poised for resurrection.