A local food bank that spiraled downward and finally crashed in 2006 amid scandal and debt is now poised for resurrection.


A new board of directors is attempting to buy a food manufacturing plant on the city's East Side and transform the property into the second coming of the Metroplex Food Bank.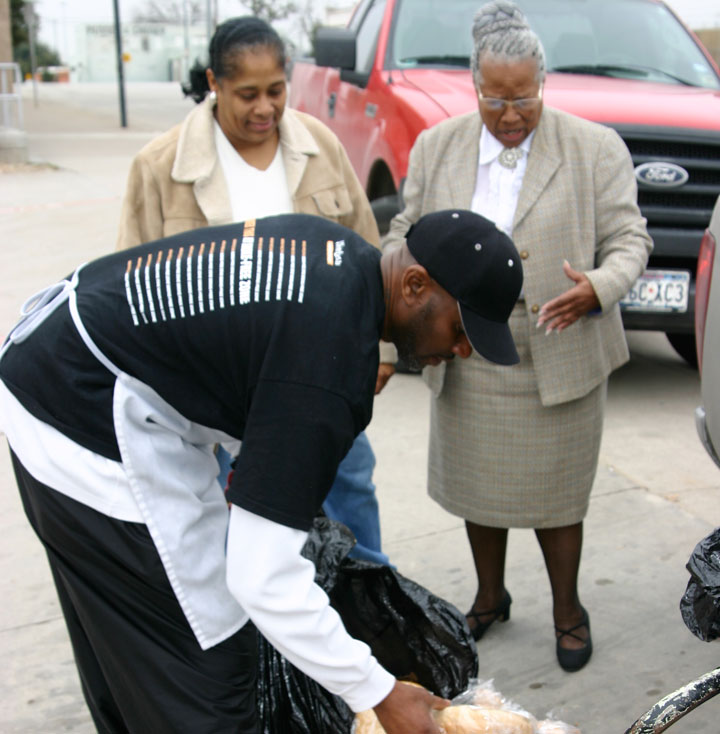 Irrepressible chairwoman Opal Lee, undaunted by the inglorious downfall of the city's oldest food bank three years ago, is vowing to pattern the new version after the successful Mission Arlington, offering a variety of services and training in addition to handing out food to hungry families.
Lee toured Mission Arlington several years ago and was bowled over by the organization's efficiency and innovative methods of feeding families, providing healthcare and crisis intervention, and taking church to the people. And, like most people, she was impressed by the passion and inventive thinking of Mission Arlington director Tillie Burgin.
"She told me to call if I ever needed anything," Lee said. "I never have, but I am now."
Lee has kept busy since Metroplex Food Bank went belly-up under the rogue leadership of former director Sharon Hogan. By the time Lee finally ousted Hogan, the nonprofit organization owed the Internal Revenue Service about $500,000 in unpaid payroll taxes and penalties. Its reputation was shattered after a string of problems, including health violations, suspicious fires, and the transfer of much of the nonprofit's money into Hogan's bank account ("Crumbs in the Cupboard," Nov. 9, 2005).
With Hogan out of the picture, Lee and new director Regena Taylor negotiated a settlement with the IRS and knocked the debt down to $200,000. In November they sold the food bank's six acres near East Berry and Yuma streets in southeast Fort Worth for $900,000, paid off other debts, and retained $400,000 – $200,000 to use as a down payment on a new location and $200,000 for operating reserves.
"It felt so good, kind of like at home when you pay all your bills and still have money left to go Christmas shopping," Taylor said. "It took a long time for us to get out of debt."
Meanwhile, the demand for food never let up. Lee is a familiar activist and community volunteer who receives phone calls at her home every day from people seeking help. Although the food bank was closed, she continued accepting food donations from various sources and then distributing the items to churches and other community pantries. Lee knows plenty of hungry families and has always envisioned reopening the food bank, so refusing food donations made no sense to her.
Her Eastside home is near a food processing plant, and she convinced the company's owner to provide use of his freezers and loading docks to hold donated food until she could send it on to local charities. She was so impressed with the location, size, and design of the plant that she began negotiating to buy it and make it a permanent home for the charity. She and the plant's owner discussed a price and were prepared to sign a contract this week, but food bank directors said the asking price was a bit steep for the current economy. Negotiations are continuing. Fort Worth Weekly agreed not to reveal the potential new site until a contract is inked.
One of the food bank's newest board members is local criminal defense attorney R. Maureen Tolbert, who said she admires the 83-year-old Lee for her passion, energy, and eagerness to buy a new building and reintroduce the Metroplex Food Bank to the community. But Tolbert wants to be more deliberate in negotiations, and she is encouraging the board to rein Lee in a bit.
"There is Ms. Lee, a force of nature, and there is everybody else," Tolbert said with a laugh. "She is feeling the press of time. She is very conscious that her time is not unlimited. She is all about forward momentum, and that makes the rest of the board seem like foot-draggers."
Tolbert said the layout of the food processing plant is ideal, but she wants other locations to be considered before any contracts are signed.
"I love her aspirations, but she is impatient," Tolbert said of Lee. "She might be sorry she put me on the board. I'm kind of the one begging for a little more structure at this point."
However, Lee said a strong and scrutinizing board is exactly what the food bank needs. Lack of oversight by the previous board, which included Hogan's relatives and allies as well as Lee, is what allowed Hogan to turn the nonprofit into her own fiefdom. To re-establish credibility and attract grant money, Lee and the board know they must prove they are overseeing the food bank's operations closely.
The food processing plant appears large enough to house a food bank that wants to pattern itself after Mission Arlington. The complex provides more than 4,000 square feet of space, and the deal would include plenty of freezers, loading docks, and about 30 offices. Lee wants to sublease some of the offices and docks to offset the mortgage payments and then begin buying needed equipment.
"We've got to get trucks, forklifts, and power jacks," she said.
She is also seeking access to land near the Trinity River to establish a large community vegetable garden so experts can teach people to grow and harvest their own food.
"We're going to get on the green wagon and give people an opportunity to do something for themselves," she said. "They will grow it, can it, freeze it, sell it. It's a cottage industry."
Board members like the idea but, again, are trying to slow Lee down to allow more scrutiny before taking the plunge. "Her vision is huge and a bit daunting to those who don't know her," Tolbert said.
Still, "It feels like the phoenix rising from the ashes," she said.
You can reach Jeff Prince at
jeff.prince@fwweekly.com.