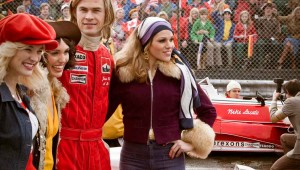 Drugs! Sex! Death! Cars! Rush grips the track and glues you to your seat.


KRISTIAN LIN
Many A-list Hollywood-trained directors from the 1980s and '90s have fallen by the wayside; for every Steven Spielberg or Kathryn Bigelow, there's a Rob Reiner or Penny Marshall. For a while, Ron Howard looked like he was g...
Static
Fourteen minutes and one second … 14 minutes and two seconds … 14 minutes and three seconds … . Sarah Palin's 15 minutes of fame are just about up, but she's going to sprint to the finish line. Her...
Listen Up
David "Honeyboy" Edwards is no longer in his prime, but he's still got the feel for the old-time, acoustic blues.
Even with a promising soloist, August Rush misses a boatload of notes.


Kristian Lin
I must confess, Freddie Highmore is starting to scare me a bit (in a good way, though).
Small essays on the men behind the Rush Hour series and the passage of time.


Kristian Lin
Surely no one will be surprised to learn that there's nothing in Rush Hour 3 that can't be found in either of the first two movies.
Listen Up
There are basically two kinds of retro bands — ones that hew closely to the old school, and ones that occasionally flip the script.