David "Honeyboy" Edwards is no longer in his prime, but he's still got the feel for the old-time, acoustic blues.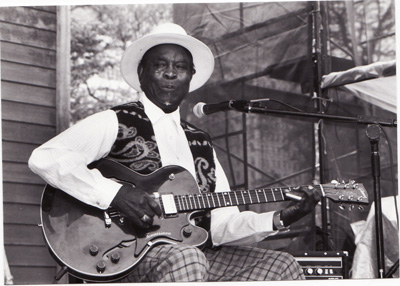 Born into a sharecropper family in the Mississippi Delta in 1915, he made his living as a musician and gambler across the South until he moved to Chicago in 1956. In 2007, at the age of 92, he did 100 shows in seven countries and was nominated for a traditional blues Grammy. Edwards also is a winner of the National Endowment for the Arts Heritage Fellowship Award.
Roamin' and Ramblin' attempts to recreate his guitar-and-harmonica duos and small-group performances from the early 1930s to late 1960s. Producer Michael Frank (his long-time harmonica player and manager) pairs Edwards with harmonica virtuosos Walter Horton, Bobby Rush, and several others. On some songs, other musicians add bits of rhythm guitar, washboard, and drums.
With 53 minutes of music from recordings in 2007, the mid-1970s, and earlier, dating all the way back to 1942, the project mostly works. Edwards' voice varies from clear to slurred as the years pass; his electric guitar playing is fairly simple but always effective. Most of the songs are originals. He covers Tony Hollins' "Crawling Kingsnake," Robert Lockwood Jr.'s "Little Boy Blue," and Don Robey's "Boogie Rambler."
The 19 tracks include three short dialogues, one with Alan Lomax from July 1942, as part of Lomax' historic Library of Congress series, and two with Rush. This is his fourth Earwig album produced by Frank. It's a welcome reminder, not of the times that produced the Delta blues but of human perseverance and the healing powers of music. – Tom Geddie
Roamin' and Ramblin'
(Earwig Music Company)