As far back as he can remember, Oscar Reyes had wanted to be in the United States military. As a young boy growing up in Woodward, Okla., he often fantasized about it.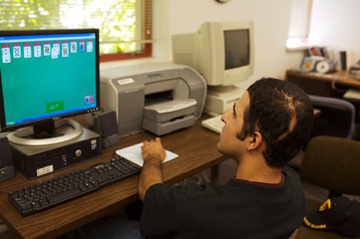 "I remember in the fifth grade my teacher asked us to draw what we wanted to do when we grew up, and I drew a soldier," he said. Reyes, who now lives in Fort Worth, realized his childhood dream in 2001 when he enlisted in the Marines. Like so many others, he signed up in the wake of 9/11. The polite, clean-cut young man served until 2005, including two tours in Iraq. He had some hellish moments over there — he got shot at plenty of times and managed to survive unscathed when his convoy was attacked during a night-time patrol near Nazaria in southern Iraq. But it wasn't until last February that he was sworn in as a U.S. citizen. "I've always felt like an American citizen," Reyes said. But now, "I felt like I got a giant monkey off of my back. Now I don't have to worry about being deported."
Many legal immigrants are making their way to the U.S. military to get an education, learn skills, make contacts — and jump on the fast track to U.S. citizenship, something their non-military peers must wait years more to achieve. And in this era of dwindling recruitment totals, military leaders are happy to have another pool of warm bodies to tap into. Reyes was born in Zacatecas, Mexico. In 1989, when he was 9, his parents hired a "coyote" to bring him, his sister, brother, and mother over the border illegally, to join his father in this country. Like hundreds of thousands of immigrants each year, they applied for and received permanent resident cards — so-called "green cards" that allowed them to work and live legally in the country. Still, unless they were granted citizenship, they couldn't vote. They had more hassles and paperwork to deal with when applying for college, borrowing money, or finding a place to live, and, perhaps worst of all, they just didn't feel complete.
Earning citizenship requires a clean criminal record; the ability to read, write, and speak English; hundreds of dollars in fees; and a long wait — in many cases, five years or more. One way to bypass the fees and go to the head of the line is to serve in the military, and Reyes is one of a growing number of non-U.S. citizens who have taken that route.
There are now about 35,000 "green-card" service members across all of America's military branches, almost a 50 percent increase from the 23,000 who were serving in 2000. According to U.S. Citizenship and Immigration Services, more than 32,500 of those have become citizens since the Bush administration announced expedited handling of citizenship requests for members of the armed services in 2002. Altogether, it's estimated there are about 105,000 foreign-born soldiers, sailors, Marines, and members of the Coast Guard and Air Force serving this country — or about 5 percent of all service members —and many in the military are pushing to recruit more. It's a hard road to citizenship even in peacetime. But now, legal — and in some cases, illegal — immigrants are literally putting their lives on the line for their adopted country and often paying a heavy price indeed.
Margaret Stock, an immigration attorney and West Point professor, points out that immigrants have served in the U.S. military since its inception, and they have become an integral thread in the fabric of this country's armed forces. "We take a lot of immigrants now," she said. "And nobody in the military is complaining." On the other hand, Chicano activist Renny Rosas of Fort Worth believes that recruiters are not being as forthcoming as they should with potential immigrant enlistees.
"They're not being told the complete truth," he said. "They don't have equal access to information in order to make an informed decision. They give him this story about how glorious it is to serve in the military — he'll be a hero and so forth. What they don't tell him is that he'll be a low-ranking soldier and sent to the front lines almost immediately — they're cannon fodder."
Angel Gomez knew his family couldn't afford to send him to college. And many of those college scholarship applications say "Must be a U.S. citizen." The recruiter was making the hard sell even though Gomez wasn't yet a citizen — he only had a green card. He told Gomez that once he finished boot camp and went to his first duty station, he could get his U.S. citizenship. Gomez was born in Valle de Guadalupe, a town in Mexico's Pacific Coast state of Jalisco. It was a place that his mother, Antonia, said was full of women and little kids because everybody else had crossed the border. When her children got older, she also decided to come to the U.S., where she hoped the kids would have a better chance to get an education. So in 1993, when Gomez was 7, his family, like that of Oscar Reyes, hired a coyote to drive him and his 2-year-old brother across the border through Tijuana. His mom, who was pregnant, crossed on foot.
They joined his father, who had a green card, and lived near downtown Los Angeles, in Inglewood, until Gomez was in eighth grade. Then they moved to a small town south of Fresno, where he struggled in high school but loved a program that prepared students for careers in the medical field. Then the recruiter called. Gomez thinks the Marine Corps got his home phone number from his high school, a mandatory practice for schools funded under President Bush's No Child Left Behind program. Unless students or their parents sign a form that they don't want their personal information released, the kids are fair game. Gomez wasn't the best student, and without scholarships he felt he didn't have a choice. So he enlisted, even though his mother tried to stop him. "I knew he was fighting for a better life, but I told him I would prefer him to be poor and have a humble job," she said. "But he wanted to study, and we couldn't pay for it."
He enlisted in July 2003. Two years later, after he'd returned from Iraq, Gomez was sworn in as a U.S. citizen. But things were different — he'd been wounded. Sitting in a wheelchair and wearing a plastic helmet to protect his brain and injured skull, Gomez and his parents faced an immigration official. "Please raise your right hand," the official said. Gomez couldn't — he's lost most of the use of that arm. He lifted his left hand instead and said a soft "I do" at the proper moment. Gomez was finally a citizen, but his hopes of going to college were all but dashed. He had to once again learn how to walk, to talk, and to live on his own.
No recruiter needed to come calling on Fort Worth resident Edwin Martinez. He'd yearned for the military for most of his life, ever since coming to the United States from Mexico with his family at the age of 2. Now 21, he wants to serve in an elite unit — either the U.S. Army Rangers or Special Forces — but is facing a roadblock. Martinez isn't a citizen. After graduating from Polytechnic High School in 2003, he enlisted in the Army Reserves, figuring that would be a sure road to acquiring citizenship. Military life is so demanding, he doubts many people would make the sacrifice solely to speed up their citizenship status, but he thinks it's a good option for the government to offer. "If you're willing to give your life for this country, why [shouldn't the military] speed up the process and make you a citizen?" he said.
---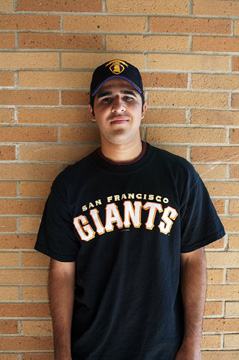 So far, he hasn't had to put his neck on the line, even though he's more than willing. He's a medical equipment technician in the 354th Medical Company, which was just returning from a tour in Iraq when he was assigned to it. Martinez is itching to get started in his military career, and yet, despite its promises of putting him on the fast track to citizenship, the Army has been slow to live up to its end of the bargain. He applied for citizenship in November and is still waiting. Other people he has met in the Army had to wait only a few months, he said. He's tried e-mailing and telephoning the U.S. Citizenship and Immigration Services offices numerous times without result. "I haven't heard anything — not one call, not one letter," he said. "I'm running out of ideas." He's trying to be patient, but he's a young man with a dream, and it's tough to cool his heels. However, his mother, Obdulia Nuñez, is proud of her son and supports his decision. "This country has given us a lot of opportunity," she said. "It's good to serve the country." Martinez has done his best to impress. Earlier this year, he was named the Army Medical Command Soldier of the Year, selected from a group of 40,000 reservists. He hopes the accolade will speed up his citizenship process and get him that much closer to being admitted to one of the elite units. "I'm trying to do anything that will make me look good in my report," he said.
Pablo Paredes has never met Angel Gomez, but he said he's heard dozens of similar stories: the call from a recruiter, long talks about money for college or citizenship, maybe even an adventurous recruiting video. From the American Friends Service Committee office just off Market Street in downtown San Francisco, Paredes schedules visits to Bay Area schools to talk with students, often Latinos, about alternatives to military service. In addition to his work as a counter-recruiter, he fields calls from service members as a contractor for the GI Rights Hotline, a network of private nonprofit groups that provides information about military discharges as well as grievance and complaint procedures. Paredes worries that immigrant families are especially vulnerable to being intimidated by overzealous recruiters — especially if they speak English as a second language. "The parents will get called, and if they're a green-card parent or an undocumented parent, what's going to happen is [recruiters may] say, 'You're going to get deported if your son doesn't go,'" he said.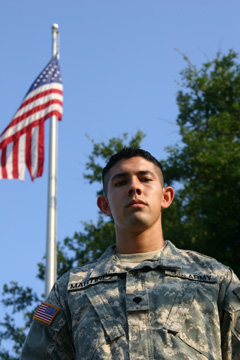 Paredes enlisted in the Navy in 2000. He remembers being shown a picture of a man in a space suit with a Navy logo on it, and his recruiter telling him that he could end up working for NASA. But the lure of becoming an astronaut faded as he was confronted with the reality of going to war. In December 2004 he refused to board an assault ship leaving for the Persian Gulf. He applied for conscientious objector status but was denied, court-martialed, sentenced to several months of hard labor, and then discharged. In 2005, Amnesty International declared Paredes a "prisoner of conscience." It's hard to imagine that Paredes, who wears his hair in a loose ponytail, was ever a military man. He can rattle off countless details about the downsides of life in the armed services: Criticisms about the shrinking power of the GI Bill. The Veterans Affairs department's estimate that one-quarter of homeless adults are veterans. Reports that Latinos make up 14 percent of those enlisted but less than 5 percent of the military's officer corps. "We're over-represented in infantry and under-represented in officer roles," he said.
The soft-spoken Bronx native said that recruiters often lie, or at least tell half-truths, about the realities of life in the military. And Paredes, whose mother is Puerto Rican and father is Ecuadorian, worries particularly about recruitment of working-class immigrants and Latinos — whether by way of the Leaders Among Us campaign, the sleek "Go Army" Hummers, or the events featuring DJs from Latin music stations. As the war in Iraq grows increasingly unpopular, the U.S. military is struggling to meet its recruiting goals. African-American enlistments are down substantially — blacks represented 24 percent of all recruits in 2000 but only 14 percent in 2005, according to a study by David Segal, director of the Center for Research on Military Organization. The study also showed a declining number of women enlistees, although whites, Hispanics, and other minorities are enlisting in about the same numbers. All of which makes immigrants an even more attractive group to recruiters.
Stock, the immigration attorney, argues that immigrants are a critical asset in national defense. She points out that this is nothing new — immigrants have served in the U.S. military since the Revolutionary War. She cites the countless Filipinos who fought for this country during World War II, as well as undocumented immigrants who served with distinction during the Vietnam War. There have also been the "no-card soldiers" — an unknown number of undocumented immigrants — who've enlisted and fought in Iraq and Afghanistan. One immigration bill in particular may create a path for more immigrants to enlist, she said, and in doing so assist the armed services as they struggle to find eligible soldiers. The Development, Relief and Education Act (also known as the DREAM Act or American Dream Act) could each year directly affect 65,000 graduating immigrant students, many of whom are Latinos. It would allow undocumented immigrants who meet certain qualifications — entering the U.S. before the age of 16, having at least five years continuous presence here, and a clean criminal record — to be eligible for citizenship following at least two years of military service.
Most non-citizen service members were born in Mexico or the Philippines, followed by countries like Jamaica, the Dominican Republic, El Salvador, and Haiti. California contributes far more non-citizen recruits than any other state. Reyes, the gung-ho Marine from Fort Worth, plans to use the G.I. Bill to attend college in the future — although he said that wasn't a factor in his decision to sign up. When he joined, he was surprised at the number of immigrants in the ranks with him. He guessed 20 people in his unit of about 100 were non-citizens. "In my battalion, there were a lot of guys that were not U.S. citizens — there were guys from South Korea, Mexico, El Salvador, and the Dominican Republic," he said. In the military, people tend to be colorblind, Martinez said. Your life can depend on the person next to you, and you're not generally interested in his color, creed, or whether he is an official citizen or just a legal resident. "Once we're there, a group stays with each other, trusts each other, and has confidence they will do their jobs," he said.
---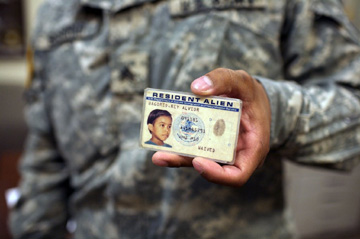 Angel Gomez liked being a Marine. He made friends, loved learning to drive trucks, and even felt ready when he got word he was being deployed to Iraq. "I was fine," he said. "After all the training, I was really confident." But training didn't prepare him for everything. During his first deployment, one of his best friends died after being shot in the head with an AK-47. Gomez took the death especially hard because his friend had a son. He went numb. "I didn't care about anything," he said. "I didn't care about me or nothing." When people shot at him, he just shot back. He said that he knows now he was furious over his friend's death. "It got me really, really angry at Iraqi people, you know, so I didn't care," he said. "I was thinking, 'Well, if I don't kill them, they will kill me.'" But, he added, he shot only at people who had weapons. Back in the U.S. in late 2004 and early 2005, he was stationed at Camp Pendleton in southern California. He bought a truck, a silver Chevy S-10, and drove up to visit his family when he could. Before long, Gomez — by then a lance corporal — got word that he was headed back for a second deployment.
The blast that forever changed his life happened in April 2005, a month and a half after he returned to Iraq. On a night mission outside of Ramadi, the truck he was driving was hit by an improvised explosive device. Gomez remembers everything, except how he was able to stop his truck without crashing into others in the convoy. There was a lot of blood. He couldn't feel the left side of his head. His friend and another Marine rushed him to a Humvee and kept him from touching the shattered portion of his skull, where part of his brain was exposed. He blacked out. When he came out of his coma 15 days later, he was back in the U.S., in a hospital on the East Coast. Gomez, who'd lost about one-third of his skull and had serious brain damage, was transferred to the VA polytrauma rehabilitation center in Palo Alto, one of four facilities of its kind in the country. He's been fighting to get better ever since. "Everything that I'd learned in all my life was blank, was just erased," he said, tracing his hand along the thick, crescent-shaped scar that stretches up the left side of his head. "And so, I had to start all over."
Sitting across the aisle from Gomez on a bus headed for the Palo Alto VA center early one recent Monday morning, his friend Cpl. Jason Poole talked about his first impressions of the newer arrival. Poole, 24, was a green-card Marine from England who also suffered serious brain injuries, from a 2004 blast after he was "volun-told" to go back for a third tour of duty in Iraq. He, too, has since become a citizen. "He didn't say anything," Poole said of Gomez. "I couldn't talk!" Gomez retorted. "He wore a helmet," Poole said with a smile. It's the same helmet he was wearing when he was sworn in as a citizen in July 2005, after his mother asked a VA staff member if Gomez was eligible. Antonia, 53, said she knows that as a citizen her son has more rights, but she's against anyone joining the military to get citizenship. She said she "loves this country," although she's not a big supporter of the war in Iraq. "I'd just like all those poor kids that are fighting over there to come home," she said. "I don't know what they're fighting for." Gomez remembers a VA worker asking him if he wanted to become a citizen. At first, he couldn't understand what she was saying, but he smiled and nodded "yes." He remembers people coming to his room to take a picture of him. Somebody recorded his fingerprints. And he remembers the date. "That's all I know," he said with a shrug. When asked how he feels now about being a citizen, he said it's not much different from before, except for maybe one thing: "I can vote."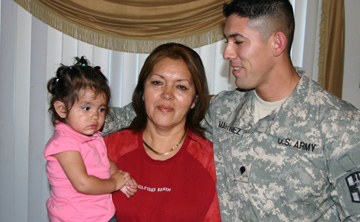 U.S. Army Sgt. Marc Thomas works at the recruiting station on Alta Mesa Boulevard in south Fort Worth. He said he and other recruiters neither seek out legal immigrants nor avoid them in the recruiting process — and that they don't dangle citizenship as bait. "If the recruiters run across those who have the INS cards, we approach them like anyone else," he said. "We don't necessarily seek them out. We have recruiters in the community, and we're talking to everybody." Immigrants are just part of the fast-growing Hispanic population that the military reaches out to, he said. Bilingual recruiters blanket Latino neighborhoods and schools and recruit everyone who's eligible and interested. Recruiters have been struggling to meet their quotas for years. At a bustling Army recruiting station near San Francisco's Fisherman's Wharf, Sgt. 1st Class Mark Wilder put it a little differently. The military is trying to help make it easier for green-card soldiers to get citizenship, and he's a big advocate of immigrant soldiers. "Back in World War I, World War II, they would say, 'I'm establishing myself,' " he said. "They would rush down and join."
Stock, the West Point professor, agreed with Wilder that immigrants are prime military material. She said that spotty criminal records are one of many reasons a lot of American-born men and women can no longer qualify for the armed services. Other reasons include obesity, health problems, and a history of drug use. Rather than lowering standards to accommodate citizen recruits, she said, the armed services should reach out to more non-citizens. "The Pentagon is very practical," said Stock. "Non-citizens do better in the military." Indeed, a 2005 study conducted by the Center for Naval Analyses found that non-citizens do extremely well in the military and are less likely to drop out than citizens. Critics accuse the Pentagon of creating a mercenary military, yet another category of work for which non-citizens are hired because not enough citizens are interested. Some liken it to the decline of the Roman Empire, saying that the ideal of the citizen-soldier is giving way to private contractors and foreign fighters. Nonsense, said Stock, who insists, "It won't end up being jobs that Americans don't want. It will be a higher-quality force."
Jeff Prince can be reached at jeff.prince@fwweekly.com. Eric Griffey can be reached at eric.griffey@fwweekly.com.