I got blindsided by Chéri. Maybe the title and the poster featuring a coquettishly grinning Michelle Pfeiffer fooled me into thinking this was just a piece of fluff, but I really should have known better. After all, this movie was assembled by the same creative team that did Dangerous Liaisons 21 years ago. Back in those days, Hollywood knew how to market a big period costume drama, and that movie received multiple Oscar nominations and a decent-sized audience. This film probably won't get that kind of exposure, but even so, it's a work of comparable power, and that's saying something.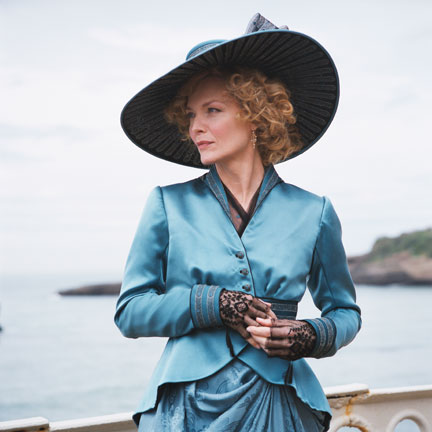 Set in the early days of the 20th century, the film stars Pfeiffer as Léa de Lonval, a wealthy courtesan who well knows that she's soon going to be too old to continue her career. When a retired rival courtesan, Mme. Peloux (Kathy Bates), confesses that she doesn't know what to do with her listless, discontented, sexually bored teenage son Frédéric (Rupert Friend), Léa – who nicknamed him Chéri when he was just a little boy – takes him in, and the two of them quite unexpectedly fall in love. They're happy for a few years, but a young man aiming for a respectable life isn't supposed to marry a courtesan, even when he himself comes from one. Both parties are plunged into despair when Chéri's mother arranges a marriage for him to a younger girl (Felicity Jones).
The film is based on two novels by Colette, whose deceptively lush, hard-edged books about love and loss in the Parisian demimonde aren't made into movies often enough. One could speculate that her work is too French, but even the French aren't filming her books these days. The author's opulent setting is captured quite well by production designer Alan MacDonald and costume designer Consolata Boyle, and cinematographer Darius Khondji imparts a Poussinesque hardness to the surfaces in this sun-drenched story. He also captures some breathtakingly beautiful exteriors of Biarritz during Léa's escape there.
The sumptuous visual beauty serves as a backdrop to a movie that works best if you remember the way Pfeiffer absolutely ruled in the late 1980s and early '90s. She could be fiercely sexy (Tequila Sunrise, The Fabulous Baker Boys) or ebulliently funny (Married to the Mob), but she was an underrated tragic actress, too. She could wring your heart even in substandard vehicles (Frankie and Johnny, Love Field) as well as in movies where she did have top-notch talent surrounding her (The Age of Innocence, which strongly resembles the movie at hand).
She's now 51 and still beautiful, and the movie makes us keenly aware of both facts, taking care to show us the lines and wrinkles in her famous face. (In a superbly catty moment, Mme. Peloux fingers Léa's face and says, "My dear, don't you find that now that the skin is not so firm, it holds perfume so much better?") No way this movie works with a Botox case as a lead actress. The filmmakers could be accused of milking the natural aging process for pathos, and yet Pfeiffer's steely performance never begs for the audience's pity. That why she's so wounding in scenes like the early one in which she sits at home eating dessert while Chéri is off getting married, and the emotions overwhelm her all at once. This performance recalls her greatest work, and after spending much of the last 15 years either stuck in unsuitable roles or away from the screen entirely, it's gratifying to see her powers undiminished.
The movie bears all the hallmarks of director Stephen Frears' best work, fleet-footed and objective in tone without sacrificing intelligence or the emotions of his characters. Maybe that's why French subjects seem to suit this English filmmaker so well. His storytelling proceeds in a remorseless fashion, urged on by the drumbeat of an unusually grim score by Alexandre Desplat, and the pace gives the movie a hurtling trajectory, making the characters often seem powerless to resist the social pressures on them. Frears does some uncredited work as the film's voiceover narrator, and though he brings out quite a bit of humor in the story with his affectless line readings (especially at the beginning, detailing the exploits of various real-life courtesans in history), he also drives home the last line of the film that brings home the movie's sobering tragedy.
That's precipitated by a searing farewell scene in which Chéri reminds Léa of her better nature while being unable himself to summon the willpower to stay with the only woman who loves him. Léa's inspired to seal her own fate, and afterward she stares into her mirror with one hand up to her face and a look in her eyes of cold fear, the look of someone who sees the grave beckoning to her. And because she's also looking directly into the camera, she confronts us with our own mortality. For all its surface beauty and fizz, Chéri sends you out of the theater with the taste of death in your mouth.