I remember watching Gregory Nava's drama El Norte for my high-school Spanish class. I thought about that film while I was watching A Better Life, a movie that is also set in the world of illegal Latino immigrants in the United States. It struck me how little movies on this subject have changed since El Norte came out way back in 1983.
That's because the situation of illegal immigrants in this country hasn't changed. (Just ask José Antonio Vargas, the journalist whose personal story has dominated the news recently.) Other countries — Britain, France, Germany, even Iran — have produced movies addressing their own immigrant populations. The difference is that America's relationship with its illegals has remained dysfunctional for so long that it has led to a whole subgenre of movies with its own conventions and predictable story developments. Cary Joji Fukunaga's Sin Nombre, Richard Linklater's Fast Food Nation, Joshua Marston's Maria Full of Grace, Patricia Riggen's Under the Same Moon, Marco Kreuzpaintner's Trade — what do we make of the fact that so many of these movies are made by non-Latinos? These dramas vary widely in quality, but they all share the same broad story outlines and the same earnest tone as they take in the plight of aliens driven here by poverty, war, and repression in their homelands; struggling to survive while surrounded by prosperity; and looking over their shoulders for INS. (The satirical take on the story in Robert Rodriguez' Machete is a notable exception.) A Better Life does not escape the formulas of its subgenre, though it does have a lead performance that's worth watching.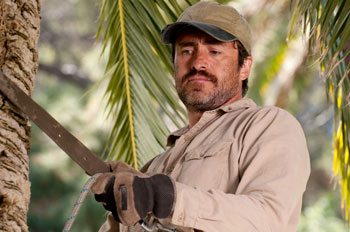 That comes from Demián Bichir, who portrays Carlos Galindo, a gardener in Los Angeles who makes money tending to rich people's lawns and trees with his pal Blasco (Joaquín Cosio). Blasco is ready to return to Mexico with the money he's made, and he convinces Carlos to buy his truck, which comes with all the necessary tools and Blasco's client list. Carlos agrees with some trepidation, not only because of the expense but because he well knows that a minor car accident or a parking ticket will get him deported. His worst fears are then realized soon afterward when the truck is stolen by Santiago (Carlos Linares), a day laborer whom Carlos has engaged to help him.
Director Chris Weitz has had a herky-jerky career. He started off by co-writing Antz and American Pie, then making his directing debut with his brother Paul on About a Boy before taking on the fantasy-adventure blockbuster assignments The Golden Compass and The Twilight Saga: New Moon. He was always miscast as a director of CGI-heavy franchise movies. This sort of realistic drama always suited him better. Or rather, less badly.
Much as he did on About a Boy, Weitz soft-pedals the family drama, which here takes place between Carlos and his 14-year-old son Luis (newcomer José Julián), a kid who spends less time at school and more time hanging out with gangstas than his dad would wish. The slouchy and apathetic boy suddenly turns proactive and decisive when the truck is stolen, helping his dad locate the vehicle in the shadowy world into which Santiago has disappeared. Weitz seems determined to avoid telenovela-style melodrama depicting the bond that develops between father and son, which is great except that he pulls back too far. A bit more ruthlessness with regard to the forces that might tear this family apart might have brought the movie home emotionally, but Weitz doesn't seem to have it in him. The actors tear up manfully as Carlos and Luis contemplate the possibility of being separated, yet the tenor of this movie remains distant.
Bichir saves A Better Life from being fatally dry. The 47-year-old Mexico City native is best known to American audiences for portraying a suave drug lord in the last two seasons of TV's Weeds, though moviegoers might remember his spookily accurate impression of Fidel Castro in Steven Soderbergh's Ché. The macho swagger of those roles is completely gone from his performance here as a decent, gentle single father whose love for his boy is his sole reason for working such a hard job and living a life without the protections enjoyed by citizens. A lesser actor would have turned this character into a saint, but in Bichir's soft voice and the overwhelmed look that frequently comes into his eyes, you can feel the humanity of this ordinary man whose suffering and determination to improve his circumstances are shared by millions of unnoticed people within our borders. In this, A Better Life succeeds where many other films like it have failed.
A Better Life
Starring Demián Bichir and José Julián. Directed by Chris Weitz. Written by Eric Eason. Rated PG-13.