Clyde, a longtime Fort Worth resident, enjoys smoking a little weed, but he's certainly not one to spark up a fatty in public. So he was startled recently by what happened when he met a friend at a bar. As the two of them talked and drank, his friend took occasional drags from an electronic cigarette. Then she offered it to him.
"I took a hit off it and … whoa!" he said.
Clyde got an immediate buzz and looked quizzically at his friend.
"I said, 'What the shit is this?' " he recalled.
She explained that she'd loaded her e-cig with liquid THC, or tetrahydrocannabinol, the chemical in marijuana that makes users feel high.
Clyde was pissed. He'd exhaled with the bartender nearby, and now he was worried that maybe police were on the way.
His friend just laughed. She said "vaping" was odorless and that nobody would be the wiser. Clyde hadn't kept up with the trend.
"Sure enough, I couldn't smell anything. It dissipates so quickly," he said. "I got pretty stoned, but I hadn't intended to."
Clyde's friend is one of many people quietly getting high in public these days with the help of e-cigs. There's no smell from vaporized marijuana to give it away, just as when e-cig smokers use tobacco. The vapor technology, designed to help tobacco addicts kick cigarettes, has become a popular vehicle for pot enthusiasts, who replace the liquid nicotine with marijuana concentrate, also referred to as "dabs" or "wax." Because it's odorless, most people don't realize it's happening around them. The estimated 8 million regular marijuana users across the country no longer have to sneak off to a restroom stall, parking lot, or any of the other places they've been going for decades to fire up a joint, fearing the odor will give them away.
Despite that, police have noticed the trend. E-cigs are under fire from local and national authorities, and some cities, including Frisco, have banned them. While authorities continue to debate e-cig regulations, stoners can cop a buzz almost anywhere with little fear of being found out. Without the telltale odor, law enforcement officers — even if they realize what might be going on — have few excuses for checking to see what substances are inside the pen-like devices. One local businessman said he's passed through U.S. customs twice recently while carrying his pot-filled e-cig with no problems.
Shaun McAlister, executive director of the local chapter of the National Organization for the Reform of Marijuana Laws, said the e-cig vaping trend is here to stay.
"The future of marijuana is not going to be in smoked form, it's going to be vapors, lip balm, edibles, salves, creams, and everything you can think of," he said. "You'd never have to smoke again in your life, and you'd still get all the benefits [from cannabis]."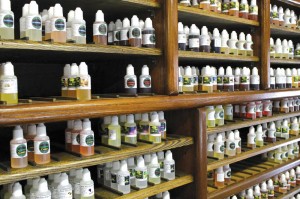 Medicinal users, such as people dealing with the symptoms of cancer or glaucoma, might benefit most from being able to vape concentrated THC in public rather than staying inside their homes all day for fear of being busted.
"They can get out and freely interact with the public and walk their dogs and be normal human beings without being hassled for a substance they are ingesting," McAlister said.
Others simply like to get buzzed. Only a few minutes pass from the time Doug wakes up until he takes his first hit of marijuana each morning.
"As soon as I get up in the morning, I hit the bathroom," said Doug (who, along with several other smokers interviewed for this story, asked that their real names be withheld for fear of reprisal). "After that I'm on the couch having a bowl. It's uplifting. It helps my perception. It helps my mood. My productivity goes up."
Some "wake-and-bake" smokers consider themselves to be medicinal users, even though Texas makes no legal exceptions for them. Others view their morning pot buzz as no different than drinking a cup of coffee and their hits throughout the day as mild stimulants to keep them going strong.
A primary concern with vaping liquid cannabis in e-cigs is that penalties are stiffer than for smoking it. Possessing up to four ounces of regular pot is still a misdemeanor in Texas. But someone caught with concentrates or hash, even less than a gram, could be charged with a felony.
Trends, of course, can be short-lived. As inevitable police encounters occur, legal crackdowns are likely to follow. However, widespread e-cig regulation doesn't appear to be just around the corner. John Lindsay, regional director of D.A.R.E (Drug Abuse Resistance Education) America, who compiles information from Texas and surrounding states, said only a few jurisdictions have passed such laws.
"What I'm hearing is that young people are mixing various things in with that nicotine, be it marijuana or other things," he said.
Though Lindsay said he has not heard of other substances besides marijuana and tobacco being vaped, any drug that can be liquefied could be put into an e-cig. Social media sites make it easy to share instructions for making custom liquids, especially among younger generations with technological expertise, he said. According to the Centers for Disease Control, about 1.8 million middle school and high school students use e-cigs.
 ********