Since moving to Fort Worth following graduate school 10 years ago, Carly Taylor's life has coalesced around craft beer and yoga.
Taylor is a familiar face to anyone who frequents The Collective Brewing Project, where she works tending bar and directing the brewpub's monthly Beer Yoga events. Always smiling and radiating positive vibes, she's one of the most instantly likable people I've ever met. When we chatted at Avoca recently, she was excited to tell me about her newest project, The Yoga of Beer: A Craft Retreat Balancing Practice and Pleasure with Carly Taylor. The inaugural event, organised through Fort Worth-based Urban Yoga where Taylor works as an instructor and Director of Retreat Programming, will take place in Sante Fe October 20 through 24th. The Yoga of Beer will blend brewery tours, outdoor excursions, yoga sessions, and a tranquil bed and breakfast experience at the Rancho Gallina.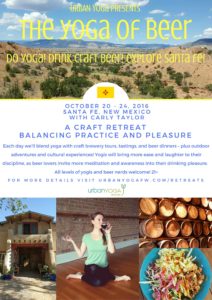 Combining beer and yoga is a relatively new concept in North Texas, which is part of the reason for the popularity of her classes at Collective Brewing. Taylor has practiced yoga for most of her adult life, focusing primarily on vinyasa yoga, which patterns movement through breath, in addition to yin and restorative yoga. Yogis are drawn to the practice for a myriad of reasons, she said. Some are looking to improve their physique, while others view it as a part of a spiritual journey or a way to "zen out." For her part, yoga has a healing quality that calms and centers her mind and spirit.
Cultivating beer-minded yogis is an ongoing job, she said. Some health-minded yogis were apprehensive of her class at first. Beer still carries connotations of big guts caused by the high calorie adult beverage. Her classes have helped show the craft beer unwashed that brews like the Petite Golden Sour or Tropic Thunder are works of beer beauty that can be savored every bit as much as a carefully crafted sushi dish or glass of Cabernet Sauvignon. And the craft suds have drawn folks into the class who may not have been interested in learning yoga otherwise.
"It's a nice exposure for both crowds," she said. "It's an opportunity to bring a more appreciate, even meditative awareness to your drinking pleasure because it enhances what you can get out of it. If you're just chugging beers to mark however many you had on the Untappd [app] that's one thing. But if you're savoring, really enjoying the taste, mouthfeel, and color you get so much more out of the experience. For the yoga part of it, there can be a rigidity to some yogis who think they have to get this or that right. Throw in a beer, and you can add a playful tone to your yoga practice."
The concept of a beer gettaway began when Taylor worked as retreat leader in a similar event in Sante Fe, also organized through Urban Yoga. As it turns out, Sante Fe has an active craft brew scene and at least one brewery had a Beer Yoga class of its own. She took the opportunity to visit each brewsite in the city: Sante Fe Brewing Company, Second Street Brewery, Duel Brewing, New Mexico Hard Cider, and Marble Brewery (Albuquerque).
The breweries will play a large part in the retreat, with a tour or yoga practice happening in each of them at some point, Taylor said. The owners of the ranch plan to make dinners and pair them with local brews.
"Once our guests get to Sante Fe, I will take care of everything," Taylor said. That includes all the "transportation, food (except for one lunch and dinner), excursions, yoga, beer, and all the tastings and tours."
Taylor is excited about about the possibility of The Yoga of Beer expanding to other cities or countries. Her goal is to provide people with the benefits a love craft beer and yoga have given her.
"Yoga has helped me develop mindfulness," she said. "Why can't that translate into every aspect of my life like drinking coffee, beer, road trips, whatever it is. Some people think yoga and drinking beer are mutually exclusive. I see them as an opportunity for us to learn from each."
The fact is, she added,"bringing beer into yoga makes it a little more playful and bringing yoga into beer makes it a little more mindful."
Registration for the Sante Fe event ends September 19. Visit here for more information.
Don't forget to follow On Tap in Fort Worth's Facebook page.
On Tap this Week:
2016 Fort Worth Weekly Homebrew Throwdown
The Weekly is proud to announce its second annual homebrewing contest as part of North Texas Beer Week. We are still finalizing details, but now would be a good time to start planning for the November 20th event at Panther Island Pavilion's The Shack. For inquiries on how to enter please e-mail me via: Edward@fwweekly.com
Martin House Brewing Company's SeptemberFest, A Hoppy, Oatmeal Brown Ale (Available through September in draft only)
From Martin House: Why wait until October? It's name is close to the more familiar October beers you've heard of, but it doesn't have much more in common. The Martin House fall seasonal is brewed to six percent ABV with oats, caramel malts, and cherry wood smoked malts. We use Munich malts for the base of this beer giving it defined malty flavor, perfect for the fall weather. The oatmeal lends a smooth and velvety mouthfeel.  The smoked malts give the beer just a hint of smoke flavor.  We add generous portions of Chinook and Northern Brewer hops for flavor.  While SeptemberFest is hoppier than most brown ales, its not overwhelming and compliments the maltiness perfectly. You can hunt down this season brew using this link.
Beer, Beards, and Beethoven
Fort Worth's venerable Chamber Music Society is getting into the craft beer movement. Wild Acre Brewing Company is the venue of choice for a not-to-be-missed music experience.
From the Chamber Music Society: The Chamber Music Society of Fort Worth believes classical music has a home wherever great music and appreciative audiences converge. For one night this fall, that home will be Wild Acre Brewing Company. The evening concert will be a fun, community-minded experience that will please lovers of great music and craft beer. The 30-minute program will feature popular classical music favorites as well as arrangements of popular songs. The event will be emceed by CMSFW artistic director Gary Levinson and conclude with a post concert "Schmooze and Brews" where you can mingle, meet the artists, and enjoy complimentary Wild Acre Brewing Company suds. A food truck (not complimentary) will be on site as well. Bring a date or grab your friends. This unique concert is one night only.
Tickets are $20 per individual or $30 for two and includes up to three pints of beer after the show. Guest artists will be announced soon. Reserve your spot on the event page.