My longstanding habit of chain-smoking cigarettes upon awaking each morning was replaced on July 11 by a new tradition of going for a long walk. Six days a week I rise from bed, don my sneakers, and walk 1-1/4 mile to the end of a cul-de-sac where a weed sprouts through the pavement. That weed is my landmark where I spin around and head back.
Every time I round that weed, I think to myself, "Awright, I'm halfway. I kick ass!"
Early explorers Lewis and Clark expressed a similar sense of pride upon reaching Bismarck, North Dakota, the halfway point of their 28-month journey west.
"Awright, we're halfway. We kick ass!" Lewis wrote in his log book in 1805.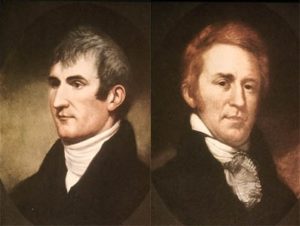 Lewis and Clark didn't wear off-brand sneakers and have to walk in the grass to ease the pressure on their aching knees like me, but whatever. They deserve their due.
And now the Dallas Cowboys have reached their weed in the cul-de-sac this season.
Awright, Cowboys! You're halfway and kickin' ass!
Sunday's victory over division rival Washington RacialSlurs was a must-win, for reals. The Cowboys (4-3) are hanging tough behind the division-leading Philadelphia Eagles (7-1).
Being three games behind the division leader after eight weeks is scary. But here's the beauty part: The Cowboys haven't played Philly yet. The teams face off on Nov. 19 in Arlington and close out the regular season on Dec. 31 in Philadelphia. The Cowboys can gain two of those three games back by beating the Eagles twice. That road game in Week 17 could very well decide the NFC East championship.
Best of all, the Eagles and their bad luck are like me and relationships – we always find a way to screw things up! Yay, self-hatred and sense of emotional detachment!
The Cowboys have a valid shot at the playoffs unless Zeke Elliott is suspended, which could happen at any moment. Elliott's case is in court today in New York with the NFL Players Association seeking a preliminary injunction to keep him on the field, while the NFL, led by Commissioner Roger Goodell, is trying just as hard to suspend Elliott for six weeks.
I get the feeling the NFL will lose this round.
Lawyers are drinking scotch neat and getting richer by the hour going back and forth on whether a guy who was never arrested, charged, or convicted of domestic violence should be able to work at his job. This could take years of scotch.
Goodell has become Captain Ahab to Elliott's big fish in a clash of wills that, if Moby Dick is to be believed, doesn't end well for Goodell.
Our beloved Cowboys owner will figure how to keep Elliott in uniform or his name isn't Jerry "Slicker Than Snot on a Doorknob" Jones. Jones is a sneaky devil, just ask anyone with Verizon or Sprint who tries to get a signal while watching a Cowboys game at AT&T Stadium.