December turned out to be an auspicious month to chat up singer-songwriter Jake Paleschic. The musician is keenly aware of life's cycles. As each year ticks by, Paleschic often flips through his personal journal to reflect on the past.
"Reading about what was scary or exciting to me in 2016 is often completely different from what is exciting or scary now," he said. "When I go through a rough patch, I know one day it'll just be another entry in my journal."
As we chatted over tea at Leaves, the new tearoom/bookstore off South Main Street, Paleschic spoke about his recent marriage and upcoming longplayer, Wrongdoer, which was recorded in Niles City Sound.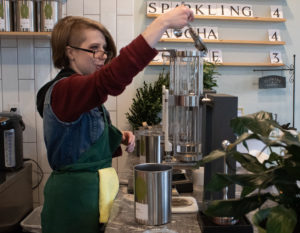 "This is a new experience, being so intimately connected with someone else." he said, describing married life. "My priorities have been in the house, taking care of our pets and making sure she feels comfortable."
One tune from the upcoming LP, "Get You Off My Mind," recounts how Paleschic met Kyndra. The singer-songwriter admits that his lyrics are often emotionally heavy. He took a different tack with his ode to Kyndra, spinning his memories into verse simply and tenderly. One feature of Paleschic's personality often spills into his music. Whether it's fashion, book genres, or his music, he grows restless staying in one medium too long. His new album will feature a handful of genres, while not straying too far from American roots music.
"I think it's neat to dive into a genre of music and learn about it," he said. "I've been striving to blur genres, to get out of my habits in songwriting."
What precious little downtime Paleschic has is usually spent mastering vegan cuisine or reading. One reason I suggested Leaves for our interview is because whenever I stumble upon Paleschic, he's usually reading a paperback.
"Redwall was the first book series I read when I was seven or eight," he said. "I got big into fantasy. Lord of the Rings is still some of my favorites."
Paleschic's current read is the autobiography My Struggle by Karl Ove Knausgård.
"There was nothing about his life that demanded an autobiography," Paleschic said. "That was his inspiration for writing. He made a decent living, but he wasn't happy. He wanted to figure out why. So far, it's been good. Very brutally honest. He seems to be a cynical guy. You can tell as he's writing he's discovering things about himself, similar to my [experiences with my] journal entries."
Paleschic plans to perform an as-yet-unperformed single from his upcoming album December 15 (9pm) at Chat Room.
Don't forget to follow On Tap in Fort Worth's Facebook page.
On Tap this Week:
Jake Paleschic, Matt Tedder, Vogue Machine at Chat Room. Dec 15.
Vogue Machine, Matt Tedder, and Jake Paleschic perform a free concert December 15. Visit the event page here.
Cookies and Cream Beer Flights
From Martin House: Join us Mon-Wed, December 10-12th, for the release of Cookies & Cream. Cookies is a 6.2 percent Cookie Dough Stout and Cream is a 6 percent Rich Cream Ale. For these three days, we'll be serving Cookies and Cream flights for $10. Each flight will come with a fresh Chocolate Chip cookie and will feature 4oz pours of each. Visit the event page.