Reframing
Posted March 21, 2012 by Big Ticket in
Calendar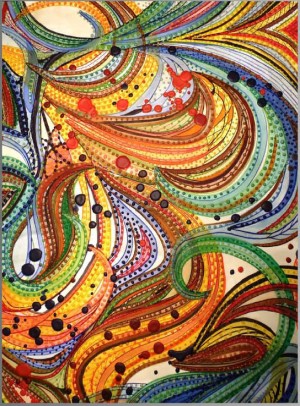 Ann-Marie Barker's "The Living Room" at Casa Mañana.
For whatever reason, the main attractions at this year's Spring Gallery Night seem to lie outside the usual venues. Don't get us wrong: The traditional spaces still have some stimulating shows opening this weekend. William Campbell breaks out some graffiti-inspired art by Jeff Mueller, while Artspace 111 has a grab-bag of an exhibit. The major art museums all have splashy, recently opened shows on as well. Yet there are still rewards to be had off the beaten path.
The major news this year is the grand opening of a whole new venue inside an old one: Casa Mañana is now a gallery as well as a space for theatrical performances, and there'll be an opening there of a show of encaustic works by Ann-Marie Barker. Previous Fort Worth Weekly Visionary Award winner Michelle Brandley has an M.F.A. show at TCU that's not officially part of the Gallery Night festivities but is opening this week anyway. Even The Velvet Box is turning itself into an art venue this evening. They're not showing the sort of art you'd expect The Velvet Box to show; it's a display of Western art by Marshall Harris. Like quite a bit else, it's only showing for one night, so be sure not to miss it.
Spring Gallery Night runs 2-9pm Sat at various locations; check Calendar for venues. Admission is free.