Justin Time Machine
Posted August 29, 2012 by HEARSAY in
Music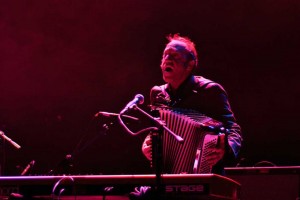 Fort Worth native and Okkervil River keyboardist Justin Sherburn also scores films. With his other band, Montopolis, he will provide the foreground music for a 1929 Russian film in Dallas in mid-September.
Justin Sherburn is reconnecting with his roots. Sort of. Keyboardist for Austin-based indie darlings Okkervil River, Sherburn is a Fort Worth guy (graduate of Arlington Heights High) who's been living in Austin for the past 14 years, performing with the Americana mini-orchestra while pursuing his career as a film composer and ambient musician. His independent work will bring him to Texas Theater (231 W. Jefferson Blvd., Dallas, 214-948-1546) on Friday, Sep. 14. At 8 p.m., he and his band, Montopolis, will perform their score for the 1929 Russian silent film Man with a Movie Camera. The black-and-white images of giant humans, swirling streets, and other seemingly miraculous phenomena (really ahead of its time, technically) will be accompanied by Montopolis' music for string trio, hand-made analog synthesizers, and a rock rhythm section. Montopolis first performed Man with a Movie Camera on two consecutive nights in July at Austin's approximately 160-seat Alamo Drafthouse and sold out both shows. Sherburn's Texas Theater gig will represent his inaugural foray into North Texas as a bandleader but not, of course, as a musician –– Okkervil has played here, and Sherburn played in the Fort Worth/Dallas experimental rock outfit Drama Tiki back in the day and also as part of a trio that frequently sat in for legendary Fort Worth pianist Johnny Case at the original location of Sardines Ristorante Italiano. Sherburn plans to ride the live-film-score regional circuit with Man with a Movie Camera, following in the footsteps of some of his Austin musician-friends. "They've been doing this for years," he said, mentioning that Houston is especially welcoming to the genre. "It's not an uncommon thing to take a movie and tour it around. … I had no idea I'd be so infatuated with this process. I already have two more [movies] for [scores] in mind. I'm thinking long-term here." A Fort Worth stop is not on the horizon. However, a Fort Worth collaboration is. Again, sort of. In November at The McKinney Avenue Contemporary in Dallas, Sherburn will perform during the opening reception of a new time machine installation by celebrated Fort Worth multimedia artist and art assassin Christopher Blay. "It will be really fun," Sherburn said. "We're going to throw on some lab coats and pretend we're scientists and take people for a ride." The music will consist of synths and "electronic stuff, loop-based and noise-based," Sherburn said. "Nothing will be recognizable as an instrument. Basically, it'll be like you're on the bridge of the starship Enterprise." Blay's previous time machine installation, in 2010, featured pre-recorded music by Sherburn. (The two artists met years ago through a mutual Fort Worth friend.) Montopolis' one and only previous filmic adaptation was of 1957's The Red Balloon. Performed under the auspices of Austin's Tongue & Groove Theatre company, the production enjoyed "several long runs," Sherburn said, at The Long Center for the Performing Arts in Austin. "It was a lot of fun," the composer said. "It got me into doing more theater." No word yet whether Fort Worth will figure into Sherburn's future film/music plans, but he hasn't ruled out a gig in the ol' homestead. Tickets to the Texas Theater show are $10 per person, with student discounts available.
Contact HearSay at hearsay@fwweekly.com.