Visionary Awards Party and Rahr
Posted March 25, 2013 by ANTHONY MARIANI in
Blotch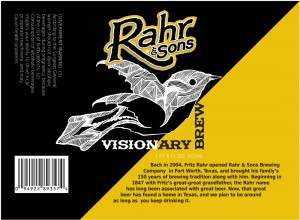 Joe Melgoza's winning 2013 Visionary Brew label. Photo by Lacie Lovelace.
About 100 people came out last Thursday to Artspace 111 for our Third Annual Visionary Awards to celebrate our 2013 class of Visionary Artists –– multimedia artist and curator Lauren Cross, painter James Lassen, and actor/filmmaker Frank Mosley –– and enjoy some complimentary food from Reata and booze and a brooding but bubbly and atmospheric set by Fort Worth space-rockers Skeleton Coast.
As part of the event, Fritz Rahr, chairman and founder of Rahr & Sons Brewing Company, was on hand to choose the winner of our open contest to design the label for Rahr's 2013 Visionary Brew. From a group of 14 awesome designs hanging at Artspace 111, Rahr chose the stylized white hummingbird on a black-and-yellow background by Joe Melgoza, a recent transplant from Los Angeles who's studying at The Art Institute-Fort Worth. Congrats to Melgoza, to our Visionary Artists, to our sponsors for supporting us, to Artspace 111 for having us, to our great Weekly staff for putting everything together, and to all of our fabulous Weekly readers/friends. See ya next year.