On South Drive in the Wedgewood area, two curious-looking bookcases that could easily be mistaken for extravagant mail boxes sit in the yard of Joseph and Sheila Beck. One of the bookcases has a red roof and is shaped a little like a doll house. A small note taped to the side of it reads: "This free little library offers a way to share good things to read — favorite books from your childhood, or books you would recommend to your friends."
The note goes on to instructs passers-by to take a book and read it, then return it to the library or pass it on to a friend. It also requests that anyone who reads the book leave a note in it, so subsequent readers can see other people's thoughts on the work.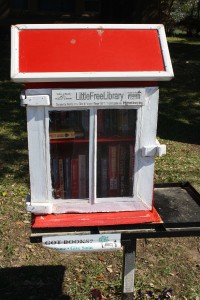 Sheila, a retired school teacher, had the idea for the library after reading a news story about people in Northlake doing the same thing. Joseph built the cases out of recycled materials, and the library has grown steadily since its inception last August.
"We've gotten a wonderful response from the community," said Joseph, while sitting at his dining room table. "We've been able to meet neighbors, and they've met neighbors, and it seems to have been a way for them to bond. We've had regular people walk by and take books and leave books."
"The little library really belongs to the community," he continued.
The Becks are a part of a growing national trend. Little free libraries are popping up all over the country. The movement has a website that instructs would-be do-it-yourself librarians how to get started. The libraries are officially charted by a national organization.
Initially, Joseph, a retired employee of Lockheed Martin, built the red bookcase and it held around 60 books, he estimated. But some neighbors and students at nearby Wedgewood Elementary caught wind of the library, and demand grew. So Joseph built a second bookcase, which houses about 100 children's books.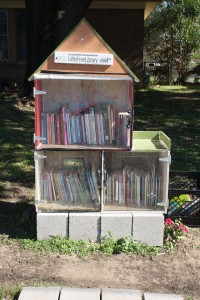 Sheila said she was inspired to create the library to promote reading for children and literacy for adults. Though she retired after teaching 41 years at Alice D. Contreras Elementary School, she still tutors students part-time, works at an area daycare, and mentors students after school.
"It's in my blood," she said.