Lauren Cross
Lauren Cross is new to Fort Worth, but the Houston native is already making an impact. Along with creating multimedia art (more on that later), she is founder, curator, and owner of WoCA Projects, a new gallery and events space on Race Street devoted to exhibiting the work of women artists of color. There's nothing like it in North Texas.
"It's not for artists [who are already] getting a lot of play," said Cross, a cheerful, stylish 30-year-old. "There are people who need this kind of platform."
WoCA's two concurrent inaugural shows, Linda Lucía Santana's Street Immersion(s) and Joy Ude and Desha Dauchan's Entertaining the Life, opened last month and have been generating a lot of social media buzz. The opening-night turnout was so large it almost brought Cross to tears. "I've always loved Fort Worth as an arts community, and to feel like you're contributing to that by adding something different and new was very powerful," she said.
The gallery isn't exactly spacious –– just 115 square feet –– but the white room is decidedly contemporary looking, with a stained concrete floor, track lighting, pedestals, and a moving wall, plus a large storefront window that lets in a lot of natural light. "This is so important to have spaces like this," Cross said, "and what we're doing here in Riverside, building an arts district, is so meaningful for me in terms of building community."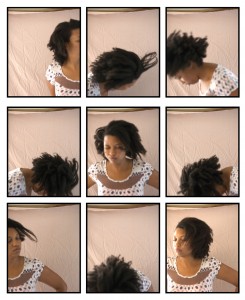 Veteran local multimedia artist and Art Corridor II curator Christopher Blay was initially skeptical of WoCA "because that vision is way too important to not be done well," he said. But after meeting Cross and viewing the space and the art, he said he's relieved. "There is a solid caliber of artists on the schedule for the next 12 months and a powerful endorsement from her peers and sponsors."
WoCA is just one side of Cross. There's also her hard-to-classify art. To interrogate the predominance of light-skinned African-Americans in African-American magazine ads, Cross sketched portraits of beautiful black women on brown paper bags, referencing the brown-paper-bag test of skin color: used in America's ugly past to determine social privileges for blacks. Essence 2009 earned Cross "a lot of flak," she said. "I was in some ways airing the dirty laundry about aspects about black culture, which is typically taboo."
Cross also has choreographed dance-like movements based on photographs ("photo performances") and is now exploring text-based work. "I have these words and phrases in my mind that seem to explain things that happen in culture," she said. "I don't always get the opportunity to talk about it with some people, because when you know a lot of words or information, people think you are a know-it-all. So I explore them in my work."
Cross may be new to Fort Worth, but she's familiar with the area –– she has extended family here, and she began college at the University of Texas at Arlington, studying nursing. "For me, it was kind of like coming home, to come to UTA," she said. "It had that village feeling."
Cross quickly realized her heart wasn't in nursing. "I did a lot of self-reflecting," she said, "and … my fondest moments were of making art."
Cross gave herself an ultimatum: She would take an art class, and if she excelled, she'd pursue art passionately. One class with noted UTA photography professor Leighton McWilliams was all it took. "He said, 'If you're asking me if you can have a career as an artist, then, yes, you can. It takes a lot of work and effort, but, yes, you can,' " Cross recalled. "And that's all I needed to know."
As part of UTA's study-abroad program, she went to England in 2004 to attend Richmond, The American International University in London. Though Cross is partial to photography, she didn't want to be pigeonholed into just one discipline, and Richmond's professors stressed interdisciplinary work. "It seemed like there was a fit," she said. "I'm not saying anything bad about UTA, but for me all of a sudden it all just came together. People knew what I was trying to accomplish, and they knew how to teach me."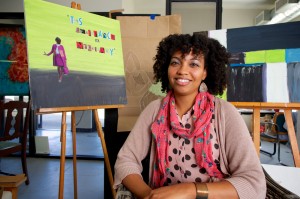 She wanted to stay in London after graduation to make more art, but the high cost of living there meant she was soon headed back to the States.
Jobless and still trying to "figure things out," she said, she moved in with a relative in Duncanville, in Dallas County, where she ran into her future husband, an old family friend. A graduate music student at the New England Conservatory of Music, Solomon Moses Cross easily talked her into relocating to Boston to live with him. They married only a few months after reconnecting, and while Cross was happy, she said she felt frustrated artistically –– she was working full time in marketing for the Salvation Army and didn't even have a studio. "I felt lost," she said. "All of my work was in London. Everything that I had built up was thousands of miles away. All I had was photographs of it."
Cross forced herself into a project, photographing a farming family, one representing the last vestiges of rural Massachusetts, she said. The Greeneland Project, named after the family, the Greenes, consisted mainly of sumptuous landscape photos: pretty to look at but also historical documents of a highly specific place and time. The project "re-framed for me why I do art," Cross said. "My particular method has always had an activist part to it. There's always some sort of message that's being communicated. And always being reflective, [about] why you're doing it, invigorates you as an artist."
Cross, who always knew she wanted to teach art as well, found a master of fine arts program in the Boston area that would allow her to study various artistic media simultaneously, with no real specialization. While at the Art Institute of Boston at Lesley University in nearby Cambridge, she left the Salvation Army and took a sales and marketing position with Art New England, a popular bi-monthly visual arts magazine.
Cross said her day job was almost as educational as her coursework. "It was the perfect position for an artist to be able to talk to people," Cross remembered. "This is the institution of art," she said, meaning that she no longer felt on the outside looking in.
She also had begun teaching graphic design at Stonehill College, a small Catholic school in Boston, and just about the time she'd whipped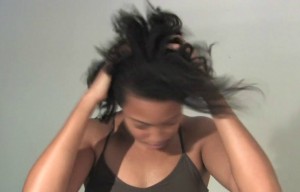 up a fascinating-sounding course –– Race, Gender, and the Digital Image –– she and Solomon decided to relocate. Their destination this time? North Texas.
Solomon, who had been teaching high school music, had finally landed a much-coveted college music teaching job  at Ranger College, a two-year institution between Fort Worth and Abilene.
Lauren, who by that point had earned her MFA, was torn about the move but was encouraged by a mentor to reach out to North Texas colleges, to sell them on her course. The "most compelling" response that she received, she said, was from Texas Woman's University. "I discovered their Ph.D. program's major mission is multicultural studies," Cross said. "I was, like, you gotta be kidding me. I applied, and I prayed, and I got in."
Race, Gender, and the Digital Image will have to wait, she said.
Cross is now in her third of four years in TWU's Ph.D. program in women's studies. "I never considered my identity as part of my work," she said. "I always thought of [art] as this very objective space, where you can objectively create ideas and be who you are" regardless of skin color, gender, or sexual preference.
These days, though, she feels art and identity are intertwined. "When I talked about [the WoCA] concept, people said, 'Do you know any women-of-color artists? Are there any out there?' "
Cross said she replied, " 'You think I'm the only one?!' This is why I'm doing this," she continued. "If you can't even think of it, then most people can't."
In late 2012, not long after she found her studio space, The Work Room, on Race Street in Fort Worth's burgeoning Riverside neighborhood, she realized that an available spot next door would be a good fit for the gallery she had envisioned. With funding from private donors and Fractured Atlas, a national nonprofit artist-service organization, Cross was able to open WoCA Projects ("WoCA" stands for "Women of Color Artists") only a couple of months later. "The whole idea is about giving women of color space to really think about what we're doing conceptually," Cross said. "What are we contributing to this discourse?"
WoCA's next show, featuring work by Coco Rico and Joy Ude, will open on Friday, May 10.
James Lassen
Some people consider an MFA degree to be nothing more than a secret handshake to access the good ol' boy network that seems to run the art world, keeping out the uninitiated and ensuring that key appointments, sales contacts, and, of course, critical praise remain all in the MFAmily. Other folks consider two years of graduate school to be a sort of vetting process, a way for the rest of the world to know whether or not an artist is invested in his or her career.
James Lassen falls into neither camp. He doesn't have an MFA –– and doesn't plan on getting one anytime soon –– but he's still one of the best-respected painters on the local scene.
"I think I always knew where I wanted to take my paintings," said Lassen, a tall, fair-skinned 31-year-old with chestnut hair, muttonchop sideburns, and a seemingly permanent smile that betrays his wry sense of humor. "I'm not saying that people who go through a master's program are directionless, but it's just never appealed to me. I've always been skeptical about [MFA programs]. What would I be paying the money to go to school for, especially if I don't really want to teach? It doesn't seem worth it."
Lassen just wants to paint, and there's probably not much left for him to learn about technique –– his mostly figurative paintings are truly photorealist. "I love his work," said John Hartley, a photorealist painter and local elder statesman. "A lot of it makes me chuckle, but it has a serious undertone. … It's ironic, sad, and funny all at the same time. And pretty thought-provoking. … I also like that James really experiments a lot with styles and subject matter."
And Lassen, who earned his bachelor of fine arts degree from Texas Christian University in 2004, has a pretty good head on his shoulders, artistically speaking –– he thinks like an artist. Though not a conceptualist, he embraces ideas and in the process pushes the content of his paintings into interesting places.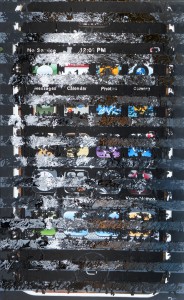 His first project beyond individual paintings is an ambitious one. Lassen has exhibited in local venues such as Gallery 414, Fort Worth Community Arts Center, and Dallas' 500X, but he's never had a solo show. For his first –– he doesn't yet know where or when –– he plans to tackle technology. Textual Healing will feature paintings of cellphones and text messages, relegating the figure, Lassen's bread and butter, to the peripheries. "So many people experience life with a phone screen occupying their field of vision that it seems like a preference is being made in the phone's favor over real life itself," Lassen writes in his artist's statement.
Focusing on the phones will allow Lassen to dip a toe into contemporary art, namely text-based art –– pun intended. "The familiarity of the phone screen will be a way to get the non-believers of text-based art to pay attention to something they'd otherwise ignore," he writes. "The message of this work is simple but not often shown so explicitly or free from political association. … This is also a chance to show that representational art can still be a relevant and critical method of expression."
Seeing Lassen get a little crazy, seeing him try something completely new both to him and viewers, is invigorating. Unadorned figurative painting might not be the most dynamic medium for these crazy postmodern times.
Growing up outside of Houston and later in Georgetown, Texas, he started out the way most artists do: by drawing. Before graduating from Georgetown High School, he began visiting colleges in-state. "I thought if I can't find a school in Texas, I'm being a little demanding and selfish," he said.
TCU won him over. "Everyone was friendly," he said.
He declared graphic design as his major –– colleges don't offer degrees in drawing –– but changed his mind before taking a single design class. "I just saw the [graphic design] work in the hallway," he recalled. "Lettering? Advertising layouts? No, no."
He decided to give studio art a try, with a concentration on painting, the medium closest to drawing in terms of technique. He quickly got the hang of things. The professor whose influence affected him the most, he said, is painter Susan Harrington, whose abstract-expressionist work often verges on collage. "I think I learned a lot from her because we were so different," Lassen said. "She could steer me into one direction, and I thought that was nice."
Shortly after graduation, he got his start at the Modern Art Museum of Fort Worth, where he would eventually work full time — as a security guard. The job offers Lassen not only a steady source of income but also a seemingly limitless supply of inspiration. "I don't get out as much as I used to, for one, so when I see people, it's usually [at the museum], and what I see is a lot of people using their phones," Lassen said. "You can't ignore it. They won't even take the time to look at a painting before they're taking a picture of it with their phone."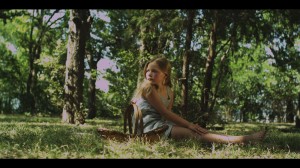 Lassen doesn't think people are addicted to their phones. He thinks they're in love with them. "People like their phones more than anything," Lassen said. "I always thought that bumper sticker 'Hang up and drive' was wrong. It should be 'Park the car and talk.' "
Textual Healing, Lassen said, is nearly complete. One planned monumental piece is a diptych: two 4-foot-square canvases, each displaying a vertical phone screen, with human figures on the fringes. "A guy smoking, a woman making a complex gesture with her hands –– that will be juxtaposed with really dumb text messages," Lassen said, "lots of typos, curse words."
Whereas the people will be in black and white, the phones will be in color and "pristine," Lassen said. "People aren't quite as important as a bright and shiny phone."
Lassen got married a few years ago to a longtime friend, and he and his wife Sarah now have a year-old daughter, Matilda. "She's pretty awesome," Lassen said of his daughter, who seems drawn to his paintings –– though not necessarily in any artistic way. "There's one particular drawing that she uses to pull up."
Lassen doesn't want much from art — just to be able to do it full time, putting aside other work. And to be critically well received. And to make enough at it to let him save a little money. "I just want more in pretty much everything," he said.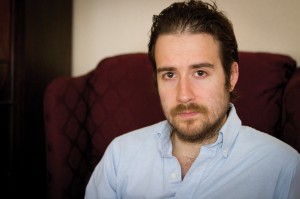 Frank Mosley
Frank Mosley has always been a filmmaker. No, seriously. When he was only 4, he and his father wrote, shot, and directed a very loose adaptation of The Wizard of Oz at their Arlington home. "When you're a kid, you perform for people, but this was me as a kid realizing you could capture that in this little box and watch it on the TV," Mosley said. "That put the bug in me."
And the 29-year-old hasn't stopped making movies since. He's currently in post-production on Her Wilderness, his second feature, a companion piece –– stylistically, he said –– to his first feature, 2010's Hold. "I'm really excited," he said. Her Wilderness "is just a lot more operatic, wild, and epic but still has that intimacy of character relationships."
Mosley's acting career is also taking off. After playing a tatted-up, chain-smoking dirtbag in The Other Side of Paradise, a 2009 comedy by Fort Worth filmmaker Justin D. Hilliard, Mosley has been in several movies, including Upstream Color, a 2013 romantic and science-fictional thriller by Shane Carruth, who directed the groundbreaking 2004 sci-fi drama Primer. Upstream Color played at this year's Sundance Film Festival, giving Mosley the opportunity to live out a longtime dream. "I'd made a vow never to go to any of those big festivals unless I was going with either a film I'm in or a film I've made," he said. "And that's what made this year so special."
Mosley is currently acting in two rustic sagas –– Some Peace by Fort Worth filmmaker Cameron Bruce Nelson and White Creek by John W. Yost –– and he's just finished a, uh, rather juicy role, playing a tongue-less, fingerless, toeless human pet of cannibalistic strippers in John Wildman's Dallas-shot horror flick Stripped. "My mom hates it," Mosley said. "Up until this year, all my roles were bad guys, drug dealers, psychopaths." At least in his other roles, he said, he's "finally getting to play leading men, heroes."
Mosley, his dark hair and beard long and unruly for a part, has been living out of suitcases recently –– Some Peace is being shot in Virginia, White Creek in Upstate New York –– but Arlington will always be home. Kinda. "Arlington, the best thing [about it is] it's right between Dallas and Fort Worth," Mosley joked, "and I love Fort Worth," where he has shot several of his films.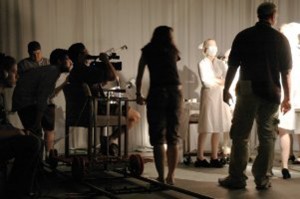 As a kid, Frank was always roping friends into performing on camera for him and thought he'd become a horror-film director. In high school, he and a friend staged a production of Dr. Strangelove that –– Rushmore style –– involved major special effects, including warring soldiers and a massive fake bomb. "I don't know how they let us get away with that," Mosley reflected.
UTA wasn't his first choice for higher education, but the academic experience turned out to be perfect for him. "How to achieve maximum effects with limited resources was one thing I learned," he said. "At UTA, they said, 'Just go do your thing.' At UT-Austin, you don't even touch a camera your first year. … The freedom [UTA] gave us was great."
Mosley began work on Hold not long after graduation. Described by the Weekly's Jimmy Fowler as "a powerful minimalist drama about thwarted communication and regret," the film was co-written by lead actor and longtime friend Robby Storey, which touches on another skill Mosley learned at UTA: collaboration.
With Lee Luna, an Arlington native living in Seattle, Mosley is filming a quartet of semi-related shorts in The Emerald City and a fifth, unrelated short, Spider Veins, based on a script by Mosley. "I feel like all my shorts are experimental," Mosley said, "and I feel like [Spider Veins] is the first actual short that's just a solid 10- to 15-minute story that we send to festivals as our calling card."
Mosley is also trying on the producer's hat, working with a New York filmmaker on Prove It All Night, named after the Springsteen song. "People ask what producers do," Mosley said. "If a director says, 'I want rain,' the producer says, 'How do we make it rain?' "
So why is Mosley still based in North Texas? Well, for one thing, just about every movie at Sundance this year had a Texas connection. "I feel like Texas is starting to make a real appearance as a place you can make films with good people and get great results," Mosley said. "You don't have to be in New York or L.A."
A prime example is Ain't Them Bodies Saints, a period drama written and directed by David Lowery, a 2012 Visionary Awards winner, and produced by Fort Worth filmmaker James M. Johnston. Shot in Austin and starring big-time Hollywood actors Rooney Mara and Casey Affleck, the film was a hit at Sundance.
"Texas is on the move," Mosley said, "and trying to be with this group of people is also something special. I'm still part of that Texas filmmaking team."
Mosley's only obstacle now is lack of sleep. "I'm trying not to get worn out," he said.