Henry the Archer: Aiming for Cowtown
Posted May 21, 2014 by HEARSAY in
Music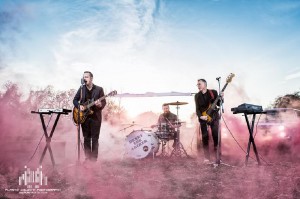 The new lineup for Henry the Archer is wrapping up its first full-length. Photo by Dustin Schneider with Plastik Object Photography
New Jerseyan Richard Hennessy had been playing music since high school and professionally as the one-man project Henry the Archer for a couple of years before his employer offered him the chance to relocate to the sunny shores of Fort Worth early last year. The corporate security manager jumped at the chance. "I just wanted to start fresh, basically," he said. "I needed to get the heck out of Dodge."
Not knowing anyone but wanting to continue with his music, he began playing solo shows around town. After one gig, he was approached by Aaron Knight, co-founder and co-owner of Ghostlight Concerts (né Blackbox Presents), wondering where the rest of Hennessy's band was. Learning that Hennessy was band-less, Knight posted an online ad for a rhythm section. The first response, which was pretty much immediate, Hennessy said, was from Kevin Geist, an Arlington drummer who had played with Fort Worth rock groups Bindle and Sun City, among others. Geist was quick to recommend a bassist, a guy with whom he'd played in Bindle, Matt Hembree (also from Pablo & The Hemphill 7 and Goodwin). The new and improved Henry the Archer's first show was in May at Hailey's Club in Denton. "There weren't that many people there, but the response was awesome," Hennessy said.
Music scenes are pretty similar everywhere in the world, but the 32-year-old singer-songwriter feels he's come into something special here. "I've never known better people than I've known in Fort Worth," he said. "They're extremely supportive. … It's not so much [that] everybody knows everybody. There's professional courtesy among musicians here, and that's awesome, absolutely awesome. … It's not a competition. It's unity."
Hennessy, Geist, and Hembree have just wrapped up tracking on their first Henry the Archer album together, recorded in assorted local home studios with mixing help from Goodwin guitarist/songwriter Daniel Gomez. Hennessy expects the album to be done in a couple of months. Though he writes all of the material –– the sound runs the gamut from post-punk to electric folk –– he intends to share some songwriting credit with Geist and Hembree. "They've brought so much to the table," Hennessy said. "I don't think I could sleep at night without acknowledging them."
Hennessy only recently learned what a lot of local music fans have known for years: that Hembree, in particular, is a monster. "Though he qualifies for assisted living," Hennessy joked, "he rips it on bass. … His playing is so sick."
Henry the Archer's next show is Saturday at The Grotto (517 University Dr., 817-882-9331) with The Barron Brothers, Pistol Packin' Mama, and The Oregon Trailers. Cover is $7.
Contact HearSay at hearsay@fwweekly.com.