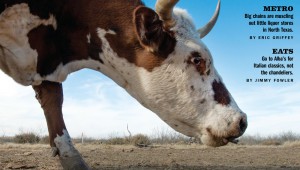 Texas cattle raisers aren't giving up — but neither is the drought.


JEFF PRINCE WITH PHOTOS BY ROBERT HART
The tools of a rancher's trade are scattered around the office in Saginaw. Leather chaps, spurs, dusters, bridles, and sweat-stained cowboy hats hang on hooks and racks. They're utilitarian, not décor. Still, they give the...