When he was a child, Lucky Tubb attended live concerts by his great-uncle. Lucky remembers sitting with his grandfather in the audience and, amid the commotion backstage and on the tour bus, watching the players and tech people who supported his great-uncle's music buzzing around. Lucky didn't have an inkling about the importance of what he was seeing.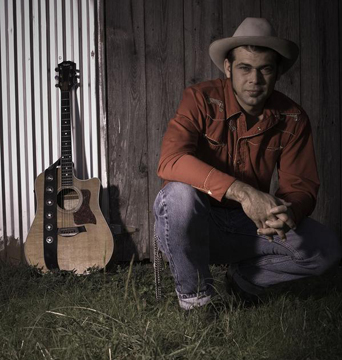 "I knew my uncle dressed really snazzy and that the musicians who played for him dressed snazzy, too," Lucky recalled. "I knew Ernest was a musician. I just didn't know he was the musician." "Ernest" would be Ernest Tubb, the celebrated founder of honkytonk music, the first man to bring an electric guitar onto the Grand Ole Opry stage and the titan who sold something like 30 million records worldwide during his decades-long career, including jukebox standards like "Waltz Across Texas" and "Walking the Floor Over You."
At the age of 36, Lucky Tubb – a singer, songwriter, guitarist, and bandleader – is determined to carry on his great-uncle's legacy while simultaneously carving out his own identity. Although he's been playing professionally for almost 15 years, Lucky feels as if he's come into his own only recently with the release of his second CD, the independently released Damn the Luck. Surging with humor, heartbreak, and those swaying, swinging, roadhouse rhythms, the album features six original compositions and a smattering of tunes by other songwriters such as Mel Tillis and the hitmakers behind some of Johnny Cash's early classics. The whole thing was recorded live – no overdubs – in one session with his band The Modern Day Troubadours, reflecting his philosophy that "If you don't sound good live, then you don't sound good."
Lucky's charming, roustabout personality has some dark origins. He was born in Fort Worth, but by the age of three, he was carried by fractured family relations to Tucson to be raised by his grandparents. Public school held zero interest for him. Lucky claims he was the dictionary definition of a "problem kid." He stayed basically illiterate while impatient teachers and administrators pushed him through the grade levels. By the age of 14, he was hanging out with bikers. His "biker family" took him back to Fort Worth, but, eventually, dudes he knew as Gator and Frankenstein saw that he was headed for the real outlaw life, not just the lifestyle. They bought him a bus ticket to Austin and arranged for him to stay with Tubb family members there, telling Lucky, "You can do better. Get out of here." The young Tubb, it turns out, had still more trouble in mind. In Austin, he was arrested for possession of 52 pounds of marijuana and wound up spending a total of five years – including a parole violation that sent him back for a stretch – in Texas prison units in places like Huntsville and Hightower.
"If I hadn't done that time, I would've been dead by now or serving a life sentence," Lucky said. In prison, he kept his head down and his mouth shut. He also learned how to read and earned his GED. And though he'd been surrounded by music as a youngster, the thought that he himself might take a musical path didn't occur to him until his TDCJ stint, when he learned to play guitar with the prison choir and began writing his first songs. Upon release, Lucky, now 22, headed straight back to Austin, panhandling and playing endless barroom gigs for spare change and beer. His style was an obvious imitation of Jimmie Vaughan ("Not Stevie Ray; there couldn't be another Stevie Ray"), and the earnest scion from a country music dynasty soon attracted the attention of Texas legends like Guy Forsyth and Wayne Hancock, who both mentored and chaperoned him through the crowded Austin scene. Forsyth, in particular, recognized Lucky's talent but over time came to realize that the young man was artistically aimless and locked in dead-end mimicry.
"Guy finally said to me, 'Lucky, your last name is "Tubb." Your uncle was a musical pioneer. You've been handed a style you can develop on your own.' And that turned on the light bulb."
Lucky delved back into his memories and his family record collection, learning to sing and play signature Ernest Tubb tunes as well as how to transfer that stylized, big-hearted honkytonk sound into his own compositions, mixing a little Vaughan, Forsyth, and Hancock into the bargain. He gradually assembled his Modern Day Troubadours – Jerimiah Gill on lead guitar, Casey Gill on standup bass, Natalie Page Monson on fiddle and background vocals, and Steve England on pedal steel and mandolin – and the group began to tour as an opening act for Dwight Yoakam and Ray Price. In 2003, the Troubadours recorded their first album, the self-released Generations.
Some songs began to get airplay on independent radio stations in the Texas Hill Country as well as in Ireland, Spain, France, and the Netherlands. Still, Lucky considers Damn the Luck to be his band's clearest declaration of independence yet. The Nashville labels have been none too impressed, naturally. "I've had executives refuse to even listen to us once they learned we don't have a drummer," Lucky lamented. "But then, Nashville hasn't treated Ernest's musical heritage the way it deserves. Nobody plays his music. They'd rather play 'The Thunder Rolls.' "