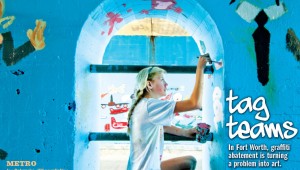 In Fort Worth, graffiti abatement is turning a problem into art.


MATTHEW MCGOWAN photos by Robert Hart
Standing behind a table littered with paint cans on a small Near Southside grassy area, Alison Letnes, a city parks staffer who oversees Fort Worth's graffiti abatement efforts, smiled widely as she handed out cups of paint t...
Jeff Prince
Taggers, graffiti artists, bombers, writers — whatever you want to call them — they're a pain in the posterior to a lot of people who get irate about spray-paintings on public property. Then again, maybe it...