Standing behind a table littered with paint cans on a small Near Southside grassy area, Alison Letnes, a city parks staffer who oversees Fort Worth's graffiti abatement efforts, smiled widely as she handed out cups of paint to about 20 middle school students scurrying back and forth between the table and the railroad underpass a few yards away.
The students, members of the National Junior Honors Art Society chapter at Fort Worth Country Day School, were spending a morning painting an eclectic slew of images on the concrete underpass. Their topics were too scattershot to compose a carefully designed mural, but their paintings did adhere to a singular theme: the 100-year anniversary of the Fort Worth Police Department's panther badge.
"As artists, we need to give back," Country Day art teacher Dorrin DeChant said, in between consultations with students. This is the ninth year that her students have taken part in Letnes' graffiti abatement efforts. "This is a way for us to show middle school students how to give back, and Alison has this so organized. She brings all the paint and supplies; all we have to do is show up."
For three hours, they emblazoned the wall with depictions of everything from handcuffs to squad cars to handguns, all under the guidance of DeChant and fellow Country Day art teacher Holly Clifford. By lunchtime, their still-wet drawings covered  the length of the 40-foot underpass.
Letnes, in white painter's overalls, watched from behind her table, sometimes refilling cups and stirring the sun-struck cans. Her pride in the students was palpable. It didn't matter so much what students painted on the bridge, she said — the important thing for this particular group is that they'd received the city's blessing to do so in the first place.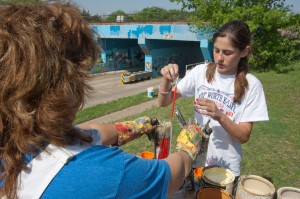 Letnes referred to the nearby work in progress in the 1000 block of Lowden Street as one of the "20 percent," meaning it's among the minority of Fort Worth murals — whether painted by students like these or by more professional artists through various other local public and private art entities — that have been tagged again. A handful of doodles riddled the underpass' south face, where Girl Scouts had painted a flight-themed collection of symbols a year ago.
Murals have played a central role in the battle being waged by Letnes' department against graffiti, one that the 20-year city staff veteran and the six other workers in her office believe they are gradually winning.
Just four years ago, graffiti had become an increasingly expensive and intractable problem for city hall. The city was getting thousands of complaints each year and spending more than half a million dollars annually to combat it. Now the volume of graffiti-related calls is dropping, and so are the city's expenses.
Letnes isn't doing it alone. Fort Worth's current approach to graffiti prevention is carried out via  a variety of public and private packages, although Letnes' office is involved to some degree in most of them.
The first measurable signs of success came on the heels of an educational blitz launched by Letnes' office in 2009. The program now travels to several Fort Worth Independent School District campuses and after-school programs each month to present students with a sobering glimpse of the legal risks associated with painting on someone else's property. It's considered criminal mischief, potentially a state-jail felony, for which some Texas teens have drawn several years behind bars.
But her lessons go beyond scare tactics. They also attempt to explain to the several thousand students who hear her presentation each year that they should instead channel their creative impulses into something more productive.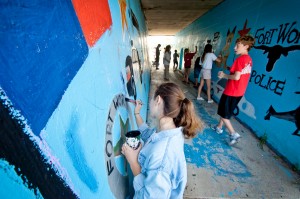 "When you go in and you tell the kids, especially the ones who do graffiti, that the only difference between art and graffiti is permission, it just blows their minds," she said. "They say, 'You mean I wouldn't have a felony charge if I got permission?' "
Public murals by Fort Worth Public Art, an arm of the Arts Council of Fort Worth and Tarrant County, also aim to discourage taggers around some sites particularly prone to vandalism. These more polished works by commissioned artists put top-quality murals on city buildings. The first mural was completed at the Northside Community Center in 2008, although the group also commissioned the restoration of an older mural in 2005 at the city library's Northside branch.
Work is now under way on the FWPA's second mural, at the Southwest Community Center. The arts council has also allocated $30,000 for a third mural. The new mural's location hasn't been decided, but it probably will be on the Near South Side where some of the city's heaviest graffiti activity persists. The public art group also plans to roll out a $15,000 artist-in-residence program that will create a mural template, essentially, for Letnes' department to use for quick murals in trouble spots. All of FWPA's mural projects include an educational program that brings local children to the site to see for themselves the difference between a felony and public service.
Then there's the We Are Legal program, a private group of artists — most of them in their teens or 20s — who paint graffiti-style murals on private buildings for a few dollars per square foot.  Landowners often approach WAL when graffiti becomes a recurring problem on their property. The group has painted nine murals across Tarrant County since it formed in 2007.
Not one of WAL's sites has been hit by graffiti again.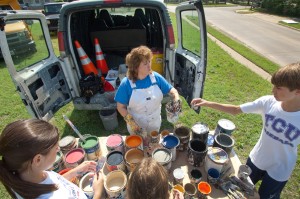 According to Letnes' statistics, the volume of graffiti problems in the city has dropped noticeably and steadily from peak levels in 2009. That year her office spent about $550,000 responding to about 7,600 reports of graffiti. In the last fiscal year, expenditures were down by about $50,000, and the number of calls was less than half the number received in 2009.
Letnes expressed cautious optimism that the tide may be turning. She hopes to see more gains in the next year or so, as her office expands its outreach program and forges closer partnerships with both FWPA and WAL, which in turn have their own expansion plans.
Hatziel Flores crept into a common outdoor area at Skyline High School in Mesquite and pulled several spray-paint cans from his bag. It was a chilly night in early 2001, and the 17-year-old was a senior at the school.
An accomplice, meanwhile, crawled up onto the school's roof with his own cans of paint. Neither had any idea that a security guard was patrolling nearby.
It was a common occurrence for the two teenagers and their circle of graffiti-artist friends. Several nights each week, they left home, hopped city buses on various routes, and began scanning the streets outside the window in search of the next prime piece of real estate begging to get bombed.
"We went and painted … all night, every spot we could pinpoint," said Flores, now 28. "Sometimes literally the next day at like 6 a.m., everything would be covered up already. It doesn't make sense. The city is spending money. The graffiti artists are spending money. It's a waste of money and talent."
He and his friend had expected their high school courtyard to prove tricky but worth the risk, because the next day Flores' work would be displayed in front of all their classmates. If it had worked, the caper would have earned him huge prestige from his fellow graffiti artists.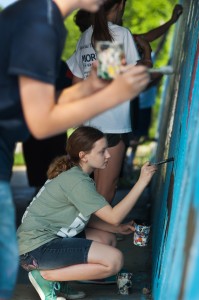 Instead, as his friend fled, the security guard nabbed Flores and turned him over to police. In downtown Dallas, police released him without charging him, just ordering him to clean up the previous night's work. He knows he was lucky: Had the gang task force been involved, he would likely have faced felony charges.
At school the next day, first period passed without any mention of the incident. Same for second and third period. Then, toward the end of the day, he got the summons to the vice principal's office he had feared.
"Leave," he remembers the vice principal telling him after reaming him for at least half an hour. "Just go."
And that's how Flores got expelled his senior year, four years after he began tagging buildings. He earned the last few credits for his diploma the following spring at night school, where for the first time in his life, teachers encouraged him to channel his artistic talent onto a canvas using media other than spray paint.
Today he continues to create art with the distinct urban surrealist style of graffiti, a form of expression that helps him bridge the gap between accepted mainstream art and the illicit graffiti underworld. It was a crucial lesson for Flores, one that he wishes he had learned years earlier. He realizes, however, that convincing younger generations of graffiti artists that such a bridge exists is no easy task.
"It's a learning experience," he said. "A lot of times you could tell them not to do this or that, but they're not going to listen until they experience it for themselves. I would just tell them to be careful, and I would recommend they buy a board, 8-feet-by-4-feet, for just a few bucks, like $7. It's not expensive. Paint it and showcase it."
Flores' rough road to a professional art career provides key insight into what many in the Fort Worth art community see as a shift in public perception that needs to happen — from the view of graffiti as a simple act of vandalism to seeing it more as a misguided channel of artistic expression.
He explained in detail the basic unwritten rules that guide underground graffiti circles. First, most graffiti has little to do with gang culture.
Letnes estimates that gangs account for maybe 10 percent of the city's graffiti. Her department's guidelines reflect that: If reported graffiti appears gang-related, her department pledges to cover it within 24 hours. During her decade-plus as head of graffiti abatement, she said, her staff has had to provide such swift abatement only once, during a year of particularly heavy gang violence on the North Side.
"They're not 'drugs and guns,' " said Mary Boswell, an art teacher at Fort Worth's Carter-Riverside High School who helped create WAL. "They're aerosol and masks."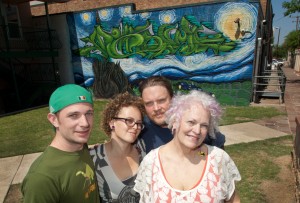 Most graffiti gangs — the label used loosely here — tag buildings not to assert dominance but to one-up their competitors creatively. Flores said these artists rarely tag over someone else's work, unless they think they can do better.
He said rival groups usually don't take umbrage when another group covers their work, "as long as your work is better than mine. If not, then I'll come back the next day and do it over again."
Despite the air of legitimacy that Flores' description might lend to the underground culture, graffiti is by its very nature a crime, and not all of its perpetrators are mature enough to respect one another's works. And property owners legally have the right to decide what goes on their buildings, not the taggers.
Boswell, after working the past few years on her own urban initiatives across town, takes a more nuanced view of graffiti. In simple terms, it boils down to permission. To her way of thinking, if somebody actively uses and oversees a building, permission is a must — no exceptions.  But with empty, abandoned buildings (like the slaughterhouse near the Stockyards, a local favorite), she said, there's more ethical leeway.
"I juggle it. I love art on trains. If kids will stay off [not cover up] the numbers on the trains, their art can stay on it," she said. "But I'm fierce about permission and respect. I think they ought to have that. If it's not yours, then don't do it, or at least ask. If it's an abandoned building or under the bridge, I don't know."
Boswell readily admits that she knew little about graffiti culture in 2007, a year that Letnes said marked the height of the city's graffiti epidemic.
It was during that time that then-Mayor Mike Moncrief, concerned about spiraling costs of abatement, appealed to Fort Worth school district art teachers for a solution to the problem.
Letnes' department paid an outside contractor hundreds of thousands of dollars to paint-to-match buildings that had been tagged. This was in addition to the hundreds of thousands in the department's in-house spending to patch over graffiti spots at local homes and businesses. Nothing seemed to stem the problem.
At the time, Fort Worth's favored tactic against graffiti was to catch and punish as many vandals as possible, throwing the book at them in court while dismissing their claims to artistic expression as little more than childish bloviating.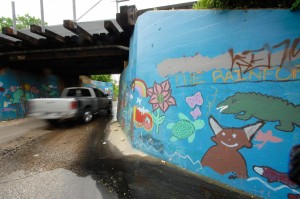 So Moncrief's call to art teachers was the beginning of a gradual change in the city's approach, a change that Boswell continues to laud. But, she said, those initial meetings yielded little at first. The true catalyst occurred just a few months later when she arrived at Carter-Riverside one morning to find that vandals — apparently a rival graffiti group from Diamond Hill-Jarvis High School — had swarmed it the night before. After studying the culture, she arrived at the core of the problem: ownership.
"It just made it click in my mind that that's the problem," she said. "These kids from rival schools go around and [urinate] on these walls and take ownership. We wondered what would happen if we have a group of them [from several schools] doing it together. They're all doing it, so they all own it, so therefore they'll protect it better."
Soon she and her counterparts at Diamond Hill and North Side high schools convinced the district to allow the group, then called the Graffiti Task Force, to create their own murals on large exterior walls at each campus. Flores had met Boswell at one of his art exhibits in Arlington and acted as a consultant on the Carter-Riverside mural.
A few weeks after the mural's completion, Boswell arrived at her home school to find that it had once again been covered in graffiti overnight. This time, to her astonishment, the vandals left the mural virtually untouched, save for one small exception.
She realized then that she and her colleagues might have found part of the solution. Over the next year, she helped form We Are Legal, a collaboration of professional former graffiti artists like Flores and their younger counterparts at each of the three schools.
The project lost all ties to the school district in 2008 when North Side High's new principal ordered the school's mural removed. Soon administrators placed a moratorium on murals at all the district's campuses. Under pressure from art teachers and others, Boswell said, administrators lifted the moratorium the following year.
Today WAL's murals dot the county. Because the group has no official ties to local government, WAL paints murals almost exclusively for private landowners who have grown weary of painting over a deluge of graffiti. They often hear about WAL through Letnes, a vocal WAL advocate.
WAL recently doubled its prices to $3 per square foot, still an affordable rate, Boswell said, considering the recurring costs of painting over chronic graffiti.
The group's success has also begun to resonate at city hall, especially after Boswell and some of the students traveled to Kansas City last summer as part of the delegation Fort Worth sent in its successful bid for the National Civic League's All- America City designation.
WAL does have its detractors. Boswell and her daughter Elaine Weaver, a college art major and a three-year veteran of the group, acknowledge that many within the art establishment balk at the sanctioned use of spray paint and urban motifs. FWPA has refrained from contracting with WAL partially for this reason.
Weaver, an artist trained in a variety of media, from traditional paints to sculpture, said spray painting is not only just as viable as any other medium, but it's also in many ways a cheaper alternative.
"Who says that ain't art?" Boswell said, pointing to the vibrant, entirely aerosol mural spanning a massive wall behind the Rose Marine Theater. The mural, titled "Pursuits," is an urban interpretation of Vincent Van Gogh's "Starry Night," designed by Hugo Garcia, 21, a WAL veteran and University of Texas at Arlington student.
Garcia remains as one of the groups half-dozen core members who routinely work on each project. Many of the high school students who once ballooned WAL's membership have disappeared in recent years. Several of the group's key members worked on WAL's most recent mural on Heritage Trace Parkway in Keller.
Boswell said too many of the younger students lack transportation to reach the sometimes-remote mural sites. As a school district employee, she is strictly forbidden from transporting them herself.
She hopes a future collaboration with Letnes' department will bring a mural and associated education program — run largely by WAL's older members — to the graffiti-plagued Rosemont area and its nearby schools.
Letnes has asked the city for $30,000 to launch the Rosemont program. Her application is pending downtown.
 ********
A much less prolific but equally visible example of graffiti abatement is occurring farther south in Fort Worth, where professional muralist Michael Kirby is about a third of the way through a city-sanctioned mural at the Southwest Community Center.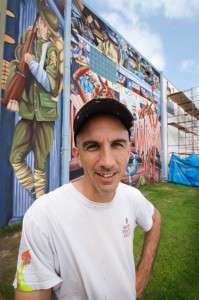 The $30,000 FWPA-financed project is taking shape just a few feet from the doors of Southwest High School.  Kirby pointed toward the building one recent afternoon as students poured from the building after the day's classes. They are the audience for whom he is painting, he said.
He described the mural essentially as depicting a love story between a gymnast and a cowboy, a narrative set on a puppet stage masterminded by teenage puppeteers.
Kirby, who for the past 20 years has painted murals professionally from Washington, D.C., to Italy, has done a philosophical about-face since the turf-marking he and his buddies did back when he was growing up in inner-city Baltimore.
Today he has little sympathy for taggers — who he says are basically acting from unchecked ego — but gives the broader graffiti culture credit for not vandalizing any of the hundreds of murals that he's painted all over the world, as far as he's heard.
Jenny Conn, public art collection manager for FWPA and the arts commission, said the Northside branch library is the only local mural she knows of that was tagged repeatedly after its 2005 completion. The project, a restoration of a badly faded 1987 original, continued to draw vandals for a year. Her staff refused to give up and constantly returned to the site to repair the damage.
Then, after about a year, the tagging stopped. She attributed this to the local community's finally uniting behind the work.
"If a community has a sense of ownership, if they're engaged enough to feel it's theirs, they'll protect it," she said "Once people kind of got it — and when I say 'people,' I mean the kids — I think the kids have really kind of protected it."
Kirby agreed that murals are often effective, but he insisted they're an ad-hoc solution to an endemic and enduring problem. His tongue-in-cheek suggestion: murals everywhere.
"Everybody likes art, even if it's the stuff they don't understand," he said. "It's basically a deterrent for teenagers defacing property, but you're not going to get rid of it. They're just going to go paint another wall. So what I say is, paint them all."